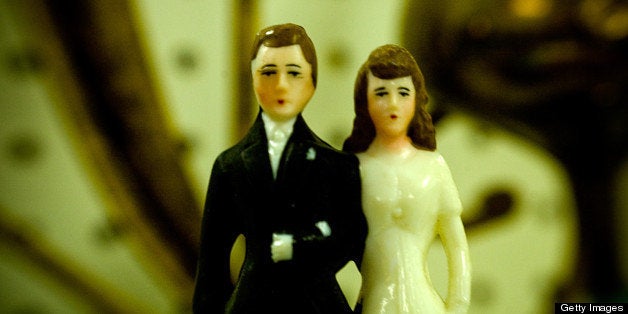 My cousin Connie called me with exciting news. She was engaged.

Connie's a great girl, so normally I would say, "That's wonderful, congratulations."
But hold on a minute here. This is Connie's third voyage down the aisle. She met this one, a widower, on the Internet. He's an older man. She's 75, he's 86.
I said, "Connie, you have totally taken leave of your senses. You are now certifiably insane. Gordon's been gone several years, so you can't be crazed from grief. What made you do this?"
"Just wait till you meet Hank," she bubbled, by way of reply. "You're going to love him. He's got it all. Tall, good looking, smart, funny, caring, socially responsible and financially secure. I'm a lucky girl. He's a real catch."
"Uh-huh," I said. "And the real catch is: he's 86. I guess Internet dating has no age limits. Although he does seem to have all the right adjectives. This is the 21st century, Connie. Why don't you just move in together? Then you can decide whether it's going to work long term."
"We're old fashioned," she replied. "We want to make our relationship official. It's how we were raised."
We met for lunch. My husband, yours truly and the happy couple.
I found out Hank had flunked out of clown school. He told us how, after his sophomore year, he ran away from Yale to join the circus, thinking experience as a roustabout would help him achieve his dream of success at clownism, or whatever the word is. But he didn't make it. Too tall. How many six foot five guys can cram into a clown car? Connie was right. You gotta love Hank.
"If you're going to go with how you were raised, Connie," I said, "You should be following the commandments of Emily Post, the classic etiquette guru. A non-first wedding must be low key. The invitations are handwritten. Engraving is for first weddings. The groom wears a dark suit, the bride's in a rose or light blue afternoon dress or a silk suit with matching pumps and a little hatlike doodad. She wears a small, tasteful corsage. The couple are each allowed one attendant, similarly clad.
"They then receive well-wishers in a restaurant, hotel or club, where there's maybe a string quartet. Anything resembling a bash is in dreadfully poor taste."
Connie revealed the wedding plans.
A tent in Hank's garden. Four tents, actually. One for the ceremony, three for the party. Seven attendants in turquoise blue. As many grandchildren as could be corralled, a seemingly endless supply. Maybe she found them at Grandchild Depot. Two bridesmatrons, ages 68 and 44, three middle school bridesmaids, two flower girls, three groomsmen and a ring bearer. Oh yes, and the groom in beige linen with a pink tie. Flowers, music, printed programs, party favors, Connie and Hank napkins. A soloist in a bronze silk sheath crooning Someone to Watch Over Me. An open bar, gourmet buffet stations, Dixieland jazz band and to cap it all off, fireworks.
The bronze silk soloist happens to be a pulmonary disease specialist. Which is great in case someone's overcome with emotion and suddenly stops breathing.

"Connie," I said, "It seems to have slipped your mind, which is probably a good thing overall, but may I remind you you're 75 years old. Tell me you're not wearing a long white dress."
There was silence, punctuated only by the sounds of me trying really hard not to laugh. "Well," she finally said, "It's off-white. Ankle length. Slim skirt. Long sleeved jacket.
"You reminded me this is the 21st century," Connie said. "These days, anything goes, remember?"
And "anything" went. Perfectly. I have to say, it was a TON of fun. The couple added their own little touches to the ceremony. "I might even obey him on occasion," the bride announced.
But scheduling the calendar countdown for an older couple can be tricky. In between the bachelor party and the rehearsal dinner, they had to fit in Hank's cardiologist appointment. And three days after the ceremony the couple were set for his 'n' hers medical procedures. Hank had to have some heart thing to get him in shape for his upcoming back surgery. Connie, something with a knee.
How many 86-year-old guys do you know who've been given a bachelor party complete with, um, I guess you'd call her...an exotic entertainer?
One might wonder how, at that age, you could find any bachelors. But Hank's baby brother Phil, perky and fun at 80, somehow rounded up 35 guys.
Connie called that night. "I don't like this. Not one bit. Hank's out there with some sexy stripper wearing basically nothing and she's lapdancing and he's sticking dollar bills into her bikini. I'm not happy."
She needn't have worried. Turns out that, yes, there was a sexy blonde entertainer named Bambi and she was all over Hank, but no lapdancing or bikini dollars. Hank's friend Jim told me that afterwards Hank said, "Wow, that Bambi was really something, wasn't she. What a babe!"
Jim said, "Yes, he did a really good job."
"Whaddaya mean, he?" said Hank. He never realized Bambi was a guy.
And what about the honeymoon, you ask? Well, they'd already had several trips that might be considered honeymoons.
But they did take a special trip the day after the wedding. Hank treated 30 people to the circus.
REAL LIFE. REAL NEWS. REAL VOICES.
Help us tell more of the stories that matter from voices that too often remain unheard.