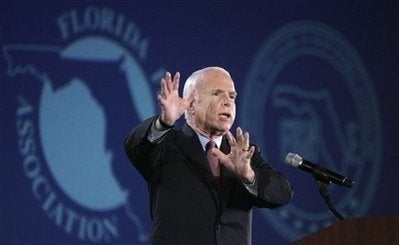 The topic-de-jour in Campaign 08 on Thursday was the National Catastrophe Fund, a pocket of loot that would help states to stabilize the insurance market in the wake of natural disasters.
McCain's opposition to the measure promises to be political kindling in the months ahead as the fund is highly popular in the pivotal state of Florida, with support from the state's Republican governor. And, on Thursday, the Obama campaign went to task, calling the Arizona Republican out for his opposition.
"Once again, John McCain has made clear that he is much more interested in standing with George Bush than getting the facts right or doing what's right," said Obama aide Hari Sevugan. "But what John McCain doesn't understand is that by choosing to stand with George Bush's failed policies instead of standing with the families of Florida, he can't deliver the change the country needs and deserves.
McCain's campaign responded by casting the issue as debate over federal, state, and private powers and prerogatives, a stance that might not play well in Florida but could have adherents within conservative circles.
"It's disappointing that for the second day in a row Senator Obama has chosen to use natural catastrophes to launch political attacks -- that's not 'change we can believe in,'" wrote McCain aide Tucker Bounds. "John McCain is opposed to a government-run National Catastrophe Fund, not because he doesn't have serious concerns about the cost of insurance in Florida but because it ignores the need for private insurance reforms to broaden markets and protections against the cherry-picking of individual states. John McCain earned Governor Crist's endorsement well after Senator McCain had articulated his position on this issue, because John McCain has the strength, experience and judgment to lead."
Clearly, however, Democrats think they have a winner in part because, on Wednesday, McCain slipped up on his proclamation that he had supported every investigation into the affects and response to Hurricane Katrina, when, in fact, he had twice voted against a Senate commission on the topic.
Later in the day, the Florida Democratic Party released an advertisement entitled "Hurricane McCain," shedding light on the Senator's position.
Calling all HuffPost superfans!
Sign up for membership to become a founding member and help shape HuffPost's next chapter