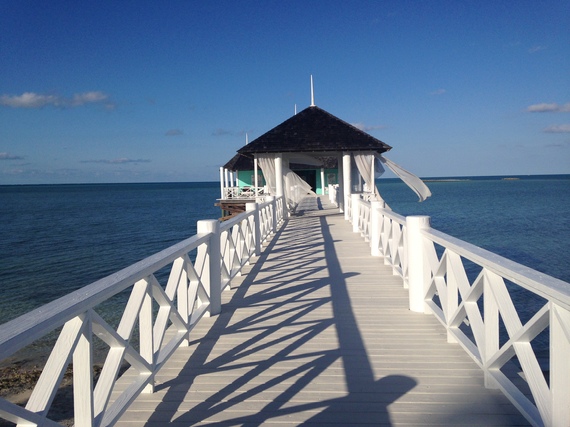 After what can only be described as an eternity of trekking through slushy puddles and snow mounds, it's high time you heat things up on a sun drenched getaway. Whether you're packing a suitcase to France, Costa Rica, or anywhere in between, I've rounded up the perfect vacation spots to melt your winter blues away.
Cheval Blanc St-Barth Isle de France

The next best thing to having your toes in the sand is experiencing beach life at the Cheval Blanc St-Barth Isle de France, which offers the only Guerlain spa in the Caribbean. Alchemists are available at the Maison to tailor special experiences for guests, including private picnics on a desert island, and special events and activities for children. In-room Carte Blance dinners in the guest's private terrace or garden make for a great touch of romance.

Sugar Beach in St. Lucia
Nestled between the two iconic Pitons of St. Lucia. Sugar Beach, a Viceroy Resort, has stunning views from the forbidden beach and the UNESCO world heritage site. Sugar Beach has a rainforest spa, night snorkeling, SNUBA, which is a cross between scuba and snorkeling (swimmers can dive freely with the oxygen tank floating above attached by a long tube as deep as 20 feet, instead of strapping on a tank), a sailing school for kids, a rummelier (like a sommelier, but for rum), and more.

Nayara Hotel, Spa and Garden
For a diverse and adventurous experience, Nayara Hotel, Spa and Garden in Costa Rica is a great hideaway that offers a range of experiences from zip lining to volcano tours. It doesn't get more peaceful than spa treatments and yoga classes in the forest. The dining experiences cover all kinds of cuisines including Latin Fusion and sushi to wine tasting experiences.
A quick flight from major hubs such as New York, and Miami, yet worlds away from Nassau's trendy, resort-lined beaches, Kamalame's utterly private accommodations are tucked into 96-acres of swaying palms and flowering tropical foliage. This dreamy retreat is well known for housing celebrity guests who love the refuge they feel while visiting.The warm, turquoise waters just off shore teem with manta ray, parrotfish and blue tangs. This ultra exclusive island is nestled amongst coconut palms, hibiscus and bougainvillea making it the perfect place to watch the sunset in romantic seclusion and get wrapped up in the sound of the waves crashing at your feet. Best of all? Owners David Hew and Michael King are two of the nicest people you will ever meet and are sure to make you feel at home in their chic lush oasis.
As Saint Augustine once wrote, "The world is a book, and those who do not travel read only a page," so grab your passport and the hands of the ones you love and go explore, learn and revel in the gift of life.