Here I Am: An extraordinary biography of the life and untimely death of humanitarian and photojournalist Tim Hetherington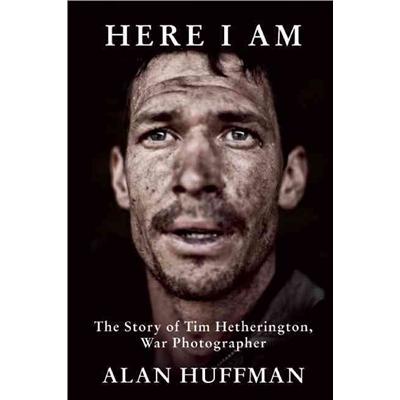 Best known perhaps for his co-direction (with Sebastian Junger) of the Oscar-nominated documentary Restrepo, Tim Hetherington was a man ahead of his time. An Englishman and world citizen with a striking presence, Hetherington was a rare blend of outrageous courage, commitment to truth and to humanity, and to the lives of all whom he encountered. He was also committed to providing indelible imagery of war and conflict and the lives directly involved without coloring them with his own interpretations. Not qualities that can be forced or faked, Hetherington's dedication as a photographer and filmmaker went way beyond the last hype of mainstream media coverage of some of our world's most violent combat zones. He genuinely cared about people's lives. He knew something deep and profound within his soul -- and without words through the media and form of his works, he brought a powerful mirror to the world.
Sadly, Hetherington's life was cut short by a mortar during the intense house to house combat and shelling in the early Arab Spring in Misrata, Libya. And yet even the tragedy of his death perhaps illuminates the poignancy of his life, just as in his work, in providing the intense frames that wrap around our world's conflicts and unthinkable atrocities, to give a semblance of understanding and meaning to what seems so senseless; to provide honest inquiry in asking how a human being can live in a world coexistent with such atrocity and not seem to know or perhaps understand how to care, or further, to change things.
In the past week, a powerfully written biography by Alan Huffman has come out on Hetherington's life and death, titled Here I Am in reference to a moment that Hetherington finds himself in his own viewfinder, reflected back in a mirror. This is poignant imagery and metaphor for the entire body of this extraordinary artist and humanist's life, and an apt title that could speak to all of us as we struggle to find meaning in a world of madness; to find hope and promise in paradoxical and extreme circumstances.
Hetherington once tweeted a concise and powerful synopsis of his raison d'etre: "My work is about trying to get us to understand that we are connected and trying to build bridges and understanding between people."
Huffman follows Hetherington's tenuous path with LURD Rebels in Liberia's ferocious fighting, where at the time Charles Taylor had put a bounty on his head, fearing Hetherington's ability to bring light the truth of the atrocities occurring in that country. We also journey to the Korengal Valley as Tim and internationally renowned journalist Sebastian Junger spent a year with Outpost Restrepo in Afghanistan, where we get a continued sense of Hetherington's deep inquiry into the relationship that young men have with war and the affects it has on them, both good and bad. Nowhere in many young men's lives is there such a sense of intimacy and camaraderie, brotherhood and true community, as there is when facing possible death together.
Hetherington's Sleeping Soldiers series, highlighted in his book Infidel and taken during this time at Restrepo, is a genius tribute to the humanity and common vulnerabilities of soldiers -- enemy and foe alike -- and the lives of these soldiers through what Tim said to be the eyes of their mothers. Controversial to some if only because misunderstood, this series is some of the world's finest work depicting the proximity of war and truth, and conveying an unspoken and yet very clear message about our common humanity.
Hetherington seemed both astutely aware of and yet very controlled within life-endangering risks. Why did he take those risks? That part of his soul that, as we see in his gauzy and self revealing video, Diary, hungered for an intimacy that could only occur at the intersection of life and death, and a truth that could only be borne from a commitment to dying for truth. Diary is a 19 minute short that splices together clips from his then ten years worth of war coverage. In comments made later, he shares the inquiry he depicts in images of Times Square that then pan to Liberia and war, and then to a dreamlike space in a hotel room with teacups and the voice of Tim trying to share about his work... he trails off as he says... "if I can't provide hope..."
The question of how multiple realities could exist so simultaneously and with such contrast in one world was a driving force in Tim's work, and the question of bridging those worlds -- and this short film masterfully provides one a sense of movement between them, from the media saturation of Times Square and BBC and business as usual to a high speed escape in Monrovia from bullets, to Tim's vulnerable interview and messages from a beloved female, date-stamping this etheric yet very real journey in the viewer's eye and providing an astute blend of not only the literal worlds depicted but the incredible sense of conscientious inquiry that was involved in Tim's work and life and that he also invites us to do. He quietly beseeches the question, how can one live in a country such as the United States and not feel affected in any way whatsoever by the genocide and war happening in another place? Tim brought these worlds together and although brought stark and tragic reality, he also brought the hope of the lives that he so cared about -- that spark of life and decency that is found even in the greatest of atrocities. He was able to silently unpack some of the deepest meanings and mysteries of the intimate proximity of devastating conditions and of truth, and people's rawest relationship to life when faced with extremes.
Hetherington and Junger were honored with Oscar nominations for Restrepo in March 2011. On April 20, 2011 during a late afternoon retaliation in the city's most rogue and violent combat zone, a mortar shell exploded in the Tripoli Street area. A tall man with two cameras sprinted at full bore, hit and falling amidst other injured and dead. The proximity of life and of its preciousness lay bare in that moment as his life force left his body. His camera's last photo is of a huge bullet hole through a helmet, and a tweet saying, "in besieged Libyan city of Misrata. Indiscriminate shelling by Qaddafi forces. No sign of NATO."
Tim took on the name "Telemachus" perhaps as a presentient recognition of his own mission in life:
Telemachus' reply was keen and wise: 'My guest, your words come from a friendly mind -- words like a father to a son -- and I shall not forget them. But why not extend your stay? Although your voyage presses, bathe -- refresh your spirit; then fine gift in hand, you can with satisfaction sail away. That gift will be a precious, handsome thing, a keepsake such as dear friends give to friends. -- The Odyssey
Tim Hetherington's ability to go where most would never imagine, to bring to light the truth of our world, finally caught up with him and yet the message of his life and its extraordinary mark on this world will continue as timeless. Alan Huffman's efforts to recount this extraordinary journey should be read by all who wish to place in the hands, minds, and hearts of readers an example of a selfless life committed to a much higher cause than what perhaps our current times were ready to digest in full, and for which with the arc of time will become ever-clearer just how significant a service Mr. Timothy Alistair Telemachus Hetherington offered to this brilliant and troubled world, with his life and ultimately, his death.