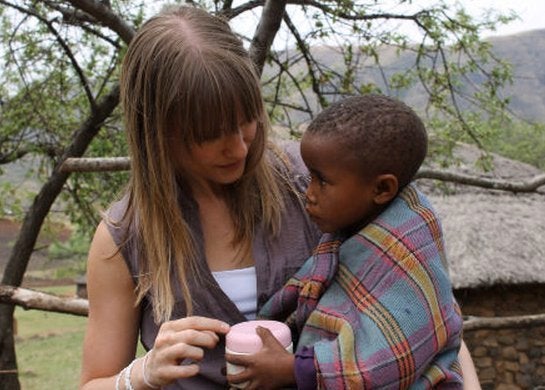 The impact of HIV on women is well documented. HIV is the leading cause of death of women of reproductive age. If HIV did not exist, maternal mortality worldwide would be 20 percent lower. Women often face barriers accessing HIV treatment and care whether it be lack of control over the family budget, restrictions on mobility or child-care responsibilities.
This week as I watched Lilian's story from Tanzania, I was struck with the significant role the Global Fund has played in reducing women's barriers to treatment. Lilian's story is of a journey from hopelessness to renewed hope with the help of a counselor. After the death of a child and her husband, HIV/AIDS the presumed cause, Lilian talks of wanting to take poison to end her suffering. Instead, she clung to the hope of being a mother again even though she assumed her own HIV+ status makes that impossible.
Lilian's story of hope isn't possible without the counselor's knowledge and access to treatment that prevented the transmission of HIV from Lilian to her child.
In 2003 almost 600,000 children were infected with HIV at birth. Since then, this has dropped to 330,000. The Global Fund has provided 1.5 million HIV-positive pregnant women with treatment that has prevented HIV transmission to infants. Lilian's is a story I have heard many times: armed with the right information and a simple change in the combination of drugs she was taking, she gave birth to a healthy child who did not contract HIV.
This Saturday December 1st is World AIDS Day with the theme of "Getting to zero: zero new HIV infections." Lilian's story shows us how getting to zero means fully-funding the spectrum of interventions -- from prevention to counselors, healthcare workers, access to treatment and education -- that are all vitally important in the fight against HIV and AIDS.
To date, PMTCT treatment has been scaled-up by 90 percent since 2009, with over 50 percent of that in sub-Saharan African alone. Tanzania, where Lilian lives has driven those results as part of a special initiative by the Global Fund, UNAIDS, WHO and UNICEF to further expand the PMTCT programs in India and sub-Saharan countries with the highest burdens of HIV among pregnant women.
These incredible results have emerged from a combination of efforts: eliminating mother-to-child transmission has been placed at the forefront of other related issues of gender equality, MDGs 4 and 5 of reducing child mortality and improving maternal health. The Global Fund with its focus on HIV, TB and malaria has been able to be a key partner in ensuring that the world moves closer to the goal of eliminating mother to child transmission. The Global Fund has said in the past that with sufficient resources it can scale-up even further to help achieve the goal of eliminating mother-to-child transmission of HIV.
Getting to zero new infections can be done -- with access to treatment and proper care, Lilian and many other HIV positive women have choices they might not have otherwise. A fully funded Global Fund in 2013 is one of the most important mechanisms to eliminate mother-to-child-transmission: we have the tools, we need the resources to do it.
Lucy Chesire: TB-HIV advocate from Kenya, Alternate Board Member of the Global Fund Board Communities Delegation
About the Here I Am campaign: The Here I Am campaign is a global call on world leaders to save millions of lives by supporting a fully funded Global Fund to Fight AIDS, Tuberculosis and Malaria. Here I Am brings the voices of people that are directly affected by AIDS, TB and malaria into dialogue about decisions that affect their lives and the lives of millions of others in their countries. Through video testimonies from all over the world, campaign ambassador advocacy, online actions and on-the-ground mobilizations, the Here I Am campaign is building collective power to end three of the world's most deadly diseases. www.hereiamcampaign.org
Related
Popular in the Community