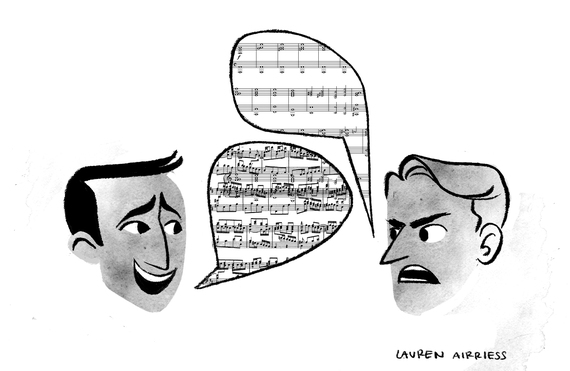 When I'm deep into a writing project, sweating and excited by the flow of sentences and images, I may slip in a quick peek at my iPhone. Then I turn back to the text and push ahead. A short paragraph later, I stare out the window or back at the phone. Sometimes a short pause helps me see a paragraph from another angle. Or it springs me into the next sentence like a lineman digging in with his foot before charging ahead.
One afternoon I was composing a tense paragraph when I paused to glance at my phone. From the first line in the text I read that a close friend had passed away. Without thinking, I pivoted back into the paragraph, wrote with a fever of energy. Perhaps I wrote for 10 minutes until I finished the thought and grief welled up and I couldn't see the computer screen.
A few days later, I was describing this moment to Lou, a clinical psychologist friend, who is very wise. I said that turning abruptly away from the news of my friend's death to write sentences left me feeling guilty and disgusted with myself. "You were in a different world and weren't ready to take in this news," he responded. "It happens to all of us."
Yes. But these days it seems more difficult to move from one world to another, from my world to yours.
Almost every morning, to prepare myself for work, I ride my bike north along the Hudson River to my office. After making a cup of green tea, I'm at the computer where the cadence of words and sentences fall into step with the way I take breaks from the text, eat my tuna sandwich while listening to sports radio, return to the paragraphs after a quick nap and coffee. I lean on habits, rhythms and the predictability of my process, even while I may reach for something unpredictable or disturbing in the work.
And yet outside the office my sense of timing gets me into trouble a lot. I race to my son's apartment eager to talk to him about an essay I've been composing or to discuss the New York Jets third round pick in the NFL draft. It just feels so right to share these big insights with him. Then I say a few words and he is looking at me like, "You're a crazy man, Dad. I have business problems and my baby is running a fever, and you are bothering me about the NFL draft? NOT NOW!" If I'm smart I keep my mouth shut, but with my rhythms flowing through me like lust, I often don't.
I travel to Florida to visit my best friend in high school who now lives in Palm Beach. We've been talking for hours about basketball, his new girlfriend, recalling our parents. I am delighted that the trip has been going so well. He and I are in different worlds politically. We live very different lifestyles.
But we are back making sweet hilarious music like the old days in school when we stayed up half the night talking and eating lox and bagels believing such nights would just go on and on and on. Nostalgia, good will and animal affection have turned back the clock. The talk has been like fine rock and roll that flows and builds and promises romance and eternal youth.
In a few minutes I need to go into another room to place a phone call to a radio station for a scheduled interview about my new novel. Then Tom and I both happen to glance at the television and Obama is giving a speech about the Affordable Care Act. My old friend snickers and seethes. He believes that Obama is a fool and that the Affordable Care Act will be the ruin of our country. In that moment we have lost the music of childhood.
I mumble something incoherent about the Republican obstructionist Congress. It is time to shut up, but I push on like a desperate drummer who has fallen out of rhythm with the band. Tom comes out of his chair and his thick neck reddens. He says, "You don't know what the hell you're talking about, kid." Within seconds, he and I have traveled from passionate friendship to sneering exchanges. But he surely gets the best of it. I've become tongue-tied. I'm seeing black and red. It gets worse.
I realize that I am late calling into the radio station. I take a deep breath and dial the number. The host is trying to mask his annoyance. But frankly, I don't care. I can barely hear his questions. I don't care about the show. Instead of focusing on my protagonist and his very young lover in The Dream Merchant, I am thinking about arguments to put Tom in his place. I have traveled light years from my office and my inner back beat that so often guided me to fervent writing days. The interview is a disaster.
"Fred, you can't talk to someone who is living on the other side of a wall," my friend, Lou reflects after I've shared some of these observations. "Conflicting ideology can be as much of a wall as bad timing. The timing has to be right for both people or it's best to hold your tongue."
This last part is just so hard to absorb. Almost everyone I know is listening to his own rock and roll.
Even babies. One afternoon I come to my son's apartment to take my 2-year-old grandson for pizza and a trip to the park. He loves these outings with "BaBa" but I make the colossal error of turning off the television while he is watching Little Einstein. Jack wails as if his sweet world has been torn apart by a monster. Jack has been living within the delicious fantasy of his show. I am the monster.
"Not now! Not now!" I'm hearing this more and more from my best friends and family.
But blessedly not always. Another time I drop by when Jack happens to be leaning against a big pillow on the floor moving to the beat while listening to Bob Marley. He loves Bob Marley. When Jack is in the mood we play drums together -- he has his own tiny bongos. Rhythms are a big part of our relationship, particularly Latin rhythms. They take us to mysterious places. We begin to nudge one another like a couple of old timers in a rumba band. But when I suggest drumming on this night he shakes his head no. So I lie on the floor beside him and settle into a deep Bob Marley grove.
I can't help tapping to the rhythm: bop... bop... bop...bop, bop. Again and again. Soon Jack turns to me with an impish smile and he exclaims, "guacamole." Wow. And I know just where he's headed. After two beats I answer "guacamole." Then he comes back at me with "guacamole, guacamole," laying the fruit right on top of Bob Marley's seductive rhythms and chanting. Then he waits for me and I stick the fruit in between the beats. And he does the same. After a while baby and I are flat out screaming, scatting at one another. We are flying into and all over the rhythm with sweet guacamoles... But now the other adults in the room are screaming at us to shut up. We are making a racket and they simply don't get it.