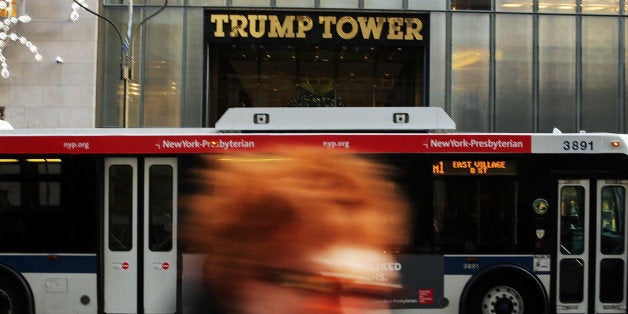 On the day before the final Republican Presidential Debate of 2015, I went to visit Trump Tower--that crimped skyscraper dropped from the ashes of the nineteen-eighties. It was raining outside, and I needed cover. I also really wanted to know what, if anything, went on inside 725 Fifth Avenue now that The Don was leading in the polls.
The Tower seems kind of filthy. There were calcium stains on the marble, and skid marks on the reliefs, the brassy appointments needed a polish too. Obviously, they fired the entire immigrant cleaning staff. It was stone cold and empty, a modern mausoleum to faded New York City glamour. There were Christmas lights in odd places; like a last minute attempt to throw up a tree for the neighbors before heading out of town. Some of the lights were dead, others out of sync, their thread mates moaning softly while a seizure inducing Christmas Carol rose up in the crypt keeper's throat.
Somewhere, I smelled a boiled shoe dipped in Pine-Sol.
The last time I entered this building was 1989. I came with the AIDS activist group ACT UP. A friend reminded me of our old chant: "Housing for people with AIDS, not condos for people with maids!" Back then, I rode up on the first escalator I could find, and threw flyers from the same perch where the Don announced his presidential candidacy. I watched as healthcare fact sheets descended into the fountain below and sank to the bottom--a chlorinated oblivion. This holiday season, and the twenty-six in between, not much has changed.
Ivanka has a store here. She sells crap jewelry, which seems to be a cottage industry for all the Trump women. Even Melania now hocks rhinestones on QVC. The future First Lady copies timepieces from her jewelry box, then sends sketches to third world countries so slaves can assemble them for peanuts. I don't know if the makers of sporty, elegant, chic realize Tiffany and Co. is right next-door. For a quick comparison between Trump jewelry and the real thing, one need only step outside and head north fifteen paces.
There was a Starbucks inside, which seemed to be the only thing open on a Monday afternoon. And Donald has two counters where he sells branded items like golf shirts and ties, Christmas balls and bagged nuts; and of course pot-boilers like "Crippled America"--his latest screed to the billionaire class. I half expected a cooler filled with Trump Steaks, or a shot glass--half Trump Water and Trump Vodka--a shaky, raspberry faced, bowery bum clutching it with all his might--wheezing "Auld Lang Syne"--rolling a yellowed die on a battered Trump game board. These bizarre counters felt like the last resting place of all the Christmas crap Donald can't re-gift.
It is said that Donald and company reside in a penthouse up top. While Barbara Walters claims the White House might feel like a step down, I would say the rats on the fifty-seventh street subway platform beg to differ. There are just as many crumbs here; Trump Tower is a Galleria Mall food court now. After hours, when velvet ropes usher you up one flight and down again, seeing nothing but the bare minimum brands, your fifteen minutes are up, and it's time to head past the maximum security guards flanking the revolving doors. But not before a final, parting glance at that huge, black and white portrait of Ivanka--the daughter most likely to be leered at by her own father.
The Tower was devoid of people. All of it felt like a waiting grave, in Xanadu where Kubla Khan erected a pleasure dome to no one but himself--these caverns measureless to man. The next day, I watched the debates and wondered how many of the eleven million illegals lost their digits beneath Trump Tower's pink marble slabs. How many wounds are woven in imported Italian stone--how many remain to be encased here--and while I left unimpressed, after my visit, I was really quite altered.
I felt rather sick: the empty cocktail tables, the discordant, uneasy water sloshing down dirty walls--I peer over the edge of that pond wall and expect to see a gold-plated urinal biscuit alongside three copper coins in Trump's fountain. With all this chintz and gold, I wonder if his plan for that wall along the border might include a turquois, silver, and sandstone finish.
Here lies Trump Tower--monument to economic inequality, installation of the rich, ever reminding us that some buy high and lay low, while others shiver in the streets. Never mind America, Don--try making Trump Tower great again instead. Fill it with Syrian refugees and New York City's growing homeless population--you can keep the penthouse right where you left it, and order up from Ivanka's joint when you're feeling a claustrophobic pang of nostalgia for that old black Monday and the ghosts of demagogues past.
Calling all HuffPost superfans!
Sign up for membership to become a founding member and help shape HuffPost's next chapter