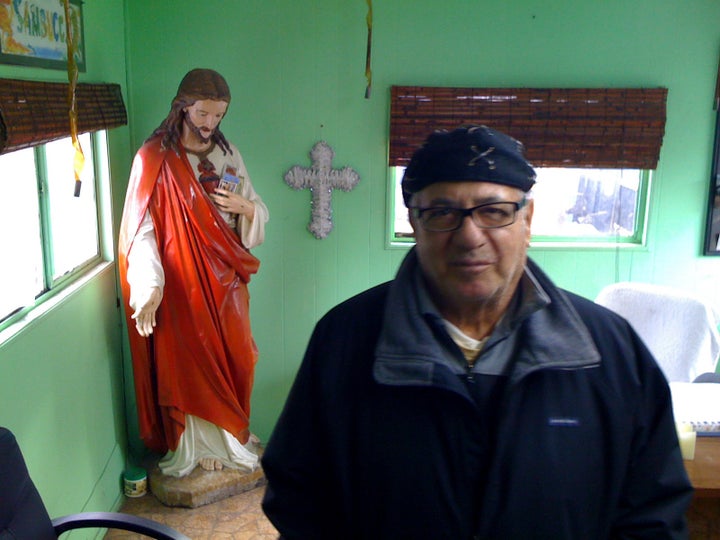 Daniel Sambucci opened up shop in Willets Point fifty-nine years ago. Across the street from him sat a pond where his kids would skate when it froze over in the winter. Now when Sambucci, 79, looks across the street from 126 36th Avenue, he finds himself under the ominous shadow of a gargantuan $900 million baseball stadium. He knows there is more development coming and his days in Willets Point are numbered.
"There is a lot of blood sweat and tears that went into this business," says Angela Sambucci, Daniel's daughter and now the self-described secretary of Sambucci Brothers Inc., an auto salvage company that has been in business since 1951. "But you can't beat $16 billion," Daniel chimes in, referring to Mayor Bloomberg's estimated net worth.
Daniel has a modest but cozy office tucked into the corner of his store. Just outside of it, his adult children and teenage grandchildren are busy answering phones and talking to customers. The wooden walls are painted a light mint-green, a six-foot Jesus statue, his head bowed and a look of peace on his face, stands in the back-left corner. On his desk sits a short stack of papers, a bottle of Purell, and a roll of paper towels. Three roles of fly tape hang from the ceiling, each having claimed its share of winged victims. The far-right corner features a wooden cross, a mini fridge, and a carefully crafted sculpture of the Virgin Mary, Saint Joseph, and a young Jesus.
After a beat of silence, Angela glances at the wall behind her. On that wall hangs a framed photo of Rocky Marciano's legendary punch that knocked out then-heavyweight champion Jersey Joe Walcott in the thirteenth round of their 1952 championship fight. Surrounding it are eight framed photos of young Sambuccis, all with glowing smiles on their faces. "My father is here, he doesn't want to give up his business. His sons are here, and their sons are here. You know, they don't want to give it up," she says.
Willets Point sprawls across sixty-two acres between the Flushing River and the New York Mets' Citi Field in Queens. It is filled almost exclusively with small auto repair shops and junkyards--although it would be excusable for one to mistake the entire area for a junkyard. Almost all of the shops in Willets Point are family owned. There is not an AutoZone in sight.
Since the 1960s there have been numerous proposals for the city to redevelop the "Iron Triangle," as the area is known among the locals. "In the 60s, under different administrations, they'd say 'Let's develop this area,'" Angela recalls. "Back then Mario Cuomo was just a young lawyer on the rise." "A good lawyer," her father adds. "So he took his case to fight it, and he won," Angela continues. "But now when they came in under Mayor Bloomberg, we sort of felt like this time, something's going to happen."
In May of 2007, Mayor Michael Bloomberg announced a plan for urban renewal in Willets Point, backed by widespread support from the Community Board, the Borough President, and New York's Planning Commission. Two years later, the New York City Economic Development Corporation announced that it would invest $400 million into infrastructure projects in Willets Point. The NYCEDC aims to create more than 5,300 permanent jobs and 18,000 construction jobs with this project. Their vision of a new Willets Point includes 5,500 new housing units--35% of which will be dedicated to low-, moderate-, and middle-income families--a high-quality hotel, a convention center, office space, and new parks and playgrounds. According to David Lombino, the Senior Vice President of Public Affairs at the NYCEDC, this project will bring $1.3 billion to the city in direct tax revenue and $25 billion in economic activity over the next thirty years. However, there is no easy solution regarding what to do with the current businesses in Willets Point, which are employing hundreds of workers.
The Sambuccis have been through a lot in their years in Willets Point, and they are proud to still be standing today. "Thirty years ago a group of Koreans came here and they wanted to build a church," Daniel recalls. "They offered me $3 million, but my son had quit college and he liked the yards so what was I going to do? I couldn't take it, and we're still here."
But this time, the future looks bleak. The Sambuccis feel that Mayor Bloomberg's plan might be the $400 million straw that finally breaks the camel's back. "Look across the street, look where we are," says Angela, one hand waving at the office window. Outside, a dismantled car seemingly glides through the air until seconds later, a yellow forklift is revealed, hauling the beat-up red sedan to the yard behind the building. As the forklift passes, that shiny new baseball stadium looms beyond the closed window. "They're building all these condos, do you think they're going to keep us here?" asks Angela. "They've already shown us plans where there are flower pots on our land, and I'm like 'Wait, isn't that my property?'"
The stench of gasoline and mud, with a hint of warm beer fills the cold winter air and mingles with merengue music blasting from every shop that has its radio on in Willets Point. There are no sidewalks in the entire neighborhood--most people prefer to drive anyhow. The streets are spotted with potholes that have filled up with the weekend's melted snow, creating an archipelago of pavement.
"It looks like Iraq out there," Daniel Sambucci says.
The Master Express Deli and Restaurant sits on the right side of the street on Willets Point Boulevard. Inside the deli, a man in his mid-30s sits at a small black table and chows down a chicken sandwich for lunch. Rucco trots over to the man enjoying his sandwich and looks up, eying his meal, before cocking his head to the right. After a minute, Rucco, no longer interested, saunters away.
At the end of 127th street, near the intersection at 34th Avenue, a young black man wearing a Yankee hat stops his vehicle--a red Toyota Camry with four flame stickers, about the right size for a Matchbox car, haphazardly stuck on the rear passenger door. As he steps out, a man driving a white flatbed truck pulls up behind him and yells, "This is a street not a fucking parking lot!" Startled, the 20-something hops back into his car and, avoiding confrontation, pulls it closer to the driveway of the adjacent muffler store. The flatbed speeds down the street while the silver Honda it's carrying experiences a violent piggyback ride, bouncing from side to side as the truck dips into each pothole.
Arias Auto Body is a small shop with a green and black awning located at the heart of Willets Point. Inside, a mechanic is sawing through metal car parts as a customer stands off to the side sipping coffee. "I have no idea what we can do to stop it, but these guys say we need to move," says a man named Jorge, who has worked for nine years at Arias Auto Body. He lives in Jackson Heights and, when not working in Willets Point, works a second job in a kitchen. "It's a tough choice for them," he says, speaking of the proposed development project. "I mean it is good for the city to develop, but it is going to be tough for us because so many people will lose their jobs." When asked what he thinks will happen to the shop he's known for almost a decade, he simply shrugs. "I have no idea."
Manny Cabrera has worked for six years at Muffler-Rims-Tires, a tiny shop with a steel roll-down gate spotted with inelegant graffiti. He echoes Jorge's concerns about the development project: "It is no good because everybody will lose their jobs and right now it's not easy to find jobs." Then, he adds with a slight grin, "If you make a little money you can pay the rent. That's all I need."
A husky white man with a short grey beard sits behind the office desk at H+S Auto Wrecking. Two pieces of paper hang on the left wall, both reading "NO CASH REFOUNDS." The erroneous "o" on both signs has been crossed out with a thin black pen. As a Univision soap opera murmurs from the stout TV in the back corner, the man behind the desk briefly shares his thoughts on Bloomberg's plan for Willets Point. "I got nothing to say to you. It's no good. Bye."
Further south on Willets Point Boulevard, a tin trashcan filled with white cardboard burns in the street. As the flame begins to die down, a man named German chucks a few more sheets of cardboard inside, and a new match to boot. German has been working in Willets Point for twelve years and says that the area has hardly changed. Only difference is, "Now there are even more holes in the street than there were before," he says. However, he has a surprisingly optimistic outlook for the future. "It's good. We can survive. I don't know where we'd move, but we can survive."
"Any time you have eminent domain on the table, you're really negotiating with a gun to your head," says Richard Lipsky. Lipsky is a lobbyist for Willets Point United and the spokesman for the Neighborhood Retail Alliance, where he fights for small businesses and against large-scale developments in New York.
"The Willets Point businesses don't deserve to be thrown out on their behinds in a process that has been corrupted by political favoritism and the type of shenanigans that we've seen," Lipsky claims. The "shenanigans" of which he speaks involve the Flushing-Willets Point-Corona LDC (Local Development Corporation) whose acting President and CEO, Claire Shulman, registered her corporation with the IRS as one prohibited from lobbying. After Willets Point business owners complained, she was fined a record $59,000 last July for failing to register as a lobbyist.
"The city paid her good money and she, in turn, went to the City Council and other elected officials to try to get them to support this project," says Jerry Antonacci, the owner of Crown Container, a waste removal business that has been in Willets Point since 1959. "In essence, the city paid her to lobby themselves."
The Flushing-Willets Point-Corona LDC did not respond to numerous calls asking for comment, but the NYCEDC vehemently insists that they are not throwing anyone out of Willets Point. "These are serious allegations," says David Lombino, noting that the NYCEDC has reached negotiated acquisition agreements with landowners accounting for 75% of the land in Willets Point.
But Lipsky's concerns do not end with the welfare of the area's small business owners. He worries that because of the troubling economic times, this project could end as a disaster for everybody. "The question that the city needs to ask is 'Ok, given the economic climate, how are we going to pay for all of this work and will there be a developer at the end of the process that will have the money to complete this work, or are we just going to be left with some kind of empty lot like they have in New London?'" he asks, referring to the controversial 2005 Supreme Court decision, Kelo v. City of New London. In that case, the Connecticut property seized by eminent domain has yet to be developed, and the company that benefited from the ruling, Pfizer, has given up plans to develop the area altogether.
Lombino, on the other hand, is confident that Lipsky's concerns about abandonment will not come to fruition. "The NYCEDC put out an RFQ for potential developers for phase one (of the project), and twenty-nine firms expressed interest," he says. "This shows that the private sector is eager to build at Willets Point and it won't be left vacant."
If everything goes according to plan, there are enticing economic and business benefits in Mayor Bloomberg's development proposal. Julia Vitullo-Martin, the director of the Center for Urban Innovation at the Tri-State Area's Regional Plan Association, doesn't like the idea of evicting the current Willets Point business owners and thinks that Bloomberg's proposal has "a ton of question marks attached to it." However, she believes that the environmental benefits are reason enough to support redevelopment in Willets Point.
"There are very serious environmental issues at Willets Point--laughably so, as a matter of fact. People have been dumping all sorts of bad stuff on the street for decades and this stuff goes right into the bay," says Martin. Although she thinks that a perfect plan has yet to be proposed, she insists, "It's pretty clear that the one thing that cannot happen is a continuance of the current situation."
Imposing stricter environmental standards on the established Willets Point businesses might be a quick way to patch up the current environmental problems, but Martin is convinced that can't be done. "I think it truly is impossible at this point," she says.
When asked about Lipsky's concern that developing the area would create 80,000 new vehicle trips in Flushing every weekday, therefore clogging traffic and increasing the city's carbon footprint, Martin chuckles. "I don't believe that's worthy of a response," she says.
However, State Senator Bill Perkins disagrees with Martin's claim that a cleanup of Willets Point is impossible. Perkins, representing New York's 30th Senatorial District, which covers Harlem and parts of the Upper West Side, is fighting for statewide eminent domain reform. In 2005, he joined then-State Senate Minority Leader David Paterson to call for a moratorium on eminent domain cases after the Kelo v. New London decision. Paterson said he was "offended" by the Supreme Court's ruling. "We are trying to create a fairer playing field for the local business owners," Perkins says.
Regarding Willets Point, Senator Perkins believes the city made its own bed and now has to lie in it. "We in government are partially to blame for the condition of that area. We did not live up to our responsibilities to provide them with the appropriate infrastructure and environmentally-friendly waste-management systems." While he is adamant that the polluting of the Flushing Bay needs to be stopped, he believes that the city does have the capability to improve this blighted area without kicking the current business owners off their property.
Back in the Sambuccis' office, Daniel and Angela mill around the room before Daniel takes a peek outside. He prides himself on keeping one of the neatest lots in Willets Point, and the city seems to be rewarding him for it. It is offering to buy out his business and help move it to College Point in Queens, a more gentrified neighborhood north of the Flushing Bay. "They are making reasonable offers to us," says Angela.
However, Richard Lipsky believes that the city's relative generosity with the Sambuccis is not indicative of how they will treat other Willets Point property owners. "I think the city was eager to demonstrate some movement and so they looked to give the best deal possible for the high-end owners, the ones who own the most property," says Lipsky. "The rest of them won't have that luxury."
"We belong in College Point. We're neater than anyone in College Point," says Daniel. Even though he has been reluctant to negotiate with the city, he sees the writing on the wall. "When I was young I would have chained myself to the fence. But now, I'm old. I just don't have it in me."
All of this adds up to a bittersweet ending for the Sambucci Family. "I really don't want to give this up, but if the city is going to take care of me like they said they will, fine," says Daniel. But in the end, something about this process just doesn't sit right with him. "You might as well say my life was here. I'm 79, and I came down here as a kid," he continues. "What can you pay for a man's life?"
Related
Popular in the Community