Like most of us, I cannot think of Christmas and the holiday season without thinking of Handel's "Messiah." Blah blah blah, music of another old dead guy, you say? What is the point?
A German immigrant to England, George Frideric Handel, composed his oratorio Messiah in just 24 days. This was 272 years ago.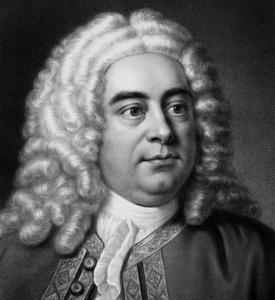 Here are some fascinating facts:
It was an Easter piece.
Many people are unaware that there are three parts to the work with texts complied from the King James Version of the Bible
The parts are: I.Virgin birth predictions and birth of Jesus II. Death and resurrection III. General resurrection and day of judgment and redemption
It originally premiered in Dublin for a charity concert benefiting a hospital, an infirmary and prisoner's debt relief. A later, second performance was for Handel's financial benefit.
He used two female soloists and two male soloists (it is often performed now with countertenor instead of contralto).
Unlike most of his other oratorios, the soloists are not characters.
The choir was comprised of 16 men and 16 boys from area church choirs.
The orchestra was small; just strings, two trumpets, timpani, organ and harpsichord.
Handel brought along his own organ!
It was not properly published until eight years after his death.
700 people attended the premiere
.
Who does not know the Hallelujah Chorus in some form or fashion?
This famed chorus is actually from end of part two in the Easter section of the work. But at Christmas, some performances just jump directly to it following the end of part one and make it the last thing on the program.
I remember being taken to hear "Messiah" when I was in my early teens. My mother made a big point of the fact that we should all stand during the Hallelujah chorus. I always thought it was for sacred reasons. Years later, I learned that standing was appropriate because in 1743, King George, so overwhelmed with emotion, stood while hearing it. Great story!
Unfortunately, there is no evidence that he was even in attendance and, if he were, he may have gotten antsy, or had to stretch his legs and that protocol dictated that when a monarch stood, everyone else did as well. The first mention of it was in a letter 13 years later.
Myth or no myth, isn't it amazing all these years later, in a country that partially was born of separation from England, that this is still a tradition? How often can we get a large crowd to do something at the same time in anything other than sports venues?
I enjoy singing the alto solos in "Messiah" (often mistaken as "The Messiah"), but I really love singing the choruses. No doubt others feel the same hence the birth of the "Sing-Along Messiah". I once attended one and lost my voice from trying to hear myself amid the crowd. But heck it was fun. There is nothing like singing the top line of the Hallelujah chorus -- brutally ascending step by step. I now bellow along to recordings singing all the parts.
Why the allure of such a work? It is hard to say but I think it has an inclusive appeal that many pieces lack. It is also in English with a text many have heard if they have had any church-going Advent experiences. The work has been adjusted, transposed and expanded for larger groups or it can be pared down to an intimate setting. It can be done in a small local church or the huge Mormon Tabernacle. It can be performed by a town's amateur orchestra and chorus or at Carnegie Hall. Messiah remains a group experience of a kind so rare today.
So this holiday season go get your Messiah on!
REAL LIFE. REAL NEWS. REAL VOICES.
Help us tell more of the stories that matter from voices that too often remain unheard.