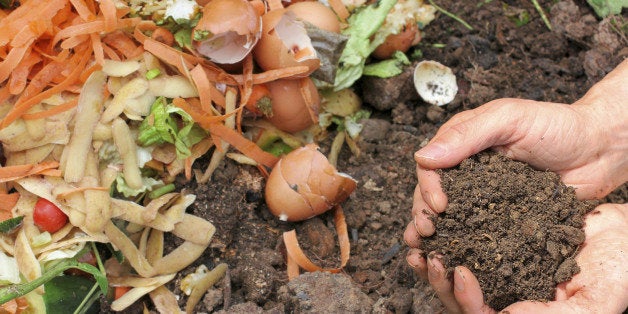 Now that it's time to start making up those perennial lists of resolutions for the New Year, may I urge you to add this throwback one to your list?
I remember as a kid, my Dad would heap all the gathered leaves and grass clippings and various yard stuff, even the ashes from the barbecue, in a back corner of the yard (or rather make us do it, after we raked the yard to earn our allowance -- remember those days?). And then we'd move it around with a pitchfork from time to time, a task that was fascinating to me as a child. But the best part was when I got to dig through the lower levels of the pile to find worms for our fishing expeditions to the local creek.
But that sort of practice went out of style, and convenient bags of prepared commercial mulch and soil amendment became the norm.
Everything old is new again, right?
Nowadays, I'm happy to report, people are becoming concerned about their imprint on the planet and aware of the need for changes in their habits, and there has been a return to the organic (in every sense of the word) practices of the past, with clever updates to make the process easier. And composting is one of those practices.
This is primarily for those of you fortunate enough to have yards and gardens to enjoy, but even you apartment dwellers can participate with the right equipment and a couple of houseplants.
We're talking about simple backyard composting here, nothing too elaborate or time-consuming, that will allow you to reduce household waste and provide you with free organic fertilizer. Whether you create your own constructs or use readily available containers, all it takes is a little time and effort and planning.
There are three basic components of compost: browns (dead leaves, shredded newspaper, used coffee filters, wood chips); greens (grass clippings and kitchen waste such as vegetable & fruit scraps, egg shells, and coffee grounds); and water. The interactions of these components with various beneficial bacteria and fungi will result in a rich and nourishing substance that will lead your garden to glory, and minimize your contributions to the local landfill.
The best thing to do for practical specifics is to consult a few on-line sites, such as the EPA or planetnatural.com; they'll offer guidelines for proper selection and proportions of "ingredients", tips on procedures, and suggestions about suitable containers for your compost "pile," both homemade and purchased. Some cities even offer containers for free (mine does), so be sure to check with your local recycling center.
For your kitchen scraps, a small covered pail with a built-in filter can be housed under the sink or right on the counter, and provides a convenient way to constantly funnel your kitchen detritus where it belongs. Options ranging from metal to ceramic to bamboo are readily available for a reasonable cost. You'll probably want to avoid such things as meat & fish scraps and dairy items, as they may cause odor problems and attract pests; though there are advanced systems that are completely closed and allow for these items as well.
For you apartment dwellers, a low-cost option is to position a small container on your balcony or patio; high-tech options include computer-controlled self-contained units that fit in a kitchen cabinet and make the process super-simple. The results are speedy, and a godsend for your potted plants!
And though you probably won't need it to furnish bait for your next trip to the local fishing hole, you'll find that your compost creation will definitely provide splendid encouragement to your garden for years to come.
To get you started, and provide instant rewards for your efforts, practice with these recipes! Be sure to deposit the egg shells, the stems from the parsley & tarragon & mushrooms, the asparagus stalks, and the peel from the ginger into your covered kitchen pail. Oh, and don't forget to rinse and recycle the containers from the raspberries, the cream cheese, and the yoghurt.
Wild Mushroom & Asparagus Frittata
Served with a little fresh fruit for brunch or with a big green salad for dinner, or as a side dish for roast salmon, this one can't be beat...
8 organic pastured eggs
2 heaping tablespoons chopped Italian flat-leaf parsley
1/4 teaspoon minced fresh tarragon leaves
2 tablespoons olive oil
4 large shiitake mushrooms, de-stemmed & sliced into strips
6 stalks asparagus, trimmed & cut into 1-inch pieces
2 tablespoons shredded Manchego cheese
Preheat oven to broil. Whisk eggs with parsley & tarragon until frothy, set aside.
In an 8-inch oven-proof pan, heat olive oil over medium heat. Add asparagus and cook, stirring, for about 2 minutes. Add mushrooms, cook for about 2 minutes more.
Add egg mixture to pan all at once, and cook undisturbed until edges are set but center is still wet, about 5 minutes.
Transfer pan to broiler, at least 4-5 inches away from flame. Cook until set but still a little wiggly in the center, about 3-4 minutes. Keep checking so it doesn't burn.
Remove from broiler, sprinkle cheese over the top, and let it rest for a few minutes. Work a spatula around the edges and slide it out onto a platter. Cut into four wedges and serve.
Serves four as a main, eight as a side.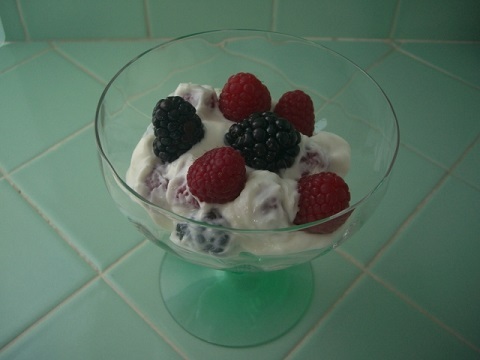 Raspberry Double-Ginger Fool
This creamy delight seems a lot more decadent than it really is...
1 cup fresh organic raspberries & blackberries
4 ounces whipped low-fat cream cheese (Philadelphia, of course!),
softened
8 ounces plain non-fat Greek yoghurt
1 teaspoon finely grated peeled fresh ginger (use your microplane)
1/4 teaspoon ground ginger
1/8 teaspoon vanilla extract
With an electric mixer, beat together cream cheese, yoghurt, both gingers, and vanilla until smooth. Gently fold in berries. Divide among four small dishes (cut crystal goblets make a stunning presentation), and refrigerate until ready to serve.
[ Note: A version of this post appears in my "Kitchen Matters" column in Better Nutrition Magazine.
Calling all HuffPost superfans!
Sign up for membership to become a founding member and help shape HuffPost's next chapter