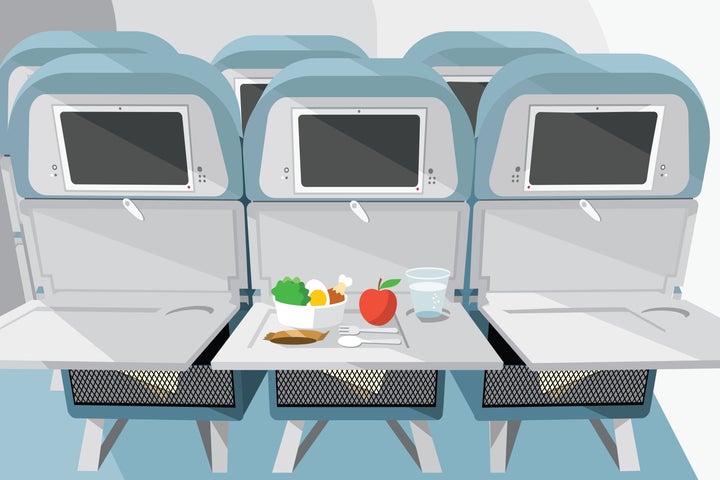 We're not flying all too much in 2020.  
After COVID-19 grounded 90% of international air travel in Australia, Qantas recently posted a $2 billion loss and is selling off its famous assets (ahem, hello fully stocked drinks trolly). 

With coronavirus cases finally steadying in NSW, experts predict the future of flying will heavily focus on domestic travel. 

One thing is for certain, when we get back on those flights, whether it's long-haul or short-haul, feeling snacky will be part of the plane experience - just as it was pre-pandemic. 
And if you or your kids are not a fan of the often bland plane food, have certain dietary requirements or are health conscious, eating can be a difficult feat.
Contrary to what many people may think, you are allowed to bring food on the plane ― as long as your food complies with the strict liquid restrictions (that is, not soup) and you eat certain foods like fruit and veggies before you reach your destination.
"Especially when flying with children, if you take your own food they can eat it when they want it and you can too, instead of just when the meal times are scheduled," Simone Austin, accredited practising dietitian and spokesperson for the Dietitians Association of Australia, told The HuffPost Australia.
"Having food they like ready can help reduce dramas in a confined space, as well as for yourself ― it's not an à la carte menu so take what you want to eat, what you know sits well in your stomach and what makes you feel good."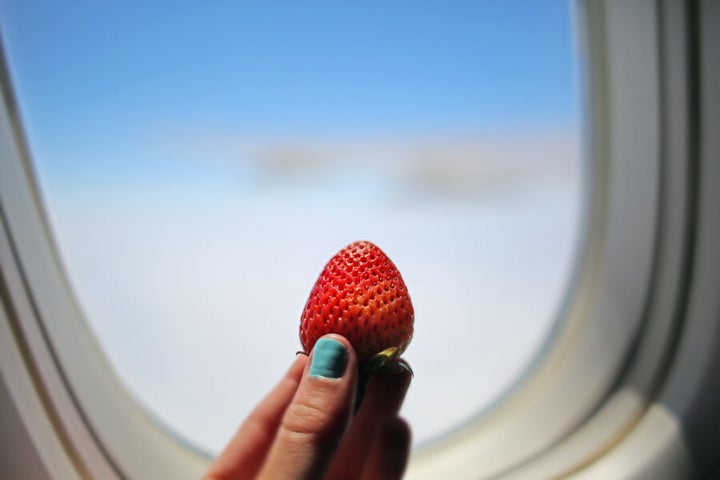 When preparing snacks and food for a plane flight, Austin advises to consider two things.
"First, food hygiene. Ask yourself how long you are going to have it unrefrigerated for. For example, if it's a meat sandwich, just be wary of how long it's been out of the fridge for. Or take something that is less likely to be an issue like an avocado, cheese and tomato sandwich," she said.
The next factor is the amount of liquid there is in your food. As we all know, there are strict rules for taking liquids, aerosols and gels on flights in and out of Australia.
"Going international you have to be a bit careful, so something like yoghurt will probably be classified as a liquid," Austin told HuffPost Australia. "It's better to be safe than sorry. Anything that's deemed a bit 'sloppy' like Bircher muesli could be confiscated.
"The liquid restriction is for international flights, not for domestic, so you could take your water or tub of yoghurt."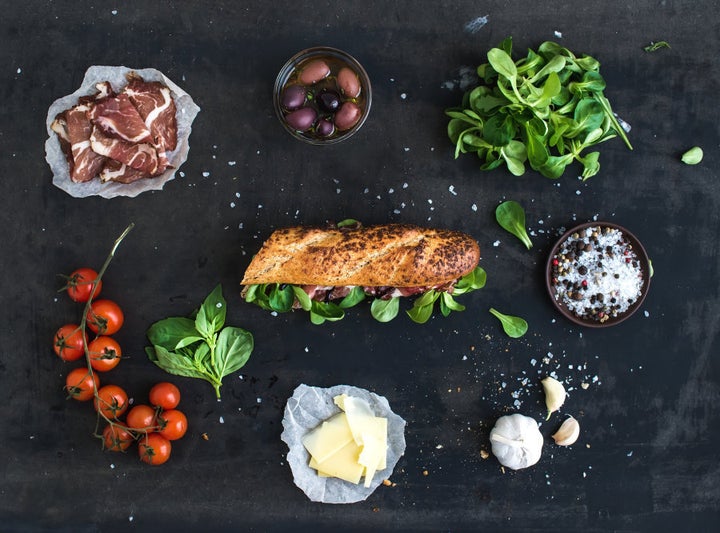 When flying both domestic and internationally it's important to also remember the restrictions on fruit and vegetables.
"Remember that when you get off the plane, many places will have restrictions on fruit and vegetables, so make sure you have consumed it on the flight so you don't have quarantine and customs issues," Austin said.
Despite the regulations, bringing your own snacks and food is a good way to avoid the processed, highly salted plane meals.
"I think most plane food is designed to be reheated well and to meet a budget but, with that, this can maybe mean poor nutrition as it's not one of the highest priorities," Austin said.
"When you eat out, often the food is saltier because salt is a flavour enhancer. Air plane food is not much different."
It's a confined space and it's easy to consume more than you may want to consume.
"We can tend to dehydrate when we're on flights because of the air conditioning. It can be quite warm in there as well, so you need to keep up your fluids," Austin told HuffPost Australia.
"You have the combination of a long flight, which is quite dehydrating, not drinking enough and jet lag, and that's not great for when you get off the plane and want to feel raring to go. Keeping hydrated can help make you feel fresh for after the flight."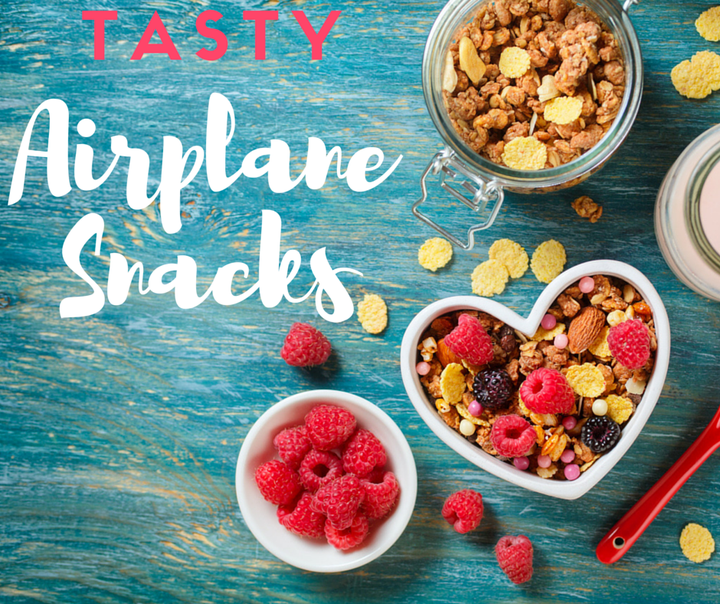 "When thinking of which foods to bring or eat, consider that people's bowels are usually not so good when they're travelling," Austin said.
"Some people can get constipation from being in a different environment, so try to take things with fibre in them ― dried fruit and nuts, oat or nut-based bars, berries and cut up veggies are all going to contain fibre to help your bowels."
Try these easy, delicious and healthy snack and food ideas for your next flight.
Dried fruit and nuts

Magnesium-rich foods: leafy greens, such as kale and spinach, as well as avocado, pecans, almonds and bananas.

Fruit smoothies 

Crackers like Vita-Weats or Ryvitas with a nut spread, cheese or cherry tomatoes

Punnet of your favourite berries

Rolled oats, muesli or cereal (ask the flight attendant for boiling water or milk to add)

Plain spaghetti or spiral pasta with a bit of butter or oil, salt and pepper

Sushi or rice paper rolls from the airport (make sure to eat it within a couple of hours)

Salad wraps

Dry cereal like Weet-Bix Bites (can be eaten without milk)

Oat and nut bars

Cut up veggies and fruit

Lightly salted popcorn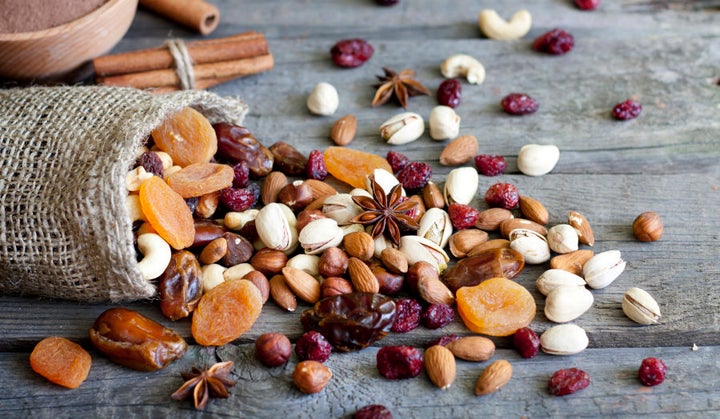 "Right before you get on the plane you could also buy a container of fruit salad and a tub of yoghurt, or a sandwich already made at the airport after security so it's as fresh and cold as it can be before your flight," Austin said.
If you do want a sweet or junk food snack for your flight, Austin recommends buying a small packet so as to avoid overeating.
"It's a confined space and it's easy to consume more than you may want to consume."
Calling all HuffPost superfans!
Sign up for membership to become a founding member and help shape HuffPost's next chapter