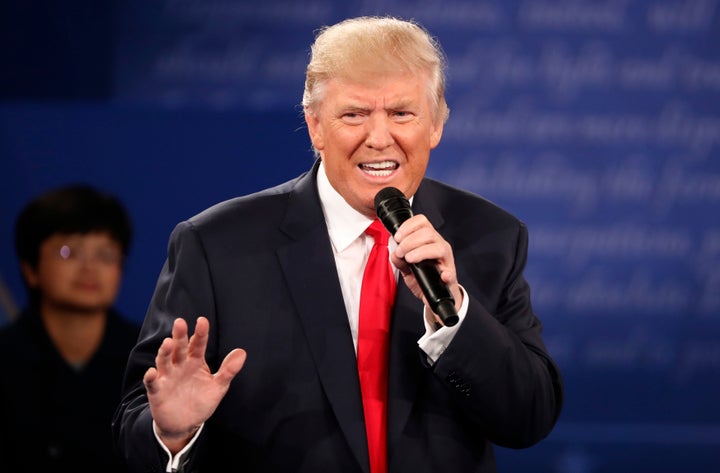 Well, you can't make worse a campaign that is experiencing an en masse defection from the Republican establishment, whose candidate was just heard on tape admitting to sexual assault.
But in the second presidential debate, Donald Trump came close. Here are the most ridiculous things he said tonight.
At the second presidential debate, Donald Trump:
1. Labeled the recently released tapes in which he bragged about sexual assault "locker room talk."
2. Said to Clinton that if he was president "you'd be in jail."
3. Argued that Bill Clinton's actions are "far worse" than his words.
4. Threatened to create a special prosecutor to investigate Clinton if he's president.
5. Claimed Clinton started the birther movement.
6. Said the debate was "one on three."
7. Told Clinton to answer a question first because "he's a gentleman."
8. Referred to Obamacare as a "fraud."
9. Said Islamophobia is a "shame," despite proposing to ban Muslims from entering the country.
10. Claimed if he was president, "Captain Khan would be alive."
11. Said the invasion of Iraq of was "a disaster," even though he supported it (which he again lied about).
12. Claimed you can't solve terrorism without using the words "radical Islamic terrorism."
13. Said that ICE endorsed him, which they can't do because it's a federal agency (its union endorsed Trump).
14. Said "I know nothing about Russia."
15. Said he "absolutely" used a tax loophole that helped him avoid paying federal income tax on close to $1 billion.
16. Said Clinton could have eliminated the carried interest loophole under President Bush if she was "an effective senator."
17. Claimed Iran is "going crazy with nuclear."
18. Said about Pence's Syria plan that "he and I haven't spoken, and I disagree."
19. Claimed Aleppo has "basically fallen," although hundreds of thousands of civilians still remain.
20. Said NAFTA "is the worst trade deal in the history of the world."
21. Said he will "be president for all Americans. African-Americans. Inner cities."
22. Said Clinton has "tremendous hate in her heart."
24. Said the Second Amendment is "under siege by people like Hillary Clinton."
25. Said energy is "under siege by the Obama Administration."
26. Attacked Clinton for not putting "20, 30 million into her own campaign."
Before You Go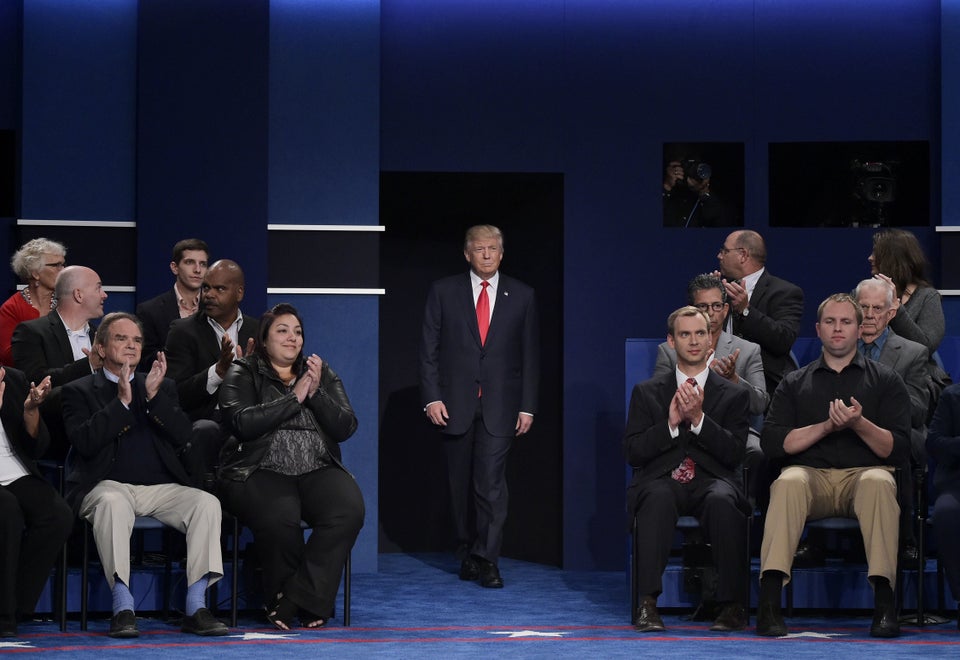 Watch Donald Trump Fall In Love With His Chair At The Debate
Popular in the Community