When I'm invited to a picnic, I'm almost certain there won't be many options for me -- I don't eat sandwiches or crisps, I try to avoid chocolate and cakes, and so might nibble on some fruit and maybe the odd piece of chocolate if I desperately want it. Putting together a small tray of healthy options, however, need not be complex and mind-boggling. And you can very easily be creative if you just spend a little longer preparing. And it's always good to have a few good options at hand to give the spread a bit of balance, colour and pizzazz (not just for the fussier types!) - and you'll feel better for it!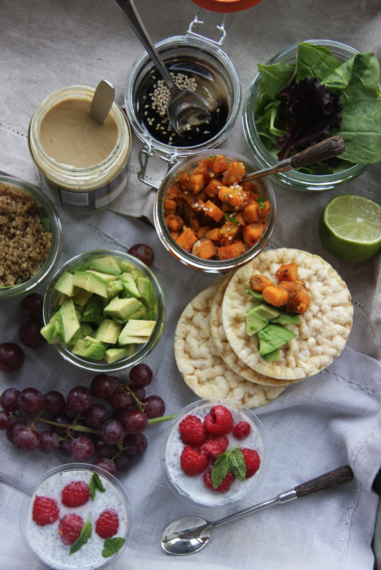 Pot 1 - sweet potato cubes with green chillies
1 medium sweet potato, peeled
½ teaspoon coconut oil
½ teaspoon mustard seeds, optional
¼ red onion, chopped
½ green chilli, finely chopped
¼ teaspoon salt
Steam sweet potato for 20 minutes and once cooked, chop into small cubes. Now melt the coconut oil in a pan on medium heat, add the mustard seeds and wait for them to pop before adding the onions and chillies. Saute the onions for a minute until they are slightly brown and then add the sweet potatoes and salt. Stir for a few minutes - I like the sweet potatoes to become lightly brown on some sides, but you can cook for less time if you prefer.
Pot 2 - avocado
2 avocados, chopped
lime
pinch of salt
Pot 3 - quinoa
1 bowl cooked quinoa
Pot 4 - salad
Mixed leaves
Pot 5 - salad dressing
3 tablespoons olive oil
2 tablespoons balsamic vinegar
1 tablespoon sesame seeds, or furikake mix
juice of ½ lime
Pot 6 - tahini
tahini
sprinkle of salt and pepper, optional
Additional bits
Grapes
Corn cakes or rice cakes or rye bread - or all three!

Simple raspberry chia pots
2 tablespoons chia seeds
200ml, 1 glass coconut or any milk
3 tablespoons yoghurt
½ banana, sliced
handful raspberries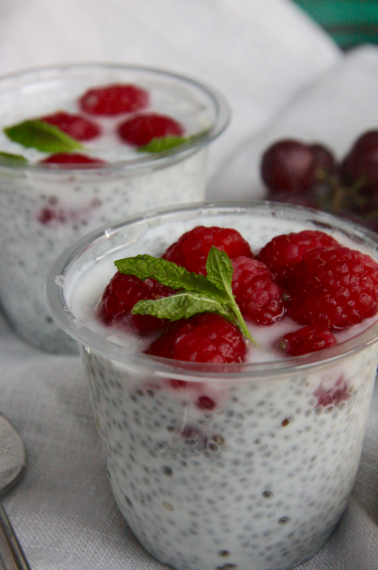 This green coriander and kale chutney is just delicious! The perfect thing to carry on a picnic. Make the chutney in advance, pack in a jar, chop lots of veggies on the morning of the picnic and take the veggies and the chutney and assemble it all there. Or just leave it for everyone to dip as they please.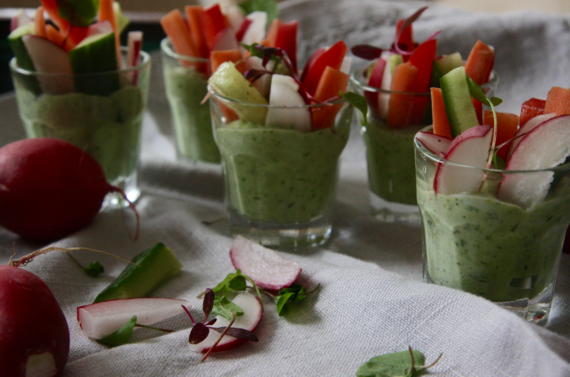 Veggie sticks for dipping
Carrots
Assorted bell peppers
Radishes
Cucumbers
Kale and coriander dip - blend together:
1 ripe avocado
handful coriander
handful, around 25g soaked cashews
4-5 kale leaves, stalks removed, around 15g
5 tablespoons yoghurt
3 tablespoons water
½ teaspoon ground cumin
½ teaspoon Himalayan salt
1 green chilli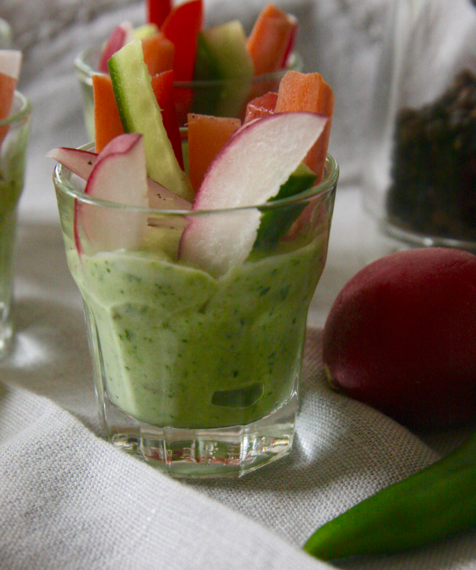 2 mugs water
juice of 1 lime
juice of 1 orange, optional
large piece of ginger, grated (around 2 teaspoons)
¼ teaspoon turmeric powder
2 tablespoons honey
handful strawberries and blueberries
Boil together all the ingredients except for the berries and honey for a few minutes. Once cooled down a little, stir in the honey. Place the berries inside the jug and pour the boiled mixture over them. Leave in the fridge to cool and add a few cubes of ice if necessary.