We highly doubt that you need another reason to fangirl over Millie Bobby Brown, the 12-year-old who plays Eleven in this summer's cultural phenomenon, "Stranger Things." But, just in case you do, the wise-beyond-her-years actress shared a video in which she has her head shaved in preparation for her part, and it's truly inspiring.
Brown teased on Instagram that she was going to post the video, first sharing a picture of herself where she is almost unrecognizable from her "Stranger Things" character.
She then posted the video on Sunday, showing a hairdresser progressively chopping off her long brown hair. While this might be a daunting act for such a young girl, Brown smiles throughout it.
The video, set to Beyoncé's "Pretty Hurts," is surprisingly emotional. As Beyoncé sings about a mother who told her that what's on her head is more important than what's in it, Brown is shown discarding her long locks, a traditional symbol of femininity. The actress told Elle magazine that ― despite not knowing that she would have to shave her head when she accepted the part ― she was game for the cut.
Brown's mother, however, almost refused on her behalf.
"My mom's like, 'No! That's not happening.' And I was like, 'Mom. You need to chill out; it's gonna grow back.' My mom was against it," she said. "And me and my dad were like, 'Come on. It's fine!' Today, actually, we went to an Indian restaurant and someone was like, 'Hello, young man.' That was like the 500th time someone called me a boy, and I'm really fine with it."
May we remind you one more time that this girl is only 12 years old and is already rejecting beauty standards?
Brown's fans flooded comment sections, calling her "brave" and "beautiful" while thanking her for sharing her experience ― which can hopefully show her fans that physical traits do not define anyone.
Bravo to Brown ― imagine if Eleven had to pause her badassery to fix her ponytail. We don't think so.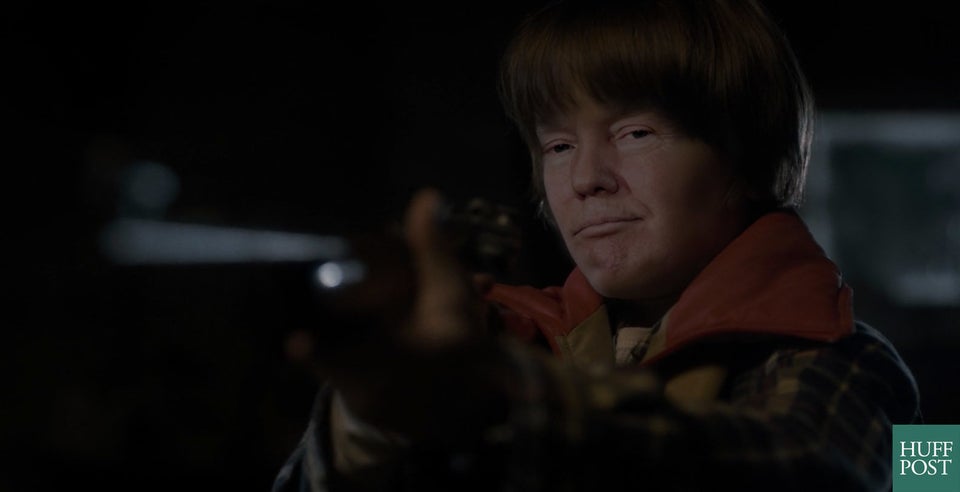 'Stranger Things' Cast With Politicians Would Be Even Scarier
Popular in the Community