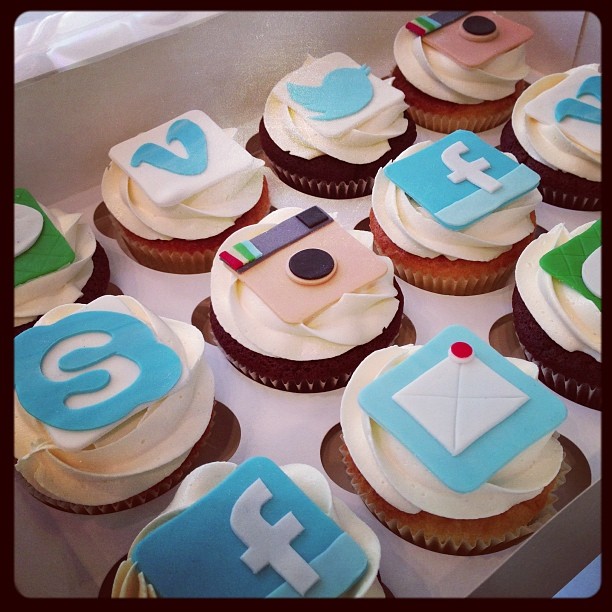 Bobbie Maker transformed a derelict, unused corner of a restaurant on Paris's Île de la Cité into a cheerful cupcake shop that briefly, if spectacularly, ranked as the third-best restaurant in Paris on TripAdvisor this summer. This weekend, Bertie's CupCakery -- a bastion of American baking almost literally in the shadow of the Notre Dame Cathedral -- will celebrate its first anniversary with Champagne and red velvet cupcakes, the latter of which will be topped with cream-cheese frosting. (That might not sound like such an achievement, but it's the result of months of lobbying French food authorities and a battery of lab tests proving that Philadelphia cream cheese, in its frosting form, can, indeed, be safely served at room temperature.) We spoke to Maker about the perils and possibilities of opening a bakery in Paris -- when your language skills are limited ("Bonjour!") and your professional specialty ("giraffe cakes for baby showers where you don't know if it's a boy or a girl") doesn't easily translate.
What happens when your cupcake shop is ranked the third-best restaurant in Paris on TripAdvisor? Do you get an email?
There was no email. There was an ecstatic text message from a colleague. Just a couple months earlier, I'd looked on the site, and we were, like, three-thousand-something, and I was high-fiving my husband. I mean, there are 10,000 restaurants in Paris -- we were in the top half!
We got to 47, and we were like, How far can cupcakes go? Only a week or two later we jumped -- to 3. You put "Paris" into TripAdvisor, and we were on the front page. It was an instantaneous change of business.
You hadn't moved to Paris necessarily set on opening a business.

I would have loved to work somewhere, but being pastry-trained in a more American style, my specialty was big fondant cakes and character cakes -- like giraffe cakes for baby showers where you don't know if it's a boy or a girl. But that's not super popular here. So I was like, Ugh -- what am I going to do? I didn't have any friends. I didn't speak the language. In Paris, it's hard to make friends. In small towns, everyone knows you're the new girl, and they bring you pie. We'd figured there'd be more American bakeries here, but there wasn't a lot for expats who want something for their kids. This palce was physically small enough that it wasn't overwhelming, so we just jumped in the deep end, cannonball-style -- backwards, blindfolded, upside down.
How good was your French when the shop opened?
Basically it was "Bonjour." If the conversation got really desperate, people just end up pointing. I used to have Post Its back here no one could see with my prompts: "Avez-vous choissi? Voulez-vous un boisson?"

I'd think it'd be impossible, as a foreigner, to start a business in France.
I walked every street and side street in central Paris, looking in all these shop windows, thinking about how I could make it work. And then we saw this little space. It was so dark -- it had red carpeted walls, these Gothic-style chandeliers. But I walked by it a few times, and started seeing the people traffic on the street, and you start thinking, "Maybe." There is a lot of red tape, but it's sort of like all the lines and barriers are customs at the airport -- there is a way through it.
There must be some benefits to working in Paris, too.
The French have a bad rap. In the U.S., we're so stressed out -- we gotta make money, we gotta make the rent, we gotta go go go. And here.... This morning, we had a misunderstanding with the schedule and opened an hour late. In the U.S., if you're a big shop and you open an hour late, people would be slamming you on Twitter: "This is unacceptable!" I'd be handing out gift certificates for free cupcakes: "I'm so sorry." Here, they knock on the window and wave and say, "We'll come back, thanks!"
You live in Paris, you're married to an American, and yet you're Canadian. Explain.
I'm from Newfoundland, Canada. Newfoundlanders are a special breed. There's not a lot on Newfoundland but people who put their hard down and work hard for nothing. They're a tight crowd, and they don't like to take any crap from anybody, especially anyone from Ontario or Quebec.
There's a Newfoundland flag on your door.
Someone brought that over! When a Newfoundlander does something, all the Newfoundlanders call all the other Newfoundlanders they know and tell them about it -- when they heard about the bakery back home, Newfoundlanders were like, "Yes! We made it to Europe!"
Can you anticipate what people are going to order based on their nationality?
Americans are open -- sometimes they'll want the vanilla-vanilla, and other times they're like, "Give me the weirdest thing you have." The Italians love Nutella and pistachio. The French will almost always have the strawberry or the lemon. Europeans in general won't eat the cookie ones. They'll look at the Oreo one like, It's a cake? With buttercream, and you smash cookies into it? It's overload. I'd never suggest an Oreo one for an older, very well-put-together French woman. It's too rich. I'm not going to give her the salted caramel, which is the trend all the Americans want to try.
I've just started experimenting with that! But I'm definitely not going to give that particular woman the maple syrup and bacon.