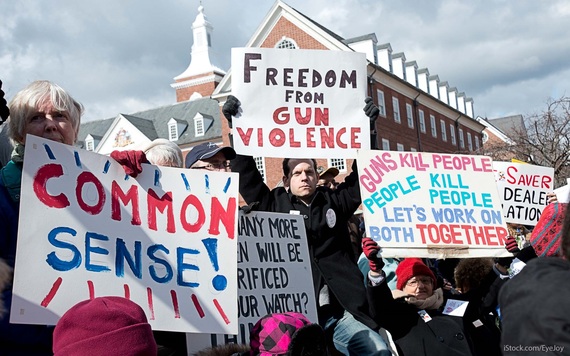 By Andrew Lisa, Contributor
The debate on whether the U.S. should adopt stricter gun control policies has been a hot topic among politicians, especially in 2015 as the nation dealt with a string of shootings that occurred in San Bernardino, Calif., at Umpqua Community College in Oregon, at a Planned Parenthood in Colorado Springs, Colo., and more.
In January, President Obama referenced the country's recent shootings in an emotional appeal for stronger gun control. But the push for more gun control is met with opposition from many Republicans and gun advocates who fiercely support the Second Amendment. And then, of course, there's the fact that the gun business is big business in the U.S.
According to 2013 data from the Pew Research Center, there are between 270 million and 310 million guns in the U.S. And IBIS World's "Guns & Ammunition Manufacturing in the US: Market Research Report" reports that the gun business is a $13 billion industry with a 3.4 percent annual growth rate from 2010 to 2015.
Sure, $13 billion is a lot of money. But that figure is nothing compared to the economic cost of gun violence in America.
The Cost of Gun Violence in America: $229 Billion a Year
Eighty-nine people die from gun violence every day in the United States — that's about 32,500 people over the course of year. An even larger number of people (more than 75,900) survive from gun injuries each year, according to data from the Brady Campaign, which works to reduce the number of gun deaths and injuries in the U.S.
The human toll is evident in the statistics, but gun violence also has a significant economic impact on American taxpayers.
Dr. Ted Miller is an internationally recognized safety economist with more than 200 publications. He is also a senior research scientist with the Pacific Institute for Research and Evaluation and the founder of the Children's Safety Network Economics and Insurance Resource Center.
In collaboration with online publication Mother Jones, Miller conducted extensive research on the cost of gun violence in America. His conclusion? Gun violence costs the U.S. $229 billion a year, or about $700 per American.
The cost of gun violence in the U.S. can be broken down into two different categories: direct costs and indirect costs — or "out-of-pocket costs and costs attributed to lost wages, pain, suffering and quality of life," said Miller.
Miller's research concludes gun violence costs about $8.6 billion in direct, or "out-of-pocket," expenses. This is more than just the costs associated with transporting gunshot victims to hospitals and treating them; it also includes long-term prison costs for those who commit gun crimes.
"The adjudication and sanctioning of the people who have committed gun violence, police investigations, incarceration and court proceedings can all get very expensive," said Miller.
What's more, about 87 percent of these direct costs (about $7.5 billion) will come out of taxpayers' wallets. Divided among the approximately 322.8 million people there are in the U.S., that's about $23 per person.
Meanwhile, pain and suffering, or indirect, expenses are much higher at roughly $221 billion. These costs include victims' lost wages, victims' loss of quality of life and employers' losses. About $49 billion can be traced to victims' lost wages annually, and an astounding $169 billion is due to lost quality of life.
Gun Violence Vs. Gun Control: Which Costs Americans More?
Despite a 2015 Gallup poll survey that found only 28 percent of Americans personally own a gun and 55 percent want to see stricter gun laws, the powerful gun lobby has successfully blocked attempts at gun reform.
During his January speech on gun safety reform, President Obama became emotional as he recalled recent mass shootings in America and called for an expansion of background checks on gun sales.
"We've created a system in which dangerous people are allowed to play by a different set of rules than a responsible gun owner who buys his or her gun the right way and subjects themselves to a background check," said Obama. "That doesn't make sense. Everybody should have to abide by the same rules."
Whether stricter gun laws would save lives is a hotly debated political issue. But, would stricter firearms legislation save money compared to the current cost of gun violence?
Firearms policy expert David B. Kopel is an associate policy analyst with the CATO Institute as well as a research director at the Independence Institute and an adjunct professor of advanced constitutional law at the University of Denver's Sturm College of Law. He has written more than 10 books, some of which analyzed firearm laws and policies.
Kopel doubts that significant gun-control legislation is likely to pass, nor does he think more gun control will necessarily save America money. "The U.S. has been very successful at reducing the costs of gun crime," said Kopel. "Infringing the rights of law-abiding citizens is not necessary or effective at saving money."
In fact, the U.S. has been able to reduce gun violence without passing stricter gun control laws. According to the Pew Research Center, the overall gun death rate has declined 31 percent since 1993. The trend is similar when it comes to non-fatal gun victimizations. In 1993, there were 725.3 nonfatal violent gun victimizations per 100,000 people ages 12 and older. But in 2014, that number was only 174.8.
Mental Health and Gun Violence: The Relationship and Cost
Instead of strengthening gun laws, Kopel suggested America could save money — and lives — by focusing on mental health.
"More help for the severely mentally ill would be effective at reducing crimes against the mentally ill, who are disproportionately victimized," he said. "It would also reduce homicide. About one-fifth of state homicide prisoners are mentally ill."
In his speech, Obama said he plans "to do more to help those suffering from mental illness get the help that they need."
"High-profile mass shootings tend to shine a light on those few mentally unstable people who inflict harm on others," said Obama. "But the truth is, is that nearly two in three gun deaths are from suicides. So a lot of our work is to prevent people from hurting themselves."
Obama also added that he plans to invest $500 million to expand mental illness treatment across the country.
"President Obama's proposal for extra spending for this is a good first step," said Kopel, "although states need to be the leaders on the problem. Mental health spending is very expensive in the short run, but can produce enormous savings in the long run."
Although the cost of gun violence and the merits of proposed gun control legislation is fiercely debated, one thing is certain — the epidemic of gun violence in America has become a fact of life.
"I did an NPR interview the other day, and they were talking about the mass shooting in San Bernardino," Miller recalled. "At a certain point, the guy said, 'When I started talking to you, I thought you were going to say the cost of the San Bernardino shooting was enormous, but you acted like it's not a big deal.' I said, 'It's not a big deal compared to the number of people killed by guns across the country every single day.'"
More from GOBankingRates:
Calling all HuffPost superfans!
Sign up for membership to become a founding member and help shape HuffPost's next chapter