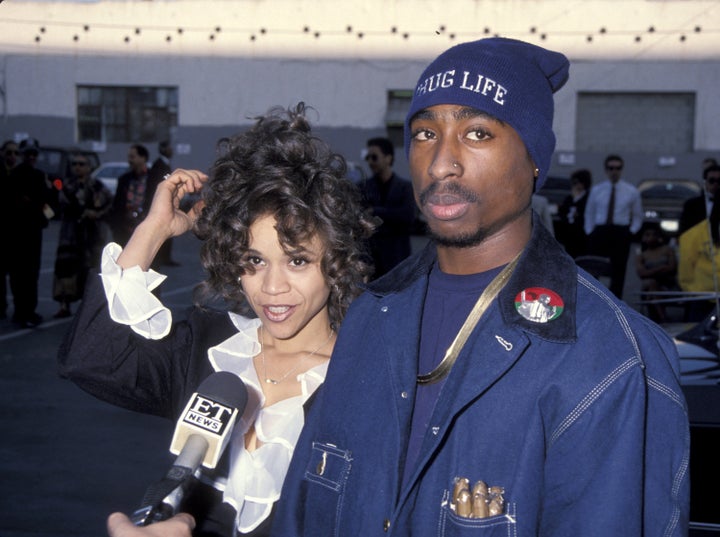 The "Like A Virgin" singer first revealed she had dated the rapper during an interview with the "Howard Stern Show" in 2015. The news took many by surprise, including Stern.
The Nuyorican actress explained that Tupac graciously offered to be her date to the 1993 Soul Train Music Awards after Perez was stood up. The two went as friends but Perez said she became the envy of many of the female artists in attendance.
"There were two girls ― they will remain nameless ― [who] actually wanted to beat me up," Perez said in 2015. "And I was telling Tupac 'Will you tell them I ain't sleeping with you. We just friends.' And he goes, 'You could take them.'"
Perez said that later in the evening, Madonna approached her and expressed interest in being introduced to Shakur.
″[I told Tupac], 'she wants to meet you' and he goes 'hook that up,'" Perez continued. "And I hooked it up and I was very happy about it."
The relationship between Shakur and Madonna lasted more than a year, and the recently surfaced letter from the rapper shed some light as to why things ended. In the letter, written from prison and dated January 15, 1995, the rapper said race was a factor in the break-up.
"For you to be seen with a black man wouldn't in any way jeopardize your career – if anything it would make you seem that much more open and exciting," Shakur wrote.
"But for me, at least in my previous perception, I felt due to my 'image,' I would be letting down half of the people who made me what I thought I was. I never meant to hurt you," he added.
Support HuffPost
Every Voice Matters
Popular in the Community