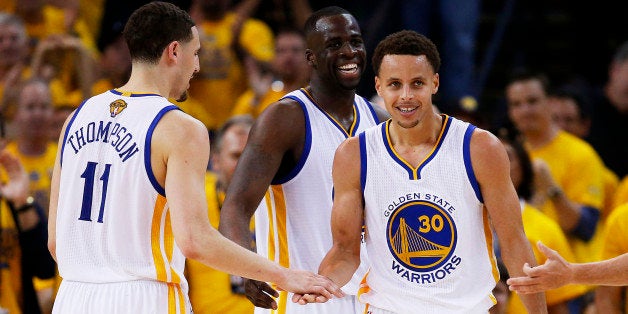 Before the NBA Finals began, the Cleveland Cavaliers' key adjustment to playing sans Kevin Love was in its highly effective small-ball lineup. With LeBron James at the fore, head coach David Blatt was able to employ a quicker unit — on both ends of the floor — while relying on Tristan Thompson to patrol the glass. Even with the improved play of center Timofey Mozgov, Blatt has continued to go small.
Perhaps the bigger surprise is what the Golden State Warrors have countered with. After losing Game 3 on the road, Warriors coach Steve Kerr told reporters that he had no intention of changing his matchups. Game 4 however, told a different story, one in which Kerr himself turned to a smaller lineup predicated on the superior defensive play of veteran swingman Andre Iguodala. It was also the moment when Kerr revealed he had made the savvy, if controversial, choice to lie to the press.
"So, if I tell the truth," Kerr said, "it's the equivalent of me knocking on David Blatt's door and saying, 'Hey, this is what we're going to do.' I could evade the question, which would start this Twitter phenomenon. Who is going to start for the Warriors? Or I could lie. So, I lied. Sorry. But I don't think they hand you the trophy based on morality. They give it to you if you win. So, sorry about that."
If the Finals are a chess match, the battle between the two coaches might have tilted to Kerr, whose latest move to go small was also his best. Because without Love and All-Star point guard Kyrie Irving, Blatt is left with James as his primary ball handler. Against an average defense, or even a good one, that might suffice, but as I've highlighted, the Warriors possess the top-ranked defense in the league.
After going 0-8 from the floor with Matthew Dellavedova as the primary defender in Game 2, the Warriors' Steph Curry -- like any great player -- has made the necessary adjustments. In addition, Kerr, noticing Cleveland's over-zealousness to jump ball screens with Curry, has allowed the MVP the freedom to operate in isolation. The result has been a scoring outburst, highlighted by 37 points in Game 5, including these two tremendous pull-up 3s.
To his credit, Curry has changed the way he runs pick-and-roll as well. By coming off the screen tighter, he doesn't allow the opposing big -- in this case Tristan Thompson -- to jump it. Instead, Curry splits Thompson and then uses his remarkable body control and deft left-handed touch to avoid the shot-blocker and finish at the rim. This also brings us to an emerging theme in the series. Blatt, in an effort to match Golden State's quicker lineup, went away from Mozgov in Game 5, playing the 7-footer just nine minutes, his lowest total of the entire postseason. Without a rim protector, the Cavs opened up driving lanes like this one and, in turn, were unable to rebound defensively.
"It's no disrespect to anyone, certainly not to Timo [Mozgov], who has done a great job for us," Blatt said after Game 5. "That's just the way that we played it tonight, and Timo will be back and he will not lose his way or lose his head just because he didn't play a lot tonight."
Don't forget that in a brutal 21-point Game 4 loss, Mozgov was a lone bright spot, going off for 28 points and 10 rebounds while proving effective on both ends of the floor. Blatt's decision moving forward is extremely challenging because he has had great success going small, which we've explored previously.
In the first half of Game 5, the Warriors shot over 50 percent and led by only 1 point. The reason was that Mozgov's replacement, J.R. Smith, caught fire from distance and provided a secondary scoring option behind James. When Smith -- and the rest of the Cavs -- went cold during the second half, however, it essentially ruined the idea of a small lineup predicated on more playmakers. Lacking any sort of post presence, Cleveland's offense became entirely reliant on James. Defensively, as James pointed out, they were awful in the fourth quarter, both on close-outs and on eliminating second-chance points (surrendering 11 for the game), an area in which the Warriors feasted.
Regardless of what Blatt decides, Kerr's small-ball lineup has been especially useful because of Iguodala, who averaged less than eight points per game during the regular season. The 31-year-old swingman earned his first start this year in Game 4 and responded, scoring 22 points and collecting eight rebounds while playing phenomenal individual defense on James. With Iggy on the floor, James is shooting under 38 percent from the floor and 36 percent from beyond the 3-point line. Just as importantly, the Cavs are minus-46 with him on the floor and plus-13 when he's off the court. Furthermore, in Game 5, Iguodala went for 14 points, eight rebounds and seven assists, giving Kerr an additional playmaker on the perimeter aside from Curry.
Game 6 and a potential Game 7 may ultimately come down to whether the Warriors can even partially contain James, who has been that good.
But the series will also be decided by the type of adjustment Blatt makes to match Kerr's smaller lineup with Iguodala on the perimeter alongside Klay Thompson and Curry. Both teams have been dominant in stretches of the Finals, but the Warriors, who are fully healthy, have benefited from tremendous depth, something the Cavs simply do not possess, especially without Love or Irving, which leaves the burden almost entirely on James. That is sustainable for a game or two, but not the entire Finals -- something we are learning all over again, almost as if it were 2007.
Calling all HuffPost superfans!
Sign up for membership to become a founding member and help shape HuffPost's next chapter