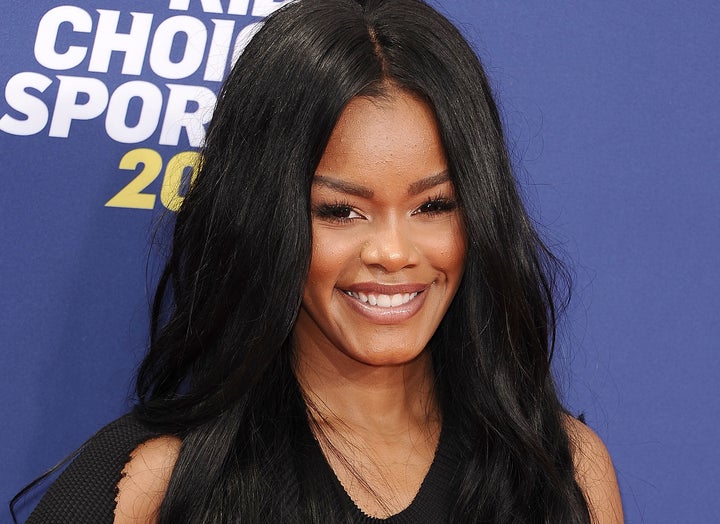 Kanye West's "Fade" video premiered during MTV's VMAs on Sunday and it was unreal. Primarily because of its star, Teyana Taylor.
The video features Taylor channeling Jennifer Beals in "Flashdance," and it will make you want to get your butt to the gym, STAT.
So ... Who is Teyana Taylor?
The 26-year-old dancer, actress, and new mom (her daughter is 8 months old ... can you even??) first hit the scene way back in 2007. Taylor celebrated her 16th birthday on MTV's iconic show "My Super Sweet Sixteen."
Taylor is also engaged to Cleveland Cavaliers shooting guard Iman Shumpert, who also makes a cameo in "Fade" with their daughter. 
How did she end up in "Fade"?
West chose Taylor to be the star for "Fade" after the two ran into each another while they were recording. After chatting about their respective families and careers, West was inspired by the love Taylor had for her fiancé and new baby.
"Literally when I left the studio and went back to my recording room, [a head representative from G.O.O.D. Music] came up to me and said Kanye wanted me to dance to one of his songs — for 'Fade.' I was like, 'Oh my god, you're lying,' she told Vogue.
What's the deal with the cat scene at the end?
Taylor revealed to Vogue that she had no clue why she was transformed into a cat, or what the sheep appearance at the end of the "Fade" video meant, either.
"He was just like, 'I'm going to put you in this cat face. It's going to be chic.' It was definitely something deep," she said. "The whole video is deeper than people probably processed it. So I feel like it's up for the people to figure it out."
How is her body so dope?
"I just dance. I almost feel like dance is so underrated in the fitness world," she said.
Um ... talk about #BodyGoals?? 
Luckily, Taylor announced via Twitter that she'll be releasing a workout video in the coming months — so the hope of one day achieving her fitness level is out there.
In the interim, we'll be blasting "Fade" and attempting to jiggle our way to a six-pack.
REAL LIFE. REAL NEWS. REAL VOICES.
Help us tell more of the stories that matter from voices that too often remain unheard.
BEFORE YOU GO
PHOTO GALLERY
MTV VMAs Red Carpet 2016