Trump's recent executive order on immigration may not be welcoming to Syrians, but there's no so-called Muslim ban at the Academy Awards: three out of the five total films nominated in the Documentary Short Subject category this year at the Oscars focus on the Syrian crisis.
The three films, Watani: My Homeland, The White Helmets, and 4.1 Miles, are all by European directors. They each examine a different aspect of the Syrian refugee crisis — from the first responders who remain behind caring for civilians to the Greek coast guard who daily rescue incoming migrants.
The nomination of the three short films underscores Hollywood's burgeoning political outspokenness throughout this year's awards season leading up to the Oscars — only accentuated by United Talent Agency's decision to scrap its Oscar party in favor of an immigration rally.
"Watching what's going on in the U.S. right now, a country that is getting more and more divided, a government that is playing with fear, it is so terrible to witness," said Marcel Mettelsiefen, the German director of Watani: My Homeland. "The only thing that is encouraging is that there's a huge movement awakening right now.
I think here in Hollywood a lot of actors, a lot of people within the industry, are speaking out and being part of this movement. I think this movement is very encouraging and will be difficult to stop."
Yet not everyone with a stake in Syria is comfortable in Hollywood's limelight. Shahan Sanosian, a Syrian refugee living in Los Angeles has mixed feelings about politicizing his plight.
"I'm not sure I want to see them or not," he said, referring to the films.
At 27 years old, he has been in LA for three years after arriving in the United States alone — leaving his parents behind in Damascus.
He speaks almost perfect English, with an American accent.
"It's because of watching a lot of T.V. shows and movies," he said, thinking back to his childhood. His dad owned a shoe shop in Damascus where he and his older brother, who is now in Germany, grew up.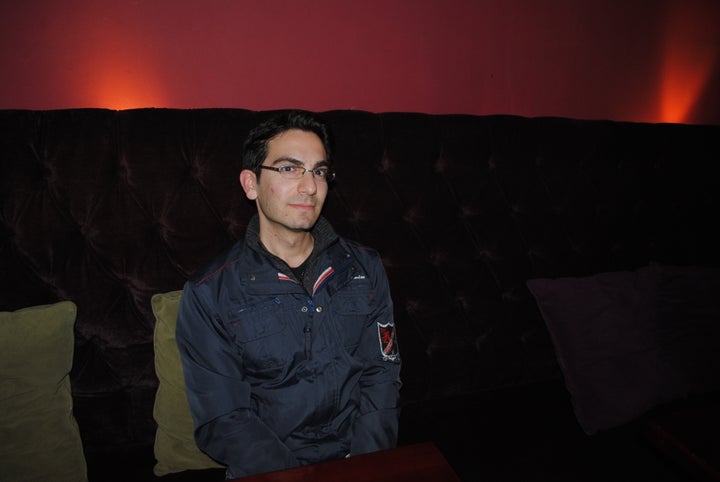 With the Oscar ceremonies happening just a short drive from his Koreatown apartment, Sanosian has only one hope for the films about his home country: that they focus on the people.
"I hope that they don't delve into politics and they don't delve into religion," he said. "I hope that it's about people who are struggling with their day-to-day life."
Most of Sanosian's family is still in Syria. While he recently officially received asylum, his parents' visa application has been denied. "People have lost their homes, their families, and they're unable to go to school," he said. "They're barely able to afford or even gain access to food, shelter, clothing."
Mettelsiefen insists he wanted to show this through his film.
"I did not do a political film," he said, "I'm showing a family who has been risking everything for their country."
Mettelsiefen entered Syria 28 times to follow four young children before and after their father's capture by ISIS as they fled to Germany with their mother.
"The people who are fleeing — these stories have to be acknowledged," said Mettelsiefen in a telephone interview. "The most important thing is to tell the stories that are not told, to create a counter narrative."
The trio of nominated films work together to do this.
The White Helmets, by filmmaking duo Joanna Natasegara and Orlando von Einsiedel — previously nominated for an Oscar for their 2014 film Virunga, profiles the work of the Syrian Civil Defense who act as first responders to pull victims to safety after bombings.
"We are really focusing on those who are left behind, and who choose to stay behind and save lives," said Natasegara over the phone.
She said the White Helmets are motivated by their faith to stay in Syria. "The motto from the White Helmets is taken straight from the Koran," she said. "Saving one life is worth it no matter what is happening to you."
Rounding out the collection is Daphne Matziaraki's 4.1 Miles, focusing on the work of Greek coast guard captain Kiriakos Papadopoulos as he rescues migrants off Lesbos.
"The most important is that the efforts to save people's lives and deal with the refugee crisis were known all over the world by this film," said Papadopoulos from Greece before adding, "The film itself caused people to realize what people are going through on their way to Greece."
While last year the Oscar's were criticized for being "so white," this year they've clearly taken a turn toward highlighting foreigners.
"The arts and film community has always been great at recognizing the issues of today," said von Einsiedel who directed The White Helmets. "With Syria being such an issue of our time it makes perfect sense that this year there were these films nominated."
While the film community might back the stories of Syrian suffering, the immigration ban has made it hard to focus squarely on the people. Both Mettelsiefen and The White Helmets team had planned to bring their subjects to the Academy Awards.
The immigration ban, though temporarily stayed, makes this complicated.
"It's a missed opportunity for the White Helmets leaders to be heard and a missed opportunity for the United States," said von Einsiedel while his team was working to secure travel arrangements for the two members of the White Helmets they want to bring to the awards.
Travel has been secured and the filmmaking duo hopes it will go smoothly so their subjects can attend.
Sanosian, who is working full-time to establish himself in L.A. without his parents or brother, hopes such political obstacles won't deter average citizens from what he sees as the heart of the issue — an issue each film examines.
And one that Sanosian says the refugees want most.
"They just want a safe place to go home to," he said, "to go to their families and try to feel safe."
Popular in the Community