Saudi Crown Prince Muhammed bin Salman appeared typically confident Wednesday at a high-profile investment conference, joking about that one time he kidnapped the prime minister of Lebanon and lamenting the killing of journalist Jamal Khashoggi with a straight face. His biggest message went unsaid: I'm still here.
But away from the spotlight, members of the Saudi ruling family and influential foreign governments are quietly debating the crown prince's future ― especially whether he should remain the single most powerful player in a kingdom facing its biggest international crisis since the Sept. 11 attacks.
Three weeks after Khashoggi was murdered at a Saudi consulate in Turkey, the prince's position as de facto ruler of the kingdom and his status as king-to-be seem secure. Neither a steady drip of leaks detailing how MBS's inner circle was responsible for the gruesome killing nor global pressure on Riyadh for a major response to the assassination has convinced Saudi King Salman or President Donald Trump to cut him off.
Yet the idea that his influence needs to be curtailed in some way is gaining traction. Having held power for close to a century, the Al-Saud dynasty knows it has to do more than just sell oil and position itself as a bulwark against Western nemeses to survive. Their political savvy means they're well aware that their powerful friends have been growing more and more frustrated by MBS's policies. They see the headlines criticizing his U.S.-backed military campaign in Yemen, his domestic crackdowns that have spooked international investors and his fights with Qatar, Canada and Germany.
Regional figures are making clear they are worried about MBS but expect the system to self-correct. "A lot of people around the world would like to take the king seriously and hope that he will definitely punish all those involved regardless of their identity," said Khalil Jahshan of the Arab Center think tank.
"MBS has cultivated close personal relationships with Trump and his son-in-law and White House adviser Jared Kushner."
And key Western allies continue to question the Saudi explanation so far, while in the U.S., many officials remain close to some of the royals MBS sidelined during his rise to power, like former Crown Prince Muhammed bin Nayef. MBN, as the former interior minister is colloquially known, "is still Washington's favorite Saudi, except for at the White House," said Gregory Gause, a professor at Texas A&M University who has studied the kingdom for decades. MBS has cultivated close personal relationships with Trump and his son-in-law and White House adviser Jared Kushner.
Meanwhile, Turkish President Recep Tayyip Erdogan has worked to maintain the pressure on the crown prince, whose initial rise Turkey saw as a "disaster," Yusuf Selman İnanç, a journalist formerly with the pro-government newspaper Daily Sabah told HuffPost. Erdogan directly addressed King Salman in a Tuesday speech, urging him to find answers about the Khashoggi killing while implicating MBS. And his government has now played an audio recording of the murder for CIA director Gina Haspel, the Washington Post reported Wednesday night, making it easier for critics of MBS to keep the issue alive in Washington.
Though the Saudi royal family won't allow the rest of the world to determine its choice of crown prince, they understand the expectation of a change. By taking face-saving measures that protect MBS's standing ― like the king placing him in charge of a reorganization of Saudi intelligence or elder statesman Prince Turki Al Faisal telling the Washington Post the family and Saudi public are with MBS ― they have created an opening for a quiet adjustment that doesn't seem dramatic or harsh.
It's a strategy that echoes the traditional Saudi caution and preference for backroom dealing that MBS has broken from with his brash approach.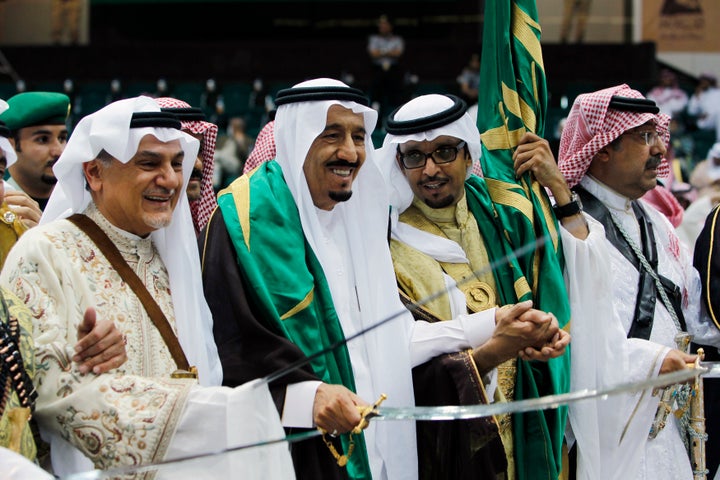 Now the king could promote an experienced royal as a form of balance, Gause suggested, to signal decisions are not being made exclusively by his son.
Given that MBS-linked actions outside the kingdom ― like targeting Khashoggi on foreign soil and pushing Yemen into the world's worst humanitarian crisis ― have caused the greatest backlash, an adjustment on foreign policy seems like the obvious choice.
"There's going to be Americans, presumably even in the Trump administration, who are going to be telling the Saudis you've got to put some guardrails around this guy, and the most public way you can do that is by having a senior member of the family [become] foreign minister," Gause said. He pointed to a likely figure: Prince Khalid Al Faisal, who is outside the MBS branch of the clan and was chosen by the king as his emissary to Turkey after the murder.
To avoid a backlash from Saudi nationalists who champion MBS, royal elders would have to be careful to frame any tweak as key for the kingdom's stability and interests, as the king did in reaffirming support for Palestine after pro-Israel moves by the prince. And they must negotiate with other key Saudi forces that have shown no signs of abandoning MBS. He has promoted members of the youngest generation of adult royals to positions of rare power in the generally ossified Saudi hierarchy, Gause noted, and as defense minister, MBS has empowered a Saudi military elite personally invested in his position, according to Carnegie Middle East Center analyst Yezid Sayigh.
While the precise aftermath of the Khashoggi scandal remains unclear for the prince and his kingdom, the continued uproar, geopolitical maneuvering and shifts in Saudi explanations mean things are far from settled, Saudi watchers and allies say.
"We need more credibility when it comes to a holistic picture of what actually happened," said a Western diplomat who spoke to HuffPost under the condition of anonymity to speak candidly on government affairs. "So I think we're now just waiting to see what the Saudis can come out with [while] privately messaging on the urgency of this."
This story has been updated with additional context.
Popular in the Community