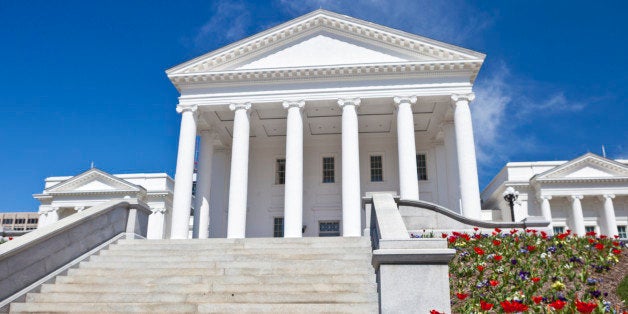 When Steve Case's Rise of the Rest bus rolls into Richmond May 4th the community will come together to celebrate the entrepreneurs who are building the companies of tomorrow and imagining a bright future. But it will also be a moment to look back at Richmond entrepreneurial history.
Founded on the falls of the James River in 1742, Richmond's core economy was initially based on "growing things." Richmond became the marketplace and transportation hub for tobacco, wheat, timber, cotton and other produce grown in Virginia and nearby states.
In 1612, John Rolfe planted the first tobacco plant and, for 400 years, tobacco has played a major role in Virginia's economy and Richmond's success. Richmond was also Virginia's wheat processing center with seven major flourmills along the James River. Today, trendy apartments, unique restaurants and innovative office spaces are located on the mills' foundations.
Richmond's early business investors and city leaders built the infrastructure to keep Richmond growing and going. The famous James River and Kanawha Canal was developed, and Richmond's railroad, stagecoach lines and steamboats soon followed. Over time, Richmond's financial entrepreneurs started banks, brokerage firms, insurance companies and trading houses. Among Richmond's early entrepreneurs was Maggie Walker, a daughter of former slaves, who was the first woman in the United States to become a president of a local bank.
Richmond's early entrepreneurs created even more jobs and greater value by "making things" out of what Virginia farmers grew and using the available natural resources of water, coal, ore and timber. From the mid-1800s through the 1970s, Richmond's skyline along the James River included iron works, tobacco factories, paper companies, freight warehouses and aluminum plants. Richmond's scientific entrepreneurs also started chemical and pharmaceutical companies, and global chemical companies choose to build large plants in the Richmond region. In the shadows of these large manufacturers were many equipment, service and retail businesses that served Richmond's growing businesses and diverse communities.
Infrastructure also grew -- power generation and electric companies expanded, and America's first electric street cars carried people to work and home. Decades later, interstate highway systems were built, the Port of Richmond was developed -- and its small airport grew into Richmond International Airport. In addition, trade schools, universities and medical colleges were established to attract and train workforces and enhance the quality of life of Richmond's families.

Over the centuries, Richmond's economy has experienced the tragedy of many war years, and its businesses have gone through significant economic downturns. However, Richmond has always survived its many hardships and downturns because of two things. First, Richmond's entrepreneurs and community leaders work together and solve difficult problems. Second, the diversity of Richmond's economy and the strength of its infrastructure have enabled it to successfully cope with economic adversities over the centuries.

Thinking of Things.
Today, new types of businesses are being started, new job opportunities are opening, new wealth is being created and new communities are being formed. Richmond's new economy is based on "thinking of things," a 21st Century economic model that involves creative entrepreneurs, innovative corporations and a new generation of passionate entrepreneurs, talented workforce, and dedicated leaders who want to make a difference in the world.
Richmond's "thinking of things" economy includes a wide array of new startup companies, established corporations and not-for-profit organizations. Intellectual properties, patents, trademarks, medical discoveries and process improvements are being created by Richmond's entrepreneurs, engineers and medical technicians, and thousands of creative people make Richmond a world-class place for brand management, advertising and marketing. Richmond's global companies have established innovation labs to develop new products, improve existing services and capitalize on global market opportunities.
Just as Richmond's "growing" and "making" economies have supporting infrastructures, there is a new 21st Century infrastructure for sustained growth and continued success of Richmond's "thinking of things" economy.
New economy workers and entrepreneurs want cool places to work, live and play. In response, Richmond has transformed the James River skyline of historic factories into unique apartments, creative workspaces, restaurants, coffee houses and micro breweries. To support an urban culture that celebrates healthy lifestyles, Richmond offers its unique James River Park with whitewater rafting, signature running events and a new 50-mile Capital City bike trail.
Richmond has established incubators and accelerators, including business mentoring and educational programs, as well as early stage and growth capital providers. Richmond's Chamber of Commerce and Venture Forum, along with many social media, young professional and other business organizations, hold special programs, competitions and networking opportunities.
Today, Richmond's entrepreneurs are working side-by-side with business and community leaders to strengthen Richmond's entrepreneurial ecosystem and expand its "thinking of things" economy. We are all tremendously proud of our entrepreneurial past, excited about our future -- and we are tremendously appreciative to be selected by Steve Case and the Revolution Team as a "Rise of the Rest" City.
Calling all HuffPost superfans!
Sign up for membership to become a founding member and help shape HuffPost's next chapter