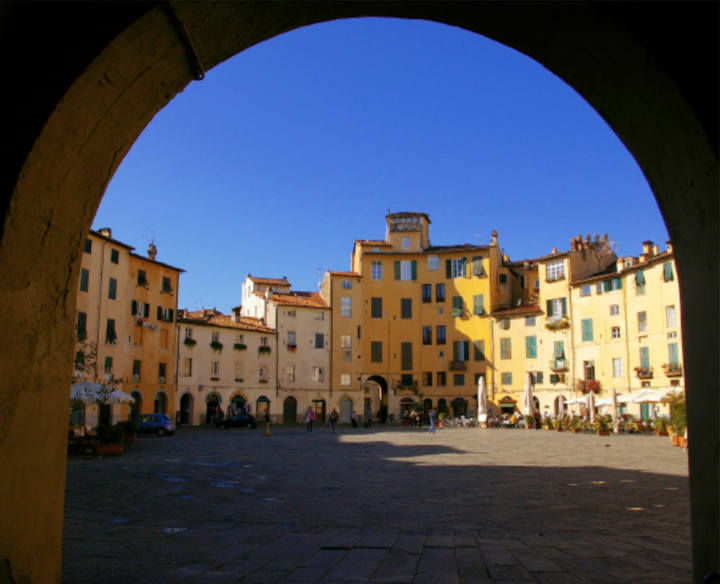 Cheap, fun, environmentally friendly and healthy. But the list of benefits could go on, as bike tours have become an increasingly popular sport, especially when you want to visit art cities, going straight from architectural beauty to stunning landscapes without running the risk of museum overkill. That's because, on a bike, urban travels are more fun and original, and can be changed at the last minute.
The added value lies in the fact that, at the end of the day, you can leave the heart of the city and head to more peaceful hotels and B&Bs, chosen because they have a unique position or view, are off the beaten track or are the ideal starting point for your tour the next day. Needless to say, you have to get things carefully organized. That means you need to look for bike- friendly facilities where you can tuck your bicycle away for the night and get a little help if you need it (there's always a screw that needs tightening, a brake to be adjusted, a tire that needs more air). Another variable to consider is the proximity of bike paths or connecting roads, best if they are scenic and well out tted. After that, there are no limits. So enjoy your vacation breezing along, because as they say in Italy, "You wanted a bike, so start pedaling!"- the equivalent of "you made your bed, so lie in it." To start, here are a few ideas from the Federazione Italiana Amici Bicicletta, which also has a site with plenty of information (www. ab-onlus.it).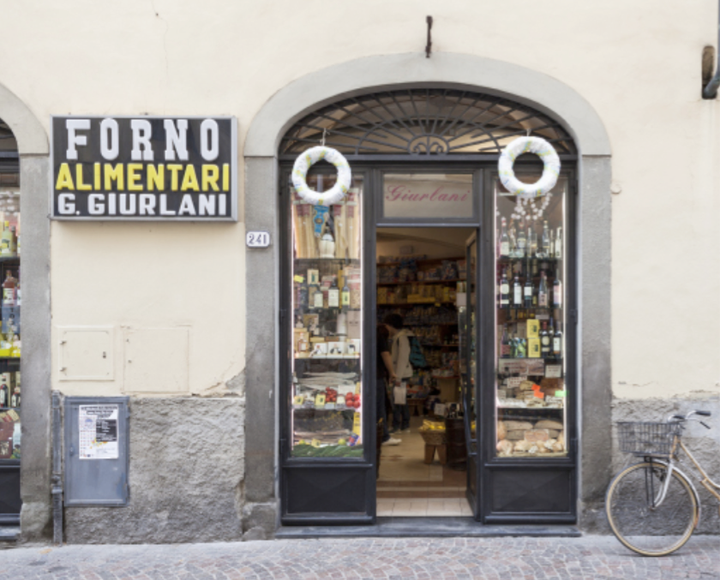 Lucca
It is one of Tuscany's best-known art cities. First of all, this is because of its magni cent walls built between the 15th and 17th centuries, which enclose the entire historic district (the only other provincial capitals in Italy with intact Renaissance walls are Bergamo, Ferrara and Grosseto). But the entire city, which is along the Via Francigena, lends itself to bike tours: from the famous Piazza dell'An teatro—built over the ruins of the Roman amphitheater—to the streets that wind their way from one church to another (notably, the cathedral with its quadrangular tower), linking squares, gardens, palaces and towers.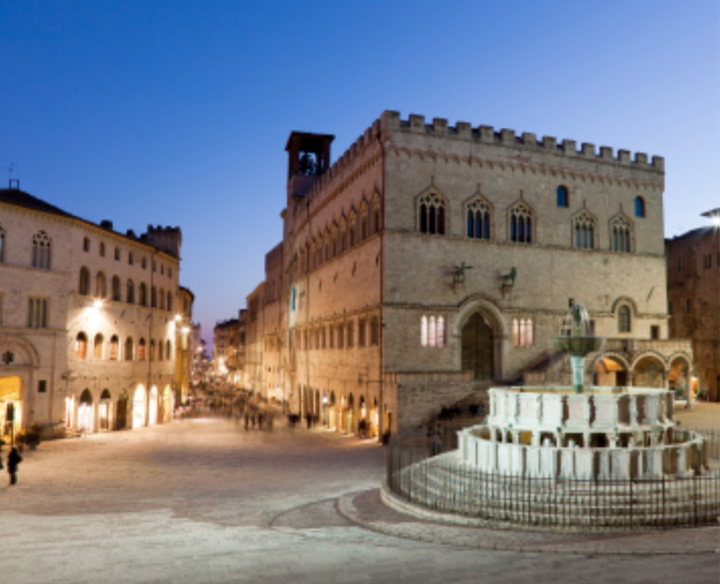 For a place to stay, head to one of the hills just outside town and relax at Locanda San Ginese (Via di San Ginese 266, Capannori. tel. +39 347 3724772), which is not only comfortable and strategic in terms of logistics, but is also part of the Italian bike-hotel circuit Albergabici (www. albergabici.it). So it pays special attention to the needs of those who ride miles and miles a day and not only need a small in-house bike- repair shop, but also a very rich breakfast in the morning.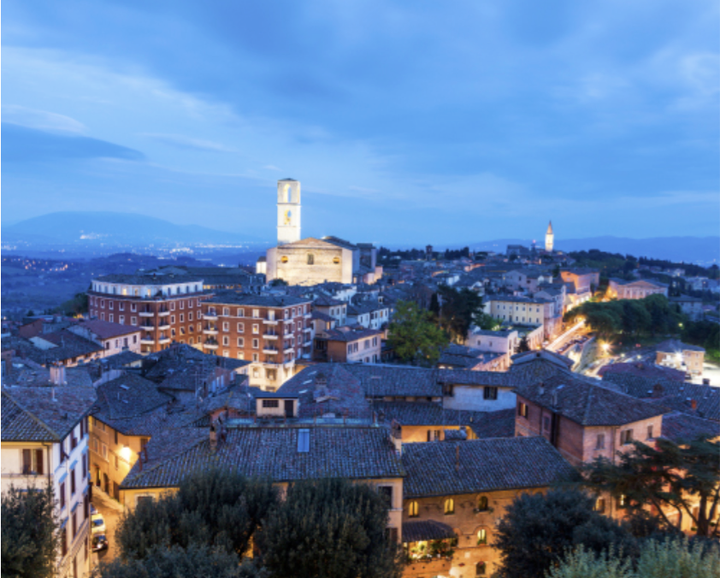 Perugia and Spoleto
The heart of Umbria is an area with so many monuments and works of art that it's hard to describe in just a few words. Etruscans, Romans, the Byzantine: history has come through this region and left its mark. Umbria is also a region that is focusing a lot on bike tourism, so it is especially easy to pedal around the beauties of Perugia and Spoleto. In Perugia you'll find the 13th-century Fontana Maggiore, the main fountain and one of the most famous monuments for the sculpture of the era, the city walls with the various Etruscan and medieval gates, civic architecture such as the Palazzo dei Priori and that of the Capitano del Popolo, and religious ones such as the Cathedral of San Lorenzo.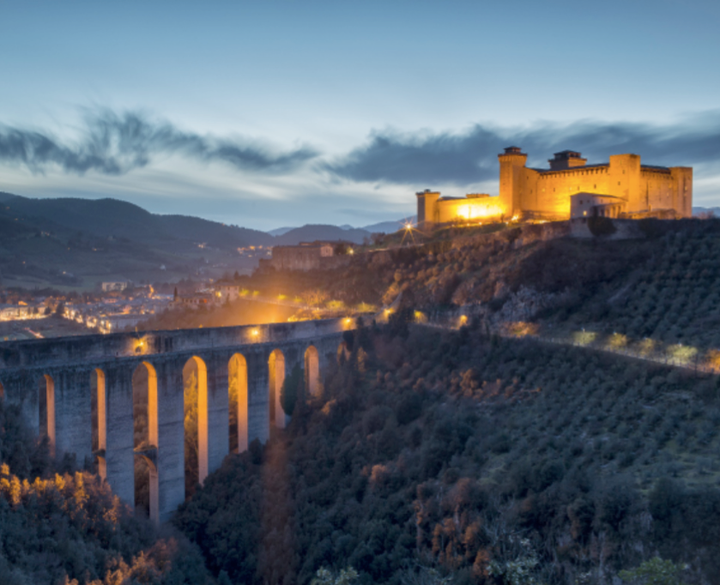 In Spoleto, be sure to visit the cathedral, dating back to 1067 AD and with stunning frescoes, the fortress at the top of the town, overlooking the entire valley, and the long Ponte delle Torri, which was part of the Roman aqueduct. But here as well, you'll see old city walls, fountains and treasures around every corner. But an eye so accustomed to beauty also needs the perfect place to stay. So here you go: L'Ostello Diffuso Turriscollis (Via di Mezzo 12, Torre del Colle Bevagna, tel. +39 333 3208484) is a medieval village on a hill outside Spoleto, which has been transformed to accommodate demanding visitors. Encircled by walls, one side faces Assisi and the other overlooks vineyards and olive groves. The buildings have been restructured into simple but charming lodgings.