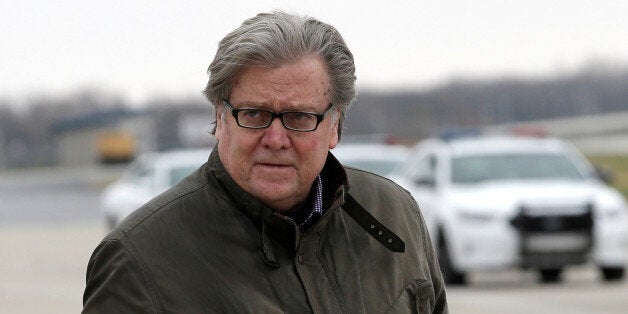 The 2016 presidential election has not happened yet and there's still time to prevent Steve Bannon from ever setting up office in The West Wing.
The election officially happens on December 19 in the 50 state capitals across America when the Electoral College votes.
And just 36 of the 306 Republican "Electors" can bring Donald Trump to his knees and absolutely force him to rescind the appointment of Stephen Bannon as his Chief White House Strategist.
1. On November 8, America elected 306 Electors for Donald Trump, 36 more than the 270 needed to become president.
2. On December 5, one of those 306, a Texas Republican named Christopher Suprun, declared in a New York Times op-ed that he was not going to vote for Trump and would, instead, vote for John Kasich or another Republican that he felt was qualified for the job. Alexander Hamilton and the other Founding Fathers actually wanted electors to soberly reflect and consider facts that may have occurred since the election and to vote their conscience as Suprun's op-ed notes. (Pulitzer Prize winner, Republican Washington Post Columnist Kathleen Parker, supports this reasoning. And here is my take on Fox Television.)
3. If 36 additional Republican Electors follow Mr. Suprun and vote for Mr. Kasich or anyone else, or abstain, Mr. Trump will not be elected and the decision will then move to the United States House of Representatives (unless Kasich or Hillary or anyone else does get 270 or more votes).
So, all that 36 out of the remaining 305 Republican electors need to do is to send a short memo to Donald Trump saying essentially the following. If they do, Donald Trump will have to choose between Steve Bannon or The White House!
As Republicans and Americans who care about equal rights for all Americans and specifically and personally abhor anti-Semitism, hate speech and White Supremacism, we are not comfortable with the appointment of Mr. Stephen Bannon as your Chief Strategist.
As such, with all due respect, we write to inform you that, should your selection of Mr. Bannon still stand when we cast our sacred votes as electors in the Electoral College on December 19 in our state capitols, we will be unable to vote for you for president of The United States.
Such a vote would violate our personal values.
And for those of us who are Jewish, it would be too painful to have to tell our own children and grandchildren that we were actually given a chance to avoid knowingly electing an administration that harbored such people and views and that we ignored this, an opportunity that millions of our ancestors in Nazi Germany never had.
We are proud to be Republican electors and were happy that our slate was chosen because of your victory in our states. Please make us proud to vote for you on December 19."
The 2016 election formally takes place on December 19 and a small number of Republican Patriots can, and should, save America and the world from the vile influence of Stephen Bannon.
Richard Greene is a former Fellow at The Constitutional Rights Foundation, a former Attorney, former member of The Speakers Bureau of The Anti-Defamation League, Political Strategist and Author
Popular in the Community