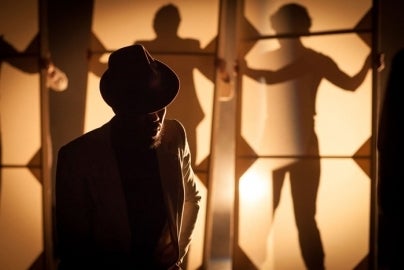 HERE Art's presentation of CasablancaBox a new multi-media play, lifts the veil of the eponymous classic film to reimagine the stories behind the legends. Rife with glamour, war, censorship, sexism, racism, addiction and the refugee crisis of 1940s Hollywood, CasablancaBox is madcap and affecting, moving and political, romantic and relevant. With an intricately woven multi-narrative script by Sara Farrington and elaborate original video score by director Reid Farrington, this new theatrical work is a transformative "making of" tribute to the movie you thought you knew.
Employing simple wooden canvas flats, period costumes and 17 performers playing over two dozen characters, CasablancaBox toggles between high-tech and low-tech, transporting audiences to a bustling 1940s movie set. This backlot drama, inspired by a roving camera style, delves into myriad stories behind the iconic film Casablanca – stories of risk, sacrifice, brilliance and chance – in an exploration into the accidental nature of great art, through a contemporary lens.
What is the first memory you have of making art?
I remember doing a really big painting on poster board of a landscape showing one half night and one half day. So the right side had the moon out, the left side had the sun out. I was probably in kindergarten. I remember the teacher hanging it up with a little nameplate saying my name. I was very proud of that.
When did you know you were an artist?
I don't remember a time when I didn't know I was an artist. Ever since I was very little I have escaped into drawing, painting, acting, reading, writing, music, etc…The art of playwriting had the steeliest will to survive, so that's what I do now. I very clearly remember the moment I knew I was going to be a theater artist professionally though: When I was 11, I went to see Guys & Dolls on Broadway. Something about the spectacle and New York left me in a state of total shock. I couldn't speak, I couldn't blink. It was decided for me then that there was no other life for me but in the theater.
What types of stories are you drawn to telling?
I love telling stories of forgotten women in history—they are infinite. I love telling stories of love triangles and confused hearts. Stories of forbidden love are my absolute favorite. I love stories of people emotionally trapped or paralyzed. I also deeply love refugee stories, stories of people having to suddenly leave somewhere. I also love revealing the human side of a legendary figure, which is all over my new play CasablancaBox.
Who are people who are/ have been important influences on your work?
The people who have influenced me are the "yes" people in my life. My husband Reid Farrington is a big one. That same "Guys & Dolls" shocked feeling I had in 1991 was the same feeling I had when I first saw a piece made by The Wooster Group, which is where I met Reid. I saw their Emperor Jones when I was 24 or 25, and the wind was knocked out of me. It was an epiphany. I didn't know you could do that with a play---as in, whatever the fuck you wanted. I thought there were rules. I didn't know everything on earth is yours, your canvas, as a theater maker. I didn't realize how artistically "no" I was until Wooster and Reid. Reid's response to any artistic challenge is always the same: "make it work." So he instilled that mindset in me and continues to. Other "yes" people who have inspired me are Mac Wellman, my playwriting teacher in grad school, the ultimate playwright's playwright and never was there a more "yes" artist. Also my dad Frederick Asselin who introduced me to everything good, all my playwriting heroes I strive to be as good as; O'Neill, Miller, Chekhov, Ibsen, Williams, Pinter, etc…
Why Casablanca? And why history? And why film on stage?
Why history: Because I smuggle in my own story through it. Although I so deeply idolize the "Long Day's Journey Into Night" playwriting format and have tried to write that way many times, it's never felt like the right way to express myself (or closer to the truth: I'm just not as brave as O'Neill). So I like to use time travel and history as a palette and a lens. I can hide better in there, expose the truth better in there, reveal myself better in there. I also think it's because I trained as an actor and worked in a classical rep for much of my life and so playwriting is an extension of acting for me.
Why Casablanca: Reid and I firmly believe that contemporary and experimental theater making should be accessible, that there are infinite new ways to tell an old story. So we chose a story people already know. Then, the storytelling form can be bent and twisted and played with and everyone's already with you. To me, Casablanca is greatest screenplay ever written and a perfectly perfect but accidental combination of art, politics, war and romance. The accidental element attracted us. Casablanca was historically one of the most chaotic film shoots in Hollywood history. So much of this brilliant film was stumbled upon or decided last minute or improvised, all under the threat and fear of World War II. We recognized that "make it work" mindset that both Reid and I have in the backstory of this film. That was in 2014. During my writing process from then to now, the same political upheaval that shaped the original Casablanca began to shape my writing of CasablancaBox. The refugee crisis then and now shaped it, war and violence in Europe shaped it, America's ever changing place in the world shaped it, the questions of isolationism, the similarities between 2017 and 1942 became glaring, endless and scary.
Why film on stage: It is unavoidable working with Reid. He is a very visual director and film and new media are his palette. Video to him is like marble to a sculptor. So it was my job to design my script around that and vice versa, for him to design his video around my script. It was a highly collaborative process that way.
Talk to me about putting a film onstage in terms of tech and writing? How are your designers working? What are they creating?
The tech and the writing were built simultaneously. Reid and I worked together on that from the ground up in a way I have never collaborated with another artist before. We talked everything out, every moment, every concept, every scene I wrote, over the course of many years. (I had my 2nd kid in there somewhere.) We did many workshops and public showings at HERE, experimenting with weaving tech and narrative together. We failed a lot, we learned a lot. At a certain point, Reid and I came up with two rules which were 1) Casablanca is the "meter," in other words, the script has to follow the basic plotline, rhythm and tone of Casablanca and 2) The tangential stories have to always relate to and return to Casablanca. So if I write the story of Peter Lorre's struggle with morphine, it has to organically spring out of and tie back to Casablanca. If I tell the story of Bogart's troubled wife Mayo, or Bergman's artistic and romantic conflicts or the harrowing tales of European refugees--- same rule, it has to come from and return to Casablanca. If it doesn't, we cut it. I cut a ton from this piece, much more than I ended up keeping. It was a powerful exercise for me. But I think we have created a breathtaking work of contemporary storytelling.
Actor Roger Casey plays Humphrey Bogart in your adaptation. Can you talk a bit about Roger and what he brings to this role?
His Bogart is frighteningly, uncannily good. The other night Reid and I watched The African Queen and we had this meta experience of watching the real Bogart doing Roger. Reid and I had worked with Roger on two previous pieces, Reid on his Tyson vs Ali, where he played an equally uncanny Muhammad Ali, and The Return, a piece I wrote for The Metropolitan Museum of Art, which Reid directed. Roger has a thousand voices. He reminds me of Phil Hartman. I don't know what goes into his process, and wouldn't presume to speculate, but from what I can tell, he seems able to locate where the person places their voice—is it the chest, the eyebrows, the throat, the tongue, the hips even?-- and the likeness builds from there. Roger is so good at impressions, he even helped everyone else with theirs. There are so many iconic voices in Casablanca that his help was invaluable.
How large is your cast? It's quite large, right? And you are paying them all a living wage, yes? How has that been and why is it important to you?
Yes this is something I am so excited about. We have a cast of 16 actors and we are working under an Equity Transition Code, where we pay every actor weekly, plus health insurance. We didn't begin the project under this code, but this year I received something called The Venturous Fund, which allowed us to do it. However, the Venturous didn't cover everything so, with the help of few other grants I received, plus crowd souring, corporate matching gifts and personal asks, we are almost there financially. It has been the biggest hustle of my career. I've hated a lot of it, It's certainly felt uncomfortable, but being an artist all about feeling uncomfortable all the time. Paying people has become essential, professional and sustainable for me. Most of all, it tells my actors I value them. I wouldn't write for free, I don't expect actors to act for free, especially at the age most of us are at.
You and Reid are married and make work together. Can you talk a bit about what that is like? Do you feel you are always immersed in the work? Were you drawn to each other as artists first or on a more personal level?
Reid and I met at The Performing Garage when I was an intern at The Wooster Group. I was only 25. Reid was their video designer. I was in a whole new world over there, a star struck idiot, completely out of my element, astounded by the caliber of art being rehearsed and performed there. Every day I got to be there was a privilege, they let me watch rehearsals, l honestly couldn't believe it sometimes. Reid was a huge part of that. So theater and art has always been a major part of our relationship, it's our religion, it fuses us together. But we never intended to work together, we both thought it would be poisonous. We wanted to do our own thing. But then, at some point for some reason, we proposed CasablancaBox to HERE's HARP Program and they liked it. It is the first project we built from the ground up (I wrote the script for another project of his called The Return in 2015, but I came on that project very late). It is safe to say we are always immersed in making work--- usually our own independent work, but for the past 3 years CasablancaBox. We often drive each other crazy and have to set boundaries, like "we are not allowed to talk about theater anymore," or "you need to treat me like a husband/wife now and not a collaborator."
Your work has had a very broad reach, been presented all over the country. What is it like working is different places outside of NYC and do you have any particularly memorable moments of creating work outside the city?
I love touring so much. Some of my most transcendent artistic experiences have been out of NYC. In January, I did a tour to The Mount, Edith Wharton's Estate in Lenox, MA with my play Leisure, Labor, Lust which we performed in the actual rooms of her house. (The play is inspired Wharton and her husband Teddy). It was truly magical--- transcendent, to use that word again. We have plans to return there soon. When Reid and I were first dating I would follow him around the world, first with Wooster shows and then with Reid's independent work after he left Wooster. One of the best trips was 10 days I spent alone in Amsterdam while Reid ran video for The Wooster's Hamlet. I went on this self-designed artistic tour of Holland which was unforgettable. Then I'd go see Hamlet and Reid every night. There is something so thrilling and lucky when an idea I had---a whim, really--- can eventually put you on an airplane somewhere. Or give you money. Or get people on the subway when they don't have to be. Yes, I have worked relentlessly hard to get what I have gotten, but making art will always be a privilege to me. Never a right, always a privilege.
CasablancaBox will have 21 performances, in a premiere production, April 5 – 29 at HERE (145 Sixth Avenue, just below Spring Street).
Popular in the Community