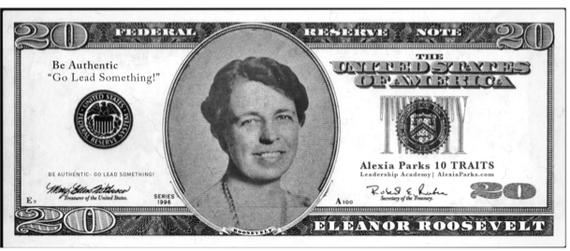 Imagine if our money carried positive, uplifting messages such as: "Be Authentic!" "Go Lead Something!" I think Eleanor Roosevelt would welcome this. In fact, at 10 TRAITS Institute, we've already placed the image of Eleanor Roosevelt on our 10 TRAITS "virtual" money as part of a leadership training game. Rather than wait until 2030, the deadline suggested by U.S. Treasury's Jack Lew for changing the face on the $20, let's make it happen now. If America could send men to the moon in the 1960's, we can certainly retool the U.S. Treasury to place the FACE of a woman on the $20, by 2020.
Alexia Parks is a Virtual Mentor with the United Nations, award-winning entrepreneur, and Founder of 10 TRAITS Leadership Institute.
REAL LIFE. REAL NEWS. REAL VOICES.
Help us tell more of the stories that matter from voices that too often remain unheard.