Have you ever seen a room and thought, that is what my dream house would look like? We know - we've felt the same thing. Whether you're a country girl, an eclectic chic, or a modern woman, you always want your bedroom style to reflect your inner you. That's why we created a cheat sheet to help you identify what decor details and pieces you need to create the room of your dreams! Just choose a style and get to decorating!
1. Cozy Cottage: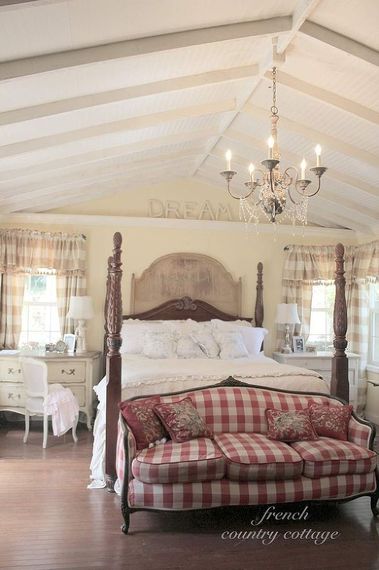 French Cottage Bedroom via Hometalker Courtney @French Country Cottage
Wake up to that farm-girl life, working with your hands and enjoying the familiar, warm surroundings of family and friends! It's all part of having this bedroom!
Color Scheme: Creams and light tones for walls and bedding, dark floors and frame
Materials and Styles: Frilly cotton linens and knitted blankets, glossy dark wood
Details and Contrasts: Plaid in traditional, vibrant colors, like red and yellow
Lighting: Romantic chandelier
2. Colorful Eclectic: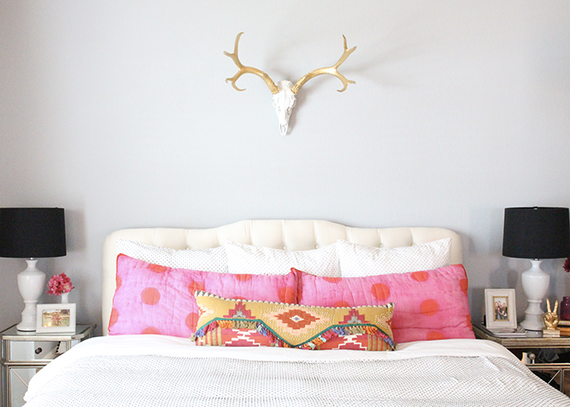 Colorful Master Bedroom via Hometalker Spray Paint & Chardonnay @Spray Paint & Chardonnay
You don't shy away from taking a few thrilling risks, so your room has to be just as unique and expressive as you are. Get the full eclectic look!
Color Scheme: Black, white, and grey background, with bright pops of color
Materials and Styles: Organic Cotton, crinkled linen
Details and Contrasts: Metallic highlights, unconventional decor pieces
Lighting: Fairy lights
3. Modern Elegance: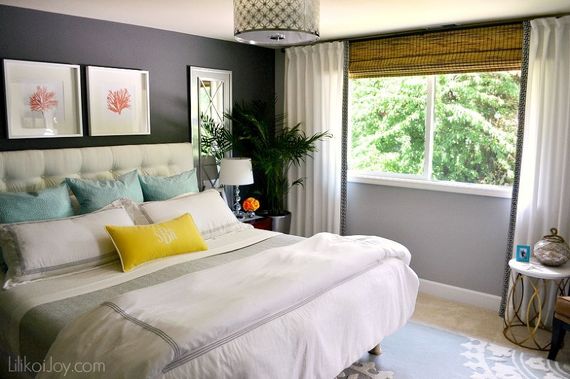 Operation Sultrify Bedroom via Hometalker Sharon @Lilikoi Joy
A gradual wake up in a quiet setting is your ideal morning. And let's not forget - you'll need the perfect spot for that first cup of coffee and a good book. You're sure to find it in this modern bedroom!
Color Scheme: Darker color palette, softer hues
Materials and Styles: Tufted headboard, carpet, dramatic window treatments
Details and Contrasts: Framed bright stencils and prints, bright throw pillows, mirrors
Lighting: Pendant Chandelier
4. Nautical Traveler: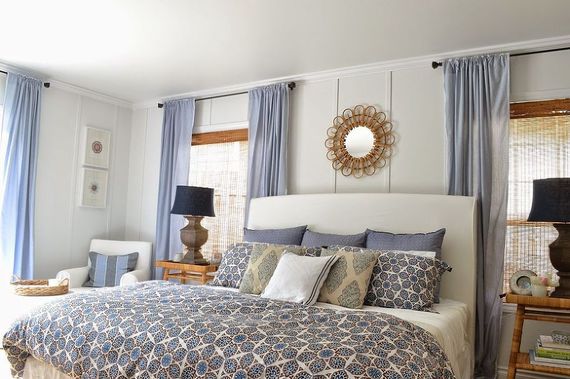 Nautical Bedroom via Hometalker Marty @A Stroll Thru Life
If you can't be traveling the world on the deck of a ship, or lounging on a warm beach, you may as well get to feel like you are every morning. You'd be right at home in a nautical bedroom like this!
Color Scheme: Lots of blue and white
Materials and Styles: Wicker and rattan, weathered-looking wood, plush cotton bedding
Details: Beach/Ocean paraphernalia (shells, coral, etc.), nautical-esque architectural details
Lighting: Bright, lots of big windows for natural light
5. Vintage Treasure: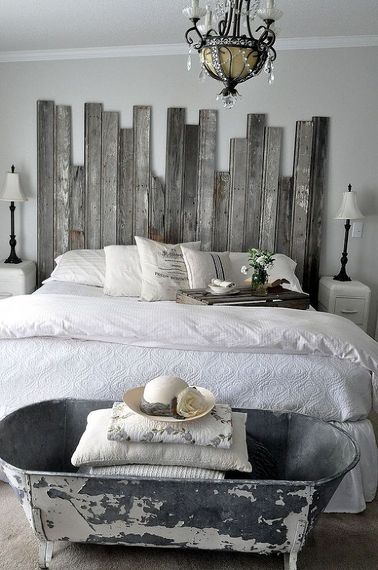 Vintage Bedroom via Hometalker Becky @Buckets of Burlap
That fresh paint smell and the newest line of furniture is just not for you. You'd prefer your bedroom had a story and a cozy, timeless air. If you want vintage, check out the rest of the look!
Color Scheme: Light color palette
Materials and Styles: White textured bedding, french linen and seed bag
Details: Chippy paint, antique accent pieces, repurposed wood headboard
Lighting: Lanterns, antique chandeliers, and industrial pendant lamps
If none of these are quite right, check out our Bedroom Ideas page on Hometalk, and find the look that screams you!
Popular in the Community