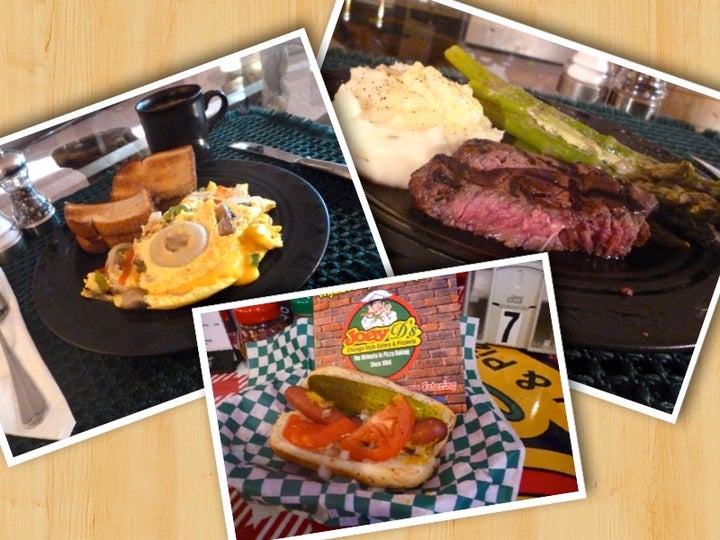 Have you been under the impression that 1000 calories per day is so little food that you'd starve? Think again. When you do the work to plan ahead and do the research the way I teach, you'll find you can have plenty of scrumptious food that will fit your "caloric budget". You'll find that you can live well on 1000 calories per day and lose weight at a good pace. What's more important, when you establish the habit patterns of eating the food you like in healthy caloric volumes, you'll never have a weight problem again. I'll lay out one day's menu to give you an idea of how well you can live and lose weight at the same time.
Starting With Breakfast: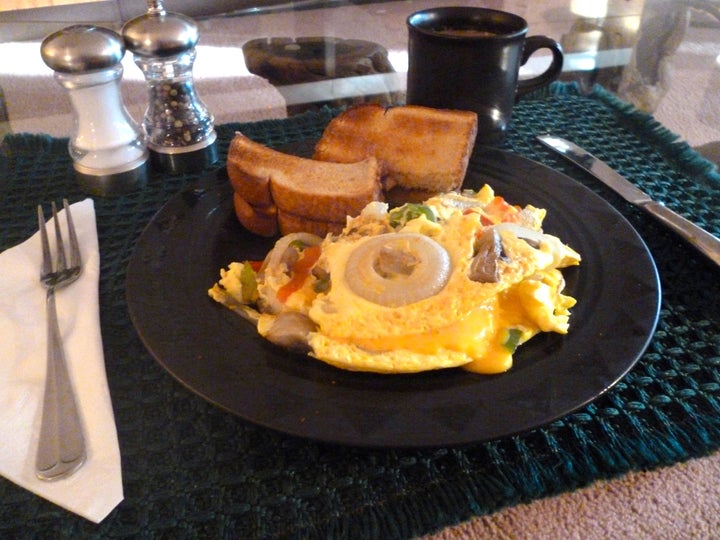 This is an omelette I make at least once-a-week. With all the ingredients, even the buttered toast, it's under 300 calories! That's a lot less than a Denny's Slam at over 1200! I'd have it more than once-a-week, but there are too many other good things I make!

I start with a small onion, sliced into rings, 1/4 of a green pepper, sliced, 1/4 of a red pepper, sliced, and a handful of quartered white mushrooms that I cook in a small covered saute pan with a tiny pat of butter, over a low-medium heat. You want the heat low enough so they don't brown. They really steam in their own juices.

When the onions get limp and translucent, I add in 1/4 cup of egg substitute, like Eggbeaters, and let that continue to cook, covered over the low heat, while I toast the Publix low calorie bread.

When the toast pops up, the omelette is usually ready to turn. But don't let it brown. When it has solidified on top, it's ready to turn, and I usually use the flipper to cut it into two pieces to turn, rather than try to flip it whole. I use a bit of Brummel and Brown spread on the toast, and then fold the omelette with 1/2 slice of Kraft fat-free cheddar inside. It's terrific, and the whole thing is under 300 calories. I love my coffee in the morning, and I mix real half-and-half with fat-free to keep the rich flavor while trimming the calories, using Splenda to sweeten it, and the coffee is only about 30 calories a cup. I like my coffee strong so I use one heaping tablespoon of store-brand Columbian grind per 6-ounce cup in my Mister Coffee, nothing exotic, but it tastes great. This breakfast can't be beat.

People I've served it to, after refusing to divulge my "secrets", can't believe it when I reveal what I've served. They think it matches the best breakfasts they've had in great restaurants.


Onion = 30 c.
Pepper = 20 c.
Mushrooms = 20 c.
Butter = 20 c
Egg substitute = 70 c.
Cheese = 20 c.
Bread = 81 c.
Brummel and Brown spread = 20 c.
Coffee with cream = 30 c.



Lunch Time: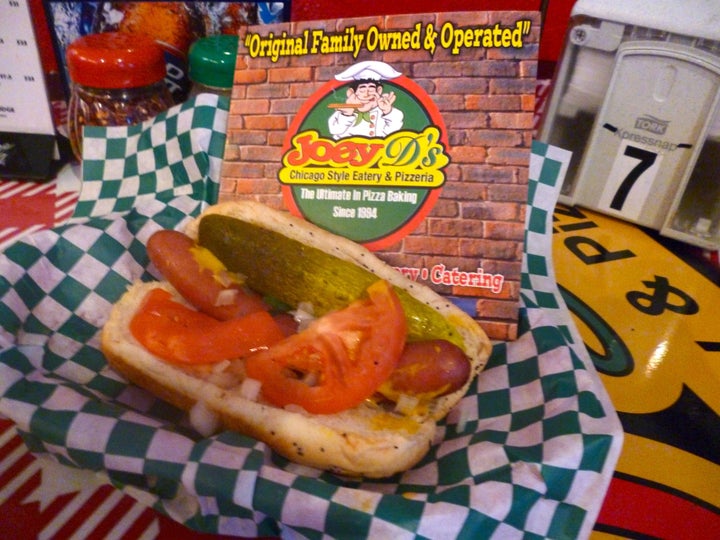 We are in the habit of lunch at Joey D's once a week, and their Chicago Dog is a delight, and only 262 calories! They use a real Vienna Beef Hot Dog with a poppy seed bun and all the traditional trimmings: pickle spear, chopped onion, pickle relish, mustard, tomato slice and celery salt. I'll usually have a Diet Coke with it. At 262 calories, it's a fraction of what other typical sandwich-type lunches are in restaurants. In one of my last articles, I showed a burger and shake that was 2000 calories! The Chicago Dog seems like a lot, but its all the low calorie condiments that gives it the advantage over the high fat add-ons that others use.


Vienna Hot Dog = 120 c.
Poppy seed bun = 110 c.
Pickle spear = 3 c.
Tomato slice = 3 c.
Tbs chopped onion = 3 c.
Tbs sweet relish = 20 c.
tsp mustard = 3 c.
Finally, The Steak Dinner!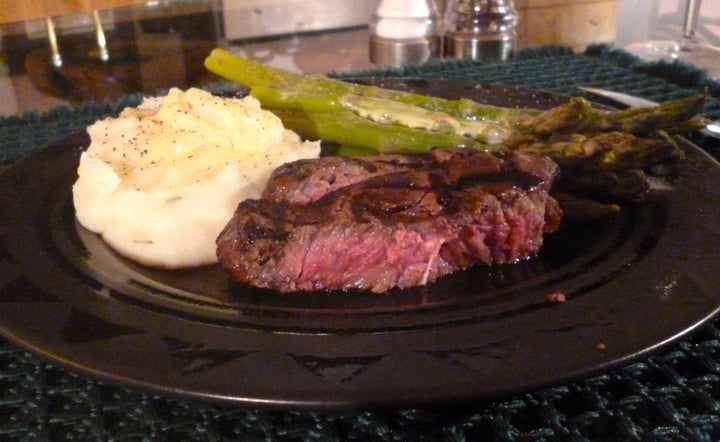 Many people think you have to give up beef to lose weight. Not true. In fact, one of the secrets of permanent weight loss is getting into the habit of eating everything you like in portions that will keep you at your desired weight for life. The meal above was just delicious, easy to fix, and came in at 435 calories. That brings the day to about 1000 calories, which will cause anyone to lose weight.

The steak is a 5 ounce sirloin. I buy a 2 pound sirloin when they go on sale and cut it into 4-5 ounce servings and freeze them in a gallon Ziplock bag. You can thaw one out when you want it, overnight in the fridge, on the counter for several hours or even in a small sealed Ziplock bag in some shallow room temperature water for 20 minutes or so. Grilling it is easy while the 5 ounces of asparagus is steaming for 9 minutes, and the 1/2 cup of mashed potatoes are in the microwave.

The prepared potatoes in the refrigerator section of the store are just great. I prefer the Simply Potatoes sour cream and chives style. And what you don't use today, you can have heated up later in the week with another main dish. They take less than 5 minutes in the microwave. When the grill is hot and the steamer is ready, throw the steak on the grill, pop the asparagus in the steamer, and get the potatoes going, and you're sitting down to a great meal in less than ten minutes.

The buttery glaze you see on the asparagus is I Can't Believe It's Not Butter spray, really adds to the taste and palatability, and only 5 calories for 5 squirts


5 ounce sirloin steak = 270 c.
5 ounces asparagus = 40 c.
1/2 cup mashed potatoes = 120 c.
5 sprays, I Can't Believe It's Not Butter = 5 c.



Does it Sound Like A Lot Of Work to Figure This All Out?
Well, to be honest, becoming successful at permanent weight loss takes work, but done right, it can become easy. It's well worth it, believe me. I've maintained my ideal weight for thirty years now, after losing over 100 pounds, and it was the single most important thing that's happened in my life. It changed everything for me, and it could for you.

Quit looking for easy, magical ways to solve your weight problem. As long as you do, you'll avoid learning what you need to do to be successful, and you'll stay overweight and unhappy like I was.

If you put the initial work in to develop the right habits using behavioral techniques like I teach, it will eventually become easy, your new normal behavior, as natural and easy as the habits you have now, only they will keep you fit rather than making you fat. It's not done with "will power" or just "making up your mind". It's done with the science of the mind.


William Anderson is a Licensed Mental Health Counselor who specializes in weight loss, eating disorders and addictions. He solved his own long-time weight problem, losing 140 pounds 30 years ago and has kept it off since. He is the author of The Anderson Method.