A friend in Mexico City reached out a couple days ago asking what the heck was going in Havana. He wanted to hop over for the weekend later this month but couldn't find anyplace decent to stay. All he could find was a room at a three-star hotel far from the center. And three-star in Cuba means one or two stars everywhere else -- frayed carpets, surly service and burned out lightbulbs.
He's not alone. Americans rushing to see Havana under the eased travel restrictions are finding rooms few and far between this season. Havana's high-end hotels -- the Melias, the Parque Central and the venerable Hotel Nacional, which some old-timers still refer to as the Hilton because it was managed by the U.S. brand before the revolution -- are said to be booked solid for months. And it's not likely to get much better.
The Cuban government reported this week that the number of foreign visitors was up 16 percent in January over the same period a year earlier. Most of the more than 300,000 tourists were Europeans and Canadians, but the number of Americans (listed as 'others' in government data) was up as well. Data for February and March are likely to show similar gains, with celebrities like Paris Hilton and U.S. Congressional delegations adding to the mix of trade groups, educational visitors and folks on people-to-people exchanges.
I told my friend in Mexico that he should look into renting a room at a private home, or casa particular, as an alternative. The government has allowed such B&B-like operations since 1997, and a huge network has sprung up in all corners of the country. For many Cubans it's a primary source of income and a vital source of desperately needed hard currency. The government even recognizes hotel and room renters as an official category of entrepreneur, or cuentapropista, along with dandies, mule drivers and people who repair and refill the disposable lighters that get thrown away elsewhere when empty.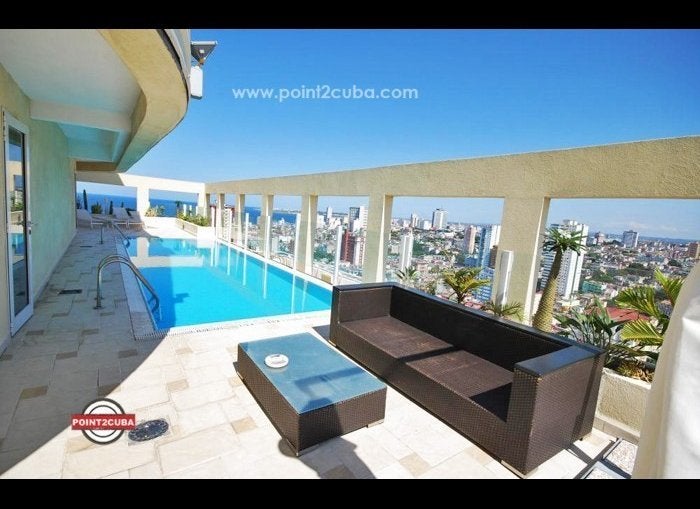 This is what a $1000-a-night penthouse in Havana looks like
Accommodation in these casas run the gamut, from very basic to luxurious by Cuban standards, and can cost as little as $20 a night. Most of the amenities of a hotel are offered -- towels, meals, toiletries, etc -- and guests are afforded the added bonus of getting to know average Cubans on a personal level. Service is typically much better and friendlier than at even the most expensive luxury hotels. The main disadvantage to living like or among the locals is suffering through the same shortages they do. Rolling electrical blackouts are common, and internet is rare -- illegal, in fact -- in private residences.
Pre-booking rooms at the casas has always been the difficulty, and the main reason people hesitate. Who wants to land someplace like Cuba without a guaranteed place to sleep? A few websites have popped up over the years to try and manage reservations for the casas particulares, but given that communications with the host require phone calls and all transactions must be made in cash it's been an uphill battle.
More recently, a few newcomers have popped up at the higher end of the market that are trying to bring some Airbnb panache to the game. Conexion Cuba is a Spanish website that list dozens of houses for rent in Havana, Santiago, Trinidad, Varadero and several other Cuban cities. Most listings have lots of pictures, just like Airbnb, and a short description of the property, many of which rent for between 20 and 30 euros a night per person. The booking process is nowhere near as seamless as Airbnb, however, and requires an exchange of emails to finalize.
Another newcomer, Point2Cuba, comes from Canada and has what must be the most expensive rental properties on the island. For about a thousand bucks a night, one can rent a luxury penthouse overlooking the Malecon in Havana's Vedado neighborhood. The four-bedroom (each with their own private balcony overlooking the ocean) Atlantic Penthouse has a rooftop pool, two jacuzzis, 24-hour multi-lingual butler service and flatscreen TVs with satellite in every room. And, yes, it has Internet, too.
My friend (or I, for that matter) won't be renting the Atlantic Penthouse anytime soon, but as an alternative to the impersonal (and now-overbooked) hotels in Cuba, the casas particulares are worth looking into. If nothing else, you can be reassured that the money you spend there goes directly to the people who need it most instead of into the bank accounts of multi-national hotel chains and shell companies owned by the Cuban military.
______________
Scott Norvell is founder and editor-in-chief of CubaNotes.com, an independent and non-partisan source of news from and about Cuba.
Popular in the Community