Not necessarily the words of encouragement that the sold-out crowd of 500 was expecting to hear from accomplished entrepreneur, author and Dragon's Den star Arlene Dickinson this morning in Whitby ON, but important words nonetheless.
It was strong medicine in the perfectly appropriate dose -- Dickinson's talk was meant to convey a very honest view of the entrepreneurial journey to both the entrepreneurs and the "wantrepreneurs" in the room. Dickinson appeared at an event celebrating Ontario Entrepreneurship week and captured the early morning crowd's attention with deeply personal stories from virtually the beginning of her 57 years. The talk, which ran just over an hour, wound its way through highs and lows of Dickinson's path to success and using stories to frame the lessons she has learned. One story in particular seemed to resonate most powerfully with the entire audience.
Back in 2011, Ms. Dickinson was invited by the department of National Defence to visit Khandar, Afghanistan to speak to the Canadian troops deployed to the region. A last-minute opportunity to step "outside the wire" and visit the men and women right at the front lines led to what Ms. Dickinson says is the greatest lesson in leadership she has ever learned.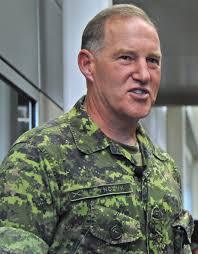 "We get to the front lines and we visit five operating units -- anywhere from 250-500 soldiers," she recounts. "I listened to General Walt Natynczyk give the same speech five times."
Dickinson has the speech memorized and if you get a chance to attend one of her talks, I highly recommend doing so. I won't spoil it for you: the speech was honest and transparent, but still showed the firmness of a great leader. Here are the lessons:
What Every Single Person Who Works For YOU Needs To Hear Every Day
"I'm your leader, I'm here with you and I'm working alongside you. As I know things, I will make sure you know things but we're in this together."

"You're part of a team -- if you don't do your job well, not only do you let yourself down, but you let the rest of us down too. That means none of us can do our jobs properly and you're endangering the project."

"You were picked. You have this job because we think you're the right person for it. There were lots of candidates, but we picked you because we think you're special."

"What you do every day is important and it matters."
Dickinson concludes: "now isn't that what every single person who gets up every single day to spend their entire day 'doing' needs to know? That what they do matters? That their work is important? That you care? That they're special? That they're working on something meaningful? These are all leadership messages that we need to make sure we're telling the people who work for us."
"You in this room have the opportunity to change this community. All you have to do is stand up and stand out and be unafraid. Build something meaningful."
REAL LIFE. REAL NEWS. REAL VOICES.
Help us tell more of the stories that matter from voices that too often remain unheard.