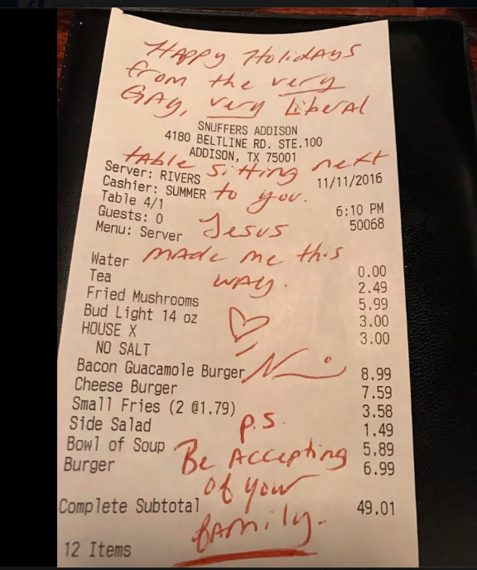 Natalie Elle Elaine Woods is blowing up these days in the most joyful and healing way possible, and it's all because of a simple act of kindness that has inspired people all around the world. If you're at all active on Facebook, you've likely heard all about it. Woods was at Snuffer's restaurant when she overhead the people at the table behind her exposing their homophobia loud and proud. So she bought them dinner and left them a note.
What you might not have heard is who Woods is what she hopes will come of this seemingly simple gesture that has captured the hearts of, well, nearly everyone around the world from Spain and Norway to the UK, Ireland, Italy, Nigeria, Denmark, New Zealand, Belgium, and Columbia.
She received an avalanche of private messages via social media as well.
"I read about what you did for that family and it warms my heart to see someone standing up for the LGB community in such a lovely way. God bless you."
"You'd make a Good Canadian, Natalie! The door's open any time...cheers."
"I am impressed. You deserve a big thank you from all of the gay community."
"It gives me hope to hear that there are amazing people in the country like you!"
"You are amazing! Should be more people like you!"
A plethora of media outlets picked up the story too, including Logo, MSN, Upworthy, Scary Mommy, Fox News, Revelist, Patheos, Now This, Irish Examiner , A Plus, and LGBTQ Nation. Woods told me she can hardly keep up with the requests and didn't realize just how many outlets were running the story until friends Googled her and showed her the results.
Even the U.S. Senator from New Jersey, Cory Booker, Tweeted it.
And George Takei posted on his Facebook page the Pink News coverage of it.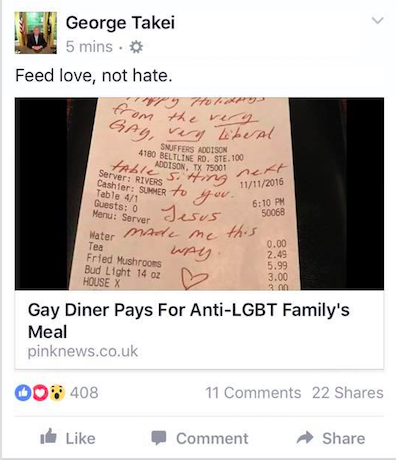 Woods grew up in Odessa, Texas and graduated from Permian, the high school about which "Friday Night Lights" was written. "I moved away as quickly as possible," she says "because a town that lived and breathed football was not where my soul thrived."
At 24 years old, she came out as queer and moved to Dallas, Texas. Although she did receive some level of family support, she still "was ashamed of who I was deep down [and so I] medicated myself with alcohol." Still her family has always taught her "to love fiercely and passionately." That was a lesson that has served her well.
In fact, she decided to take any negativity she experienced and turn it into a positive by getting involved with the Human Rights Campaign. She was their membership outreach co-chair for nearly four years and was one of 22 women chosen from all across the US for a workshop HRC hosts every year called Women in Leadership. "These women became my confidants and sisters overnight." 
Through HRC, she traveled all across Texas and Oklahoma to Pride events. "I got to love on the masses and be a bigger voice just by selling t-shirts and fundraising for our events. It was hard, exhausting work but worth every mile on my car and bead of sweat from my head. I learned to love in a new way, a way that let me empathize, understand, and for the first time in my life, feel one with a community. Feel at one with humanity."
These days, she's on the steering committee of OUTreach Denton and does volunteer work with her own organization, the Denton Verb. "We volunteer for any and everyone who needs help. Just in the name of love and human decency. I work as an HR manager for a company that provides non-medical, in-home heathcare to senior citizens. It's called Comfort Keepers." 
Can you tell me about the night that you bought dinner for the table you were seated next to?
I had gone with a girl to look at a puppy that was up for adoption at Operation Kindness and then we stopped off at Snuffers due to its convenience before heading back to Denton. We were speaking and laughing until the gentleman in direct ear shot behind me began speaking. He spoke about how he was disgusted with his nephew who just came out as gay, that he was liberal, and went on to share more information about this kid's personal life.
I set down my fork and listened. I wasn't eavesdropping, this man just happened to almost be touching heads with me and was speaking at a volume that made him impossible to ignore. He was sitting with three other individuals, and they said they would pray for him and his cure. 
"His cure," I thought to myself. With Mike Pence now a part of our administration and the clown of a president elect we have, talking about "cures" is terrifying. 
Listening to this conversation the feelings of my past resurfaced for a moment. Shame, doubt, and fear. I then became enraged. I wanted to stand up and belittle this man or find ways to insult him. I wanted to make him feel like I felt, or better yet how his nephew would feel had he been there. 
I thought about Michelle Obama. I thought about her class and radiance. I thought about her words, "When they go low, we go high." I did just that. I asked for their ticket, paid it, asked if I could write on it, and did. The manager of the establishment came by and said he was impressed and fist bumped me. I took a photo of the receipt, but then thought maybe I shouldn't share it to social media.
I left shortly after handing the receipt to the waitress. My family said when you give, you give anonymously and quietly. Be humble. I then realized that this was a way to impact others with the real message of love. To love when others don't, to not back down, to hold your ground, and live it out! Live out love than complain behind a keyboard. A friend asked me to share it publicly so I did, and it exploded. 
What I want people to take away from this, is that sometimes love looks like picking up a tab, sometimes it's protesting in the streets, lobbying, volunteering, or running for a local office. 
Love is sometimes silent but still always active. I am a white, cisgender, privileged woman and I march with #blacklivesmatter. I fight for women's equality. I fight against Islamophobia. I was a small part of helping pass marriage equality.  I am not a hero. I am simply doing what everyone should be doing who is passionate about change. Get off your phones and keyboards and go feed someone who is homeless or make dinner for your Republican neighbors. Be nice to the cashier at your grocery store, who has had a long day.
We never, ever know people's stories or what they are going through. Life is hard, and why would we make it harder on each other when things like death, war, and pain exist? We speak about love. We wear t-shirts. We dance when Ellen comes on television. But it's time, now more than ever, to get truly active. Get involved with an organization that is local. GIVE to the Human Rights Campaign so laws aren't passed to destroy the LGBQT community. If you are passionate about anything -- anything at all! -- pursue it. Make it breathe, live, and continue on.
My buying these people dinner was so small. It was tiny. I never, ever expected this much attention. And, the truth is, it isn't even about me. It's about shutting up and showing love. Putting our pride away, making bold moves, and living what we preach. 
The white people of this country have got to start defending minorities, people of different ethnic backgrounds, people of different religions. Have you seen the photo of our new government administration? There is one black man. One. What have we become? This country is divided, and we've all got to lay down our weapons, reach out with our arms and love on one another. Impact is larger than intent. 

I understand that trans activism is very near and dear to your heart. Is there any particular reason why?
This year we have lost more trans lives than any year before. I know that the people we lost, who are literally just being who they are, were scared and important to this world. It's imperative that the gay community accept trans lives, all across the board.
The tragedy at Pulse was a devastating moment in the LGBTQ community. What effect did that event have on you and your thinking?
When the shooting at Pulse happened, it felt like my family had been murdered. Our community is grand and beautiful. We are the sparkle and the force behind true love in this country at times. We walk hand in hand through streets and dance to music about freedom and being united. "Born This Way" is the prime example. I was taught how to two step by two men in a gay bar. Our community is the most embracing, life altering, astounding safe space and home I have ever known. Everyone deserves that. Why can't that be what America is? Why can't that be what this world is? Why do our beliefs and Gods cause us to destroy each other when in reality, the message is always to love one another? 
How do you feel about all of the attention you've received for your not so random act of kindness?
I'm not a hero, I am not different, I merely did what I believe to be an example of love. I doubt I changed their minds but a tiny seed, a tiny morsel of love was planted. 
And, Woods says, she hopes that the gesture will inspire more people to perform simple acts of kindness and post about their own gestures, tagging them with #LoveLives. She also hopes they will put their money where the fight is by donating to the Human Rights Campaign. Like it or not, money still makes the world go round.
And now, more than ever, we need to keep this big blue marble spinning, embracing our differences, exterminating the hate, and letting love live.
Calling all HuffPost superfans!
Sign up for membership to become a founding member and help shape HuffPost's next chapter