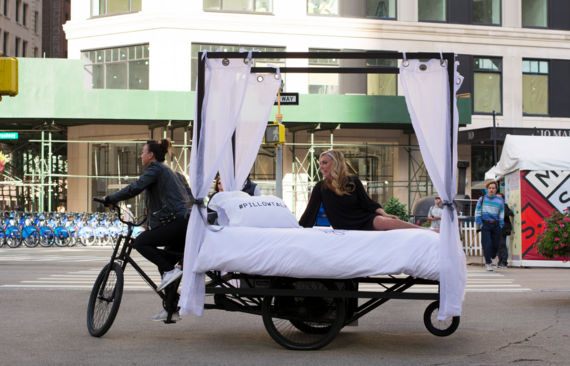 It's not a phone call you get every day. "We were wondering if you might be game to ride on a pedi-bed through the streets of NY, offering sex advice to anyone game to jump in bed with you," said the woman on the other end of the line. Somehow her charming British dialect made the request seem less strange. "Adam Lewis, the founder of sex toy company Hot Octopuss wants to help people open up when it comes to talking about sex and we think this could be just the way to do it."
A few weeks later I indeed found myself sitting on a four poster bed being cycled down 5th Avenue and filmed by a crew from Nightline. I was amazed and impressed by how many people were willing to hop onboard to talk to me.
To be honest, I think I learned just as much -- if not more -- than the people who stopped by. People were so friendly and willing to share their experiences, questions, fears, and joys. Sex is this universal thing that is constantly thrown in our faces in the most vague and impersonal way. Spending that day in NYC allowed me a tiny peek into the reality of people's attitudes about and experiences with sex.
I also got the chance to take part in some serious sex ed, which was downright thrilling. I spoke to a teacher and her high school health class about the importance of consent, talking to your partner, and being as safe as possible. I also talked to them about the importance of mutual pleasure and not allowing yourself to fall into the "male orgasm is the center of sex" trap. The teacher told me to, "Go for it" in terms of what I said to them and the language I used, and I most certainly did. If only every teacher in America welcomed such candid conversation...
The people who stopped by were a mash-up of ages and races and nationalities. As a queer woman, I was super excited to have a lesbian couple stop by. Inès and Tina were a charming and gorgeous young couple who were super open to talking about how to make things hot and keep them hot when it comes to all things sex.
I loved how despite the fact that stopping by to talk to me was not exactly in their schedule that day, they welcomed and relished the opportunity.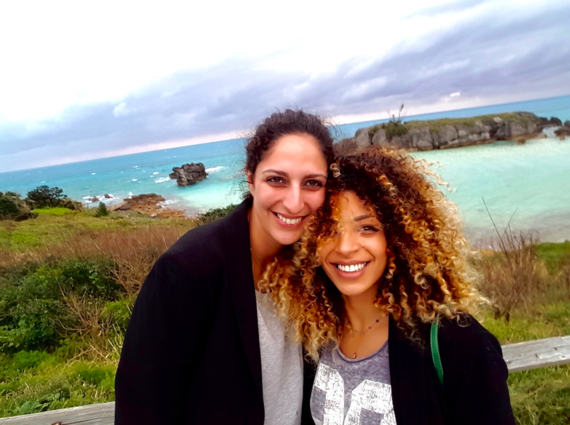 Inès was running a work errand in Flatiron on her way to the office. Her girlfriend Tina was at work in Flatiron and, "I went down for a quick walk with my baby before heading back to work." That they say, is when they saw it. Inès says she shouted the minute she spotted it. "That bed was put there for us to cuddle!" The two are not originally from the US so I was especially interested to hear their takes on sexuality here and abroad.
Inès, 27, is French Algerian. But her childhood was an international whirlwind. "I went k-3rd grade in Lyon, France, then moved to Muscat, Oman and graduated high school there. I went to university in Dallas, Texas then transferred to Beirut, Lebanon."
Tina, 29, has a background that is equally international. "I am Palestinian-Lebanese by blood, American by right. I went to K-7th grade in Dhahran, Saudi Arabia, graduated high school and college in Beirut (American University of Beirut)." The two have been in NYC for 2 ½ years now.
The decision to move to NYC was a mutual one. "I always wanted to live in NYC and Ines was the cherry on top," Tina explains. The two live in Harlem. Having gotten her Masters in Industrial and Organizational Psych, Inès currently works in HR. Tina is an ad copywriter.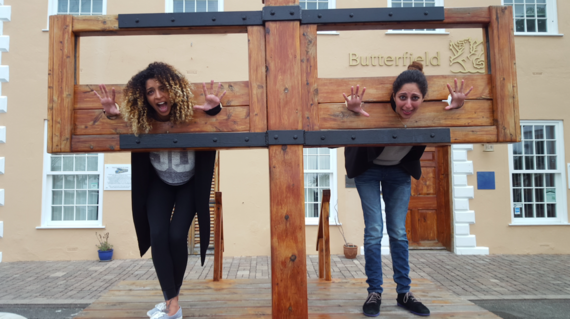 I had the chance to catch up with the pair after their pedi-bed experience.
1. How did you end up joining me for "Pillow Talk"?
Inès: We stopped and noticed a "Pillow Talk" sign and then a woman with a British accent approached us. I started asking about the sign and concept and she explained that you, a sexpert, is talking to NYorkers about sex to encourage dialogue.
Tina: In truth my mind was scattered. I wasn't in the "now" and was in "15-minutes from now" because I had a meeting to get to. I remember hearing about Jenny Block, sexpert, Nightline? and seeing cameras. Then Inès told me to get in bed.
2. What made you agree to jump onboard?
Inès: I'm always down to trying new things. I found the concept relevant and engaging. I like discussing what people sometimes consider taboo -- and I wanted to get on a bed in the middle of NYC!
Tina: I'm not very comfortable with cameras but I found the topic challenging, so I decided to challenge myself. Plus, Ines was already on the bed.
3. What did you think about the experience?
Inès: You eased us into it so I felt comfortable and engaged in a genuine conversation. I loved discussing different perspectives on sex and sexuality from around the world.
Tina: Thought it was fun, enlightening, and daring.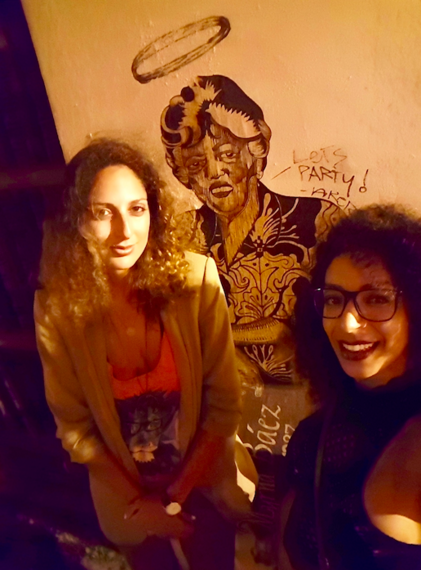 4. What if anything did you get out of the experience?
Inès: I really enjoyed that you added advice in the end. In fact, I went out and picked up the first Beauty Trilogy book. And I am happy to have met you!
Tina: I got Inés to read a chapter of Beauty Trilogy outloud to me every night...
5. Do you think there is a benefit to an experience like this?
Tina: Absolutely! It's good to challenge and it was done tastefully.
6. What -- if anything -- did you tell family, friends, colleagues about the experience?
Inès: I told a few friends about it -- I definitely described it as a positive experience. I, of course, told them about the bed, and the gist of the conversation.
Tina: I didn't really tell people about it, except my boss as we were in the elevator heading to our meeting.
7. Anything else you'd like to share in terms of the experience?
Tina & Inès: It was great to see that this dialogue is being engaged and challenged. It would be wonderful to see it happen around the world.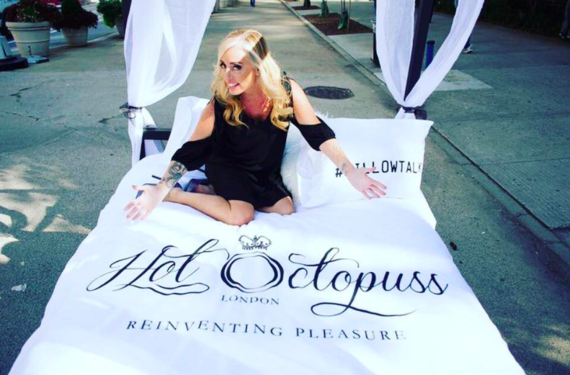 REAL LIFE. REAL NEWS. REAL VOICES.
Help us tell more of the stories that matter from voices that too often remain unheard.