It all started with a hot shower and a little mind-wandering. Photographer Steph Grant, famous for her lesbian wedding photos, which have won the Internet, started the Promote Love Movement because she realized her true life's mission is, "Promoting love...one story at a time." Grant says that the movement is "centered around being true to yourself, loving others and sharing all of the stories."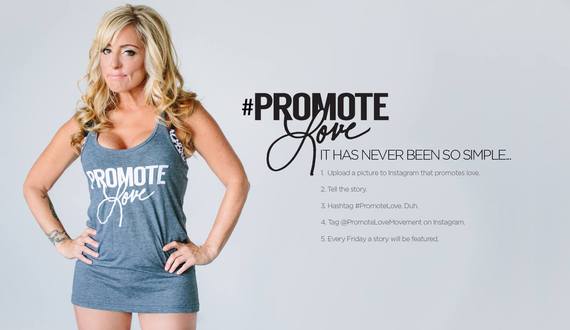 Me as an accidental poster girl. Grant shot this when I hired her to shoot my book jacket photo!
Photo by: Steph Grant
Grant is inviting everyone and anyone to upload pictures to Instagram promoting love in any form (like volunteering, falling in love, connecting with family, working to change the world) and to #PromoteLove.
Starting May 1, every Friday, Grant will choose one photo and contact the poster so that she can feature an image of her or him or them along with a Q&A on her site. To assure that the movement serves its purpose of serving the community, a portion of all the proceeds from Promote Love t-shirt and sticker sales, which Grant hopes people will use to show their support of the movement, will be donated to a charity of the month.
Jenny Block: How did the Promote Love Movement come to be?
Steph Grant: I've spend a majority of my time traveling the world photographing lesbian weddings and corporate events. In the summer of 2013, I photographed a wedding in Los Angeles and the photos went viral. It travelled all around the world and love was spreading like wildfire.
When talking about this wedding, I found myself using the phrase "Promote Love." Since then, just about every lesbian wedding I have photographed has been featured somewhere incredible. What a good feeling to have these love stories told to the world. My goal is to showcase the LGBT community in a positive light and knock stereotypes out the window.
Last month I was singing in the shower and I had this idea to make some products surrounding the idea of promoting love in hopes of bringing people together through my love of storytelling.
Two weeks ago, I walked into a store on lower Greenville in Dallas, TX called Bullzerk. Struck up a conversation with the owner, shared our stories and I told him about my idea with Promote Love. Dan was on board and is really big into helping out small businesses in the area. Right then and there we designed a logo, designed shirts, tanks and he was going to have them all printed in a few days. Basically I watched my entire idea come together in a matter of hours. All because two strangers started talking about their lives.
I had the shirts in time to go to Dinah Shore in Palm Springs, CA where I started talking with people about the brand and passing out stickers. This was all last weekend! I started selling shirts out of my loft and completely sold out of the first batch within a couple of days.
Jenny Block: Why do you think it's important?
Steph Grant: A few reasons. It's important because I see it changing the way people view others who are different than them. It may be at its very beginning stages but I already see it bringing people together. If it only brings a few people together then my job is done. Also, this project has helped me get out of some dark places. When I refocus during those times and put my energy into helping others, it always brings me out. I hope that this will do that for others who are possibly struggling.
Jenny Block: Do you think promote love will help the LGBT movement?
Steph Grant: Absolutely. That is my goal. This is not just an LGBT movement though... that just happens to be my story. Although we have made progress in the world as far as the LGBT community and marriage equality there is still so much hatred and bullying towards our community. Perfect strangers will comment on my images of loving and happy LGBT couples with hateful comments like "first class ticket to hell."
This person does not know that I was born and raised in church. I was a praise and worship leader for years and volunteered in just about every area of my church. A lot of my friends actually come from that same background. So before you spew words of hate in person or online, check yourself. Form your own opinions. Don't just repeat things you were told. Do your research because there is someone on the other end of that hateful comment, someone with a heart and a good story.
Jenny Block: Where are the furthest places you have been asked to ship your shirts?
Steph Grant: I've been asked to ship shirts to Germany, Italy, Australia, Ireland and Canada.
The Instagram account has been live for basically one week and there is such an outpouring of love and support. I am super excited to see how big this can get. I'm determined. People just want to get on board and I love it.
Jenny Block: Why do you think people have responded to it so openly and positively already?
Steph Grant: I think that everyone just desires to be and to feel loved. Accepted. Not tolerated (I think that word is gross.) There are so many of us who go through life not feeling loved and completely alone, dealing with some huge circumstances by ourselves. I don't want that. I want someone to see this message... see all of us wearing these shirts and for it to spark a conversation. Maybe even end with a hug. I want it to bring strangers together.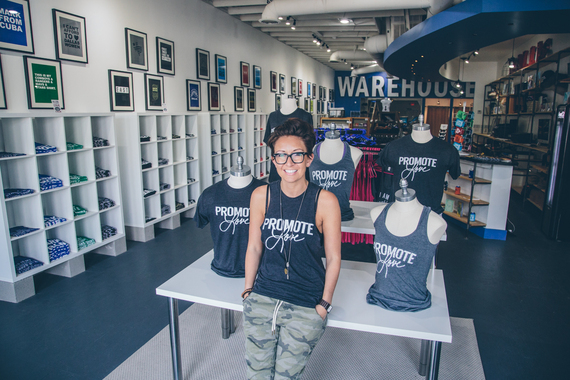 Steph Grant at Bullzerk in Dallas, TX.
You can see more pics from my accidental poster girl shoot here.

To read even more about the back story, click here.
Related
Popular in the Community