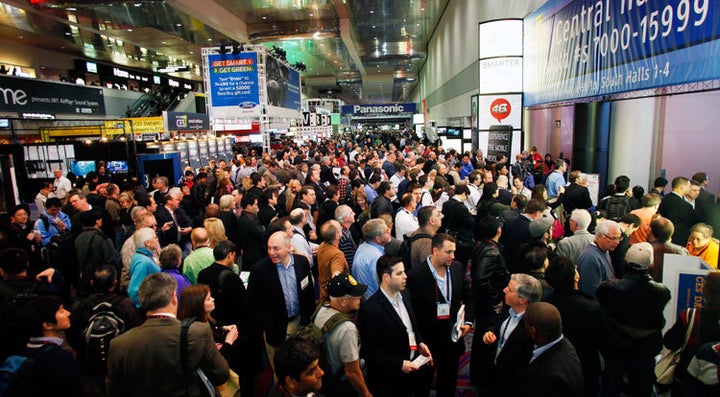 The biggest consumer technology conference in the world, CES, is taking place right now Las Vegas, Nevada. The exhibit floors are packed with over 160,000 attendees from around the world. Here's what's been going on so far. Fasten your seat belts.
Keynotes and panels both inside the Las Vegas Convention Center, Sands Expo and Aria Hotel & Casino are standing-room only as companies from Lufthansa to Spotify to Conde Nast hold court. Anything and everything around Artificial Intelligence is massive, and there is much discussion and debate among panelists such as president of National Public Media/NPR Gina Garrubbo and President of Foursquare, Steven Rosenblatt. Cryptocurrency, fan engagement and so much more are additional topics of interest. Execs from Amazon rub shoulders with major players from Department of Defense as they shuttle from the various power centers of the conference. "Hey Google"-covered, sardine-packed monorail whoosh above ground from one hotel to the next as you hear tires on BMWs squealing below showing off power of one of first connected cars upon approach to the Convention Center. Indeed, this is the epicenter of Universe, at the moment.
Though the show started out a bit soggy day one, the city has given way to bright sunshine. Even brief power outage in the South Hall of the Las Vegas Convention recently didn't stop things from taking place. The power was restored within minutes, just in time for best-selling author John Grisham (The Firm, The Client) to speak on one of the CTA stages about his recent ebook, The Tumor which describes how a real, revolutionary, new medical technology called focused ultrasound could transform the treatment of serious medical disorders by curing with sound. The fictional story follows the plight of a young father who is diagnosed with a lethal brain tumor and begins a painful battle. Grisham's candid interview with Dr. Neal Kassell , founder and chairman of the Focused Ultrasound Foundation and a former neurosurgeon, who provided the medical and technical consulting for the book, provided interesting insight into the next level of healthcare and technology.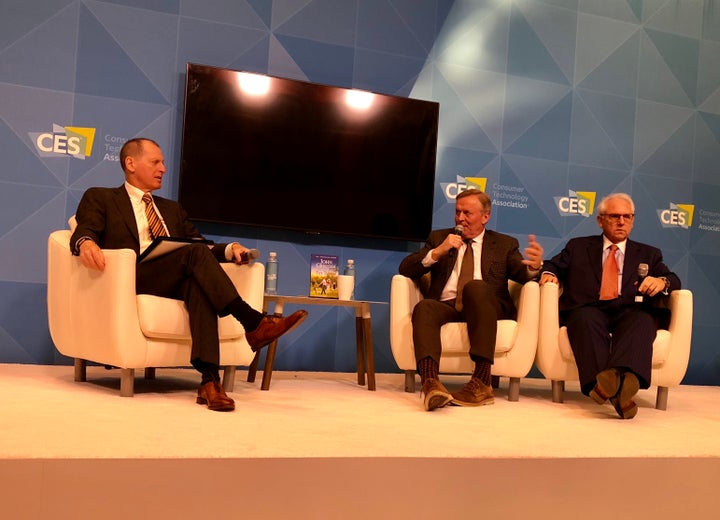 But of course, this conference is all about the CEO appearance as well. For example, Tim Armstrong, head of Oath (under which HuffPost falls) spoke at length about the company's direction and multi-platform use to support advertisers as well as engage users.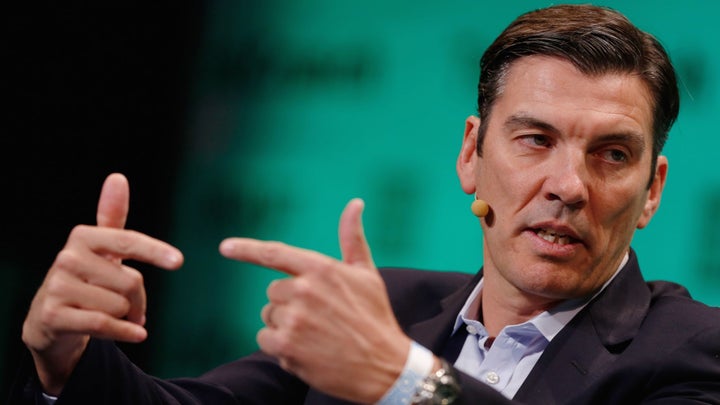 Other tech giants are making a splash whether flying tons of drones at night over the fountain of the Bellagio Hotel like Intel or giving deep dives into upcoming product offerings from companies such as Samsung. But there are many exhibitors that have unique tech-related products that might not yet be on your radar. For example, Ovie, a Chicago based food tech startup, is launching a set of products fitted with a smart tag for tracking your saved food. Ovie, your fridge's new smart assistant, will work with Alexa and other smart home hubs, too.
In addition, footage direct from CES production team on-the ground provides insight on the power behind connected cars and what is on the horizon.
Of further note is Talon, a smart motion controller that packs powerful multi-functionality into a small, easy-to-wear ring for daily engagement with your devices.
Buzz is building on a product called H2know from Conservation Labs that's an easy-to-install device to help the the average homeowner about $250 a year in water-related expenses.
Watch for a company called ThirdEye Gen, Inc which just released its X1 Smart Glasses with Enterprise Solutions Platform that's been getting pre-orders from Enterprises, Educational Institutions, Sports Media & Law Enforcement.
Tech has gotcha covered with home security. One stand out is GoControl Smart Doorbell Camera by Nortek Security & Control, a wifi-enabled product with with two-way to see who is at the door and converse with them, as well.
For all the gamers, a company called Gamevice is exhibiting their mobile Minecraft bundle for iPhone. The company's main differentiator is all about enabling portable gaming platform with real, console quality controls.
After hitting the floor checking out such aforementioned products, Invitation-only, are the magic words for the evening. For example, Turner hosted a CES Welcome Reception for Media at the Aria Hotel's Wedding Chapel in Las Vegas. Turner executives in attendance included President David Levy and several others network executives and and guests during an intimate event.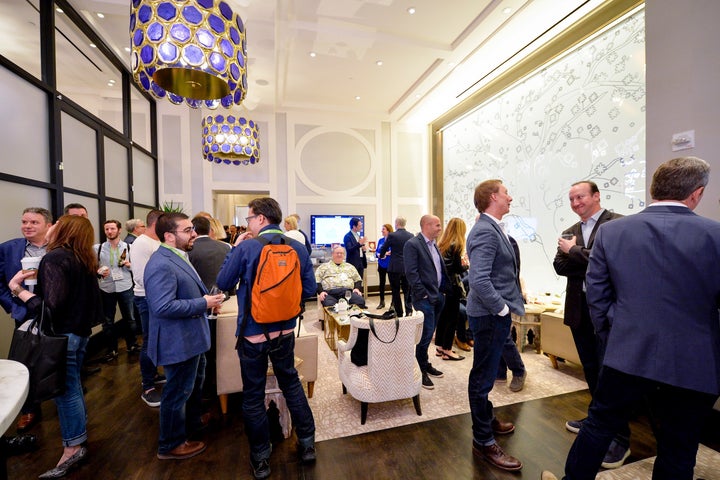 But perhaps the annual Spotify Supper complete with performances by hip hop star Wiz Khalifa at MGM's Hakkasan Nightclub was one of the most coveted. Industry insiders were treated to a special dishes by the ultra popular Eddie Huang's Baohaus, as well.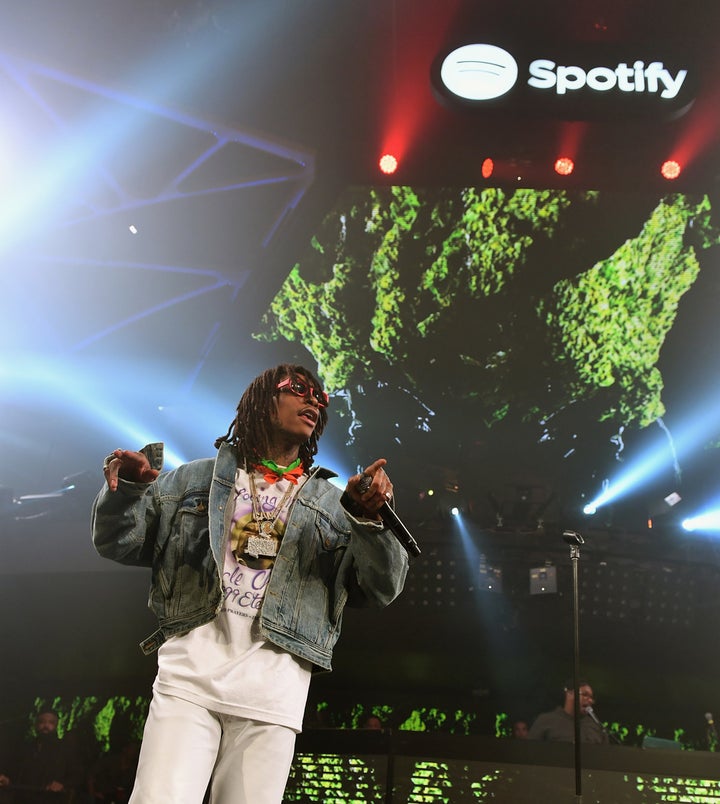 More to certainly come as the conference begins to wind down. Stay tuned.
Popular in the Community