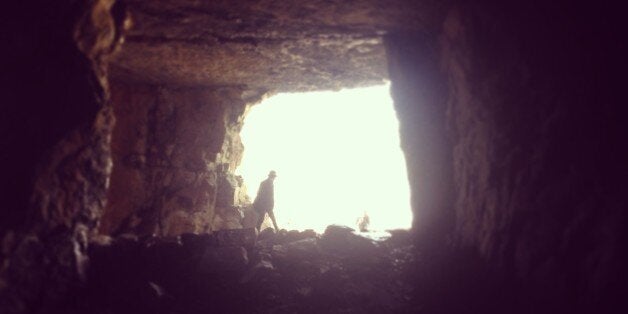 The instructions were equal parts unambiguous and mysterious: Meet in the lobby of the New Yorker Hotel at 7:30 on Saturday morning. Dress in layers. Bring a flashlight and plenty of snacks.
I peeled myself out of bed and arrived, alone, at 7:32. Among the European-accented tourists and preciously-clad bellhops I spotted a huddle of strangers who were, undoubtedly, the crew I'd be spending the day with. A tiny steampunk in a three-piece suit toting an accordion, a dreadlocked woman with a pierced septum, a Moroccan man wrapped in a beautiful scarf. A friendly-looking guy approached me. "Are you here for the Wanderlust adventure?"
"Yeah. I'm looking for Ida?" I replied, and as if on command, Ida Benedetto, one-half of Brooklyn's most renowned renegade exploring duo, emerged, a redheaded ringmaster in striped pants and a tailored coat.
We shook hands as she patted the friendly guy on the back. "I am so glad we have a doctor coming this time around," she told him. "We might need you if the kids get too close to the abandoned pool."
Billed as the Wanderlust Projects, Benedetto and her partner, N.D. Austin, self-described "experience designers," have been producing and hosting elaborately-choreographed events for the past two years. Excursions have included a couples retreat at an abandoned resort in the Poconos, a photo safari inside the old Domino Sugar Factory on the Williamsburg waterfront and the Timothy Convention, a scavenger hunt that involved more than 40 participants posing as Waldorf Astoria guests in order to infiltrate and explore the famed hotel. (Austin was also the brains behind the Night Heron, a month-long, invitation-only speakeasy held inside an empty water tower last spring that attracted several celebrities and garnered significant media attention.)
But unlike the prototypical "urban explorers" who fetishize abandoned structures, breaking and entering for the sake of adrenaline and a few photographs, Wanderlust's mission goes far beyond thrill-seeking. "We're inspired by places that have a rich history, and yet are overlooked somehow," Benedetto, 29, explained. "We want to revive them."
"We like to find the beauty in something that's now neglected and honor that beauty," Austin, 32, added. "Do something that brings that beauty back to life right now."
I've been intrigued by the Wanderlust ethos for months and was thrilled when Benedetto and Austin offered me, with 36 hours notice, the chance to tag along at an upcoming event. Upon meeting Benedetto in the hotel lobby, I only knew I'd be riding up with the crew and back with the guests -- the details of the day remained a surprise.
I met the rest of the crew as we piled into two big passenger vans parked outside the hotel. In addition to the friendly doctor, there were two drivers, a bartender and three comedians, one of whom told me he used to live with Austin; the Waldorf Astoria scavenger hunt had doubled as his 29th birthday party. The accordion player was part of Amour Obscur, the Night Heron's house jazz band. The dreadlocked woman was a producer for NPR music, and the Moroccan man was Hassan Hakmoun, a renowned musician and the subject of one of the woman's upcoming episodes. There was still no sign of Austin; Benedetto explained he'd been up all night scouting the location.
We left the city behind and headed north on I-87, intermittently chatting and dozing. An hour went by before we pulled over into the parking lot of a rest stop. Benedetto hopped out of the van and asked everyone to gather for a quick pow wow.
She had just received a call from Austin, she said, and it turned out bulldozers and construction workers had beaten us to the event location. Today's adventure would have to be rerouted. The guests, who just had arrived at Grand Central with even fewer details than I had, were being sent home. She looked genuinely distraught.
It turned out Benedetto and Austin had been planning to stage an entire day at Kutsher's, an abandoned resort in the Catskills that had once been part of the iconic "Borscht Belt" vacation destinations for northeastern Jewish families. Kutsher's was the largest and most renowned Borscht Belt outpost during its heyday, having even served as the inspiration for the movie "Dirty Dancing." And it was the last resort standing, shuttering for good just last year. An Indian investor who bought the property plans to demolish the existing structures and build a yoga spa.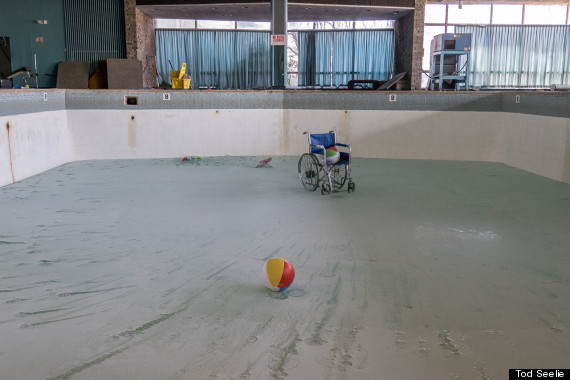 A shot of the indoor pool at Kutsher's.
Benedetto and Austin fell in love with the space when they stumbled upon it a few months earlier, and they had hoped to pay homage by bringing the site back to life one final time before the redevelopment began. "Right now is a time when all these regional resorts are falling into decay," Benedetto said. "We tried to design an experience that would mimic the way it was when it was in full swing."
In addition to the music, drinks and unstructured exploring hours, the day's schedule included a comedy show and ballroom dancing lessons. Programming would be hosted by a friend they cast as the tummler, a part emcee, part tour guide who was a fixture at the original Borscht Belt resorts. "When things get redeveloped, a lot of the times it's done with very little honor or respect to where this stuff came from," Austin said. "We wanted our process to be one of discovering more about what we came out of, what we grew from."
As per past events, guests were hand-selected through Benedetto and Austin's wide network of acquaintances based on who would get the most from the program -- in this case, families with kids. (They try to invite different people to each excursion. "We say no a lot," Austin explained of friends eager to tag along.)
But even without the guests and the setting, Benedetto and Austin refused to let a sunny Saturday go to waste. They diverted the crew to the behemoth Widow Jane, an abandoned cement mine that, while operating, provided the foundation for some of New York City's most prolific structures, including the Empire State Building and the Brooklyn Bridge.
Benedetto set up a picnic as a sleepless Austin arrived wearing blue-tinted sunglasses and his signature curlicued mustache. The fact that he'd been up all night scouting Kutsher's didn't stop him from launching into party-director mode, helping his friend build a bar from foraged materials and setting up a stage inside the mine, complete with a fully-functioning sound system.
The bartender, the CEO of a local distilling company, mixed fresh gimlets and margaritas while both Amour Obscur and and Hakmoun treated us to a private concert. We danced in the mine's shadow while NPR filmed. Legendary underground nightlife photographer Tod Seelie took pictures. Water dripped from the ceiling onto our smiling faces. And of course, there was plenty of time for exploring.
It was one of the most magical days I've had since moving to New York a little over a year ago, and it all happened by accident.
Sipping my gimlet and twirling to the beat of Hakmoun's lotar, I asked Austin and Benedetto how they were able to pull this all together from nothing.
"For everything we do, we always have to accept that there's a risk of failing," he replied. "But if you're going to fail, you might as well fail in style."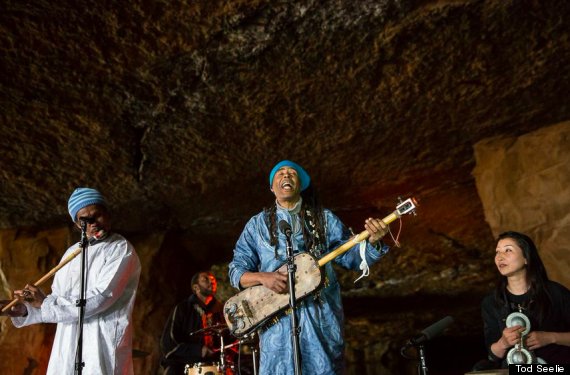 Hassan Hakmoun and his band perform inside the Widow Jane mine.
Related
Popular in the Community