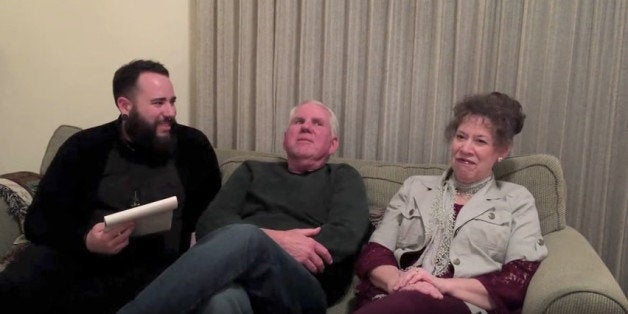 We've always, for the most part, gotten along. When I think back to growing up in my parents' house, few major conflicts come to mind. Even my only brother, Jake, and I rarely fought or even argued.
But we're also conflict-averse and sometimes antisocial. Growing up, we used to joke that we had four televisions in four different rooms for a good reason -- so we could all "watch TV together" without actually having to interact. Hey, it worked for us.
So, when the challenge was put forth by my employer to sit down with my folks and interview them as part of our Talk to Me series, I was both excited and a bit anxious about the opportunity. As a family, we rarely have those sorts of "big" talks. In fact, we tend to actively avoid them.
On Christmas Day last December, back at the small-town Wisconsin home where I was raised, I sat them down. Convincing my mom took a bit longer than my dad -- who has always been much more of a talker -- but neither of them put up much of a fight. My brother agreed to shoot the video on my partner's iPhone and we were off.
Right off the bat, I immediately questioned my decision. When I asked my parents to reveal one thing they had never told me, they both took a long pause. Nothing came to them. (Or at least, I feared, nothing they were willing to say on camera!)
Moving along, though, they began to run through the greatest hits of my awkward childhood. That time I split my chin open getting out of the bathtub? Check! The other time I decided, as a toddler, that I wanted to never, ever be sick, so it was a good idea to drink an entire bottle of cough syrup? Yep! And the time I was so determined to win a game of hide-and-seek at the grocery store that the store was forced to go on a lockdown? You bet!
No surprises here, for me at least. And then it came: When I asked my parents what had been the biggest surprise of parenting, they told me something I'd never heard before. Or maybe something I heard, but had forgotten. Or was said but not in so many words.
"We had no idea what you were doing!" my dad said of my decision to move to Chicago after I graduated from college in 2008. I didn't have a job, and my only plan was to move in with two of my best friends and, I guess, just somehow make it work? To be honest, I never truly considered an alternative. It's what felt right.
I had no clue at the time that my parents were totally perplexed by this. As of the day before this interview, I still didn't. They hid it that well.
I eventually did make it work. Had my parents been less supportive, I'm not sure that would be the case. But they trusted me and believed in me. I'd taken it for granted for almost a decade because I never even thought to ask, "Hey, what do you think of that?" Now that I have, I can't believe I waited so long.
I know that not everyone is as lucky to have parents like mine, but I do believe that everyone should have someone in their life who is willing to do the same -- to have faith in you and serve a life term as your fan club's president, no matter how stupid your idea is. It could be a parent, but it could also be a sibling or a friend, a partner or a coworker. Everyone needs that someone.
When you've found that person, don't forget to check in from time to time to ask some of these "big" questions. And invite them to ask some of their own. You might be surprised what you'll hear.