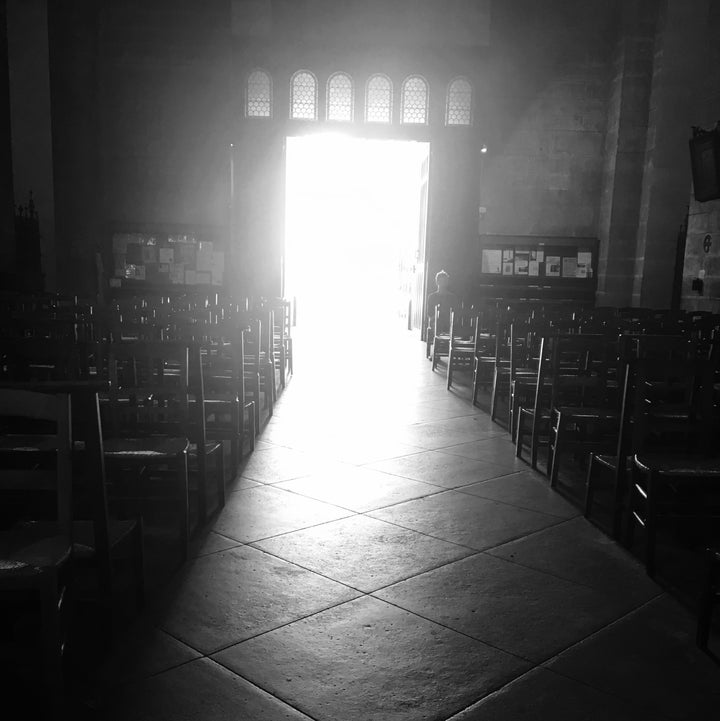 I could feel the stares. The 3-year-old I'll call Jesus crackled plastic and rustled in his chair. We were in the back of a massive church. His eyes drooped, his clothes were worn. Stares collided and clashed with the gem tones of enormous multi-colored stained glass windows, of a towering wood paneled dome, of the powerful lifting voice of my venerated pastor. He preached to our multicultural congregation full of expats in Switzerland of the harm we do when we judge or condemn those outside of our religious community. He was holding us accountable. I was glad. A welt in my chest had seemingly burst, and from it seeped "cringy"statements I've heard throughout my years— statements about people deemed undeserving of love because of their beliefs, gender, sexual preference, or simply their oddities… statements I've heard repeated inside churches and schools— about people outside. The pastor continued to describe grace— gifts given not because we deserve them, but because of an unconditional, unfathomable source of love and forgiveness.
Still, I could feel the stares. The 3-year-old I'll call Jesus toddled in my aisle, yapping "Mama" plus a few frustrated words in another language. A dark-skinned woman in front of us tilted her head every few minutes, frowning at Jesus and his mom whom I'll call Sonia. Sonia was my guest at church that day.
Jesus's little feet tapped and pattered, causing a light-skinned woman to crane her neck around and scowl through giant owlish eyeglass frames. An Indian man behind us poked my friend's shoulder. "Did you know there's childcare?"
I knew Sonia might not understand why the man was advising her, and so I whispered back. "Yes, she knows. But her child can't be separated from her. He doesn't speak any of the languages here. He's afraid. He's been through a rough time." The Asian woman beside him glowered. Finally I whispered. "They are refugees."
The two people then shrank back. They nodded their heads, and let us be.
I had become friends with Sonia over the past two months. That morning she'd traveled an hour, with two kids in tow, to attend church with me so that she could worship God and possibly make a friend or two. She has a Masters degree in education, and recently fled her country with her husband in order to ensure the safety of her family. I won't share more personal details. But I can tell you that her courage, kindness, her generosity, her acceptance of others is ironic and it's palpable. Maybe she's special now because of what she's been through. Or perhaps she's always been such a person. I don't know. But I know that she hugs me for a full minute when we see one another. She gloats over my children, asking each of them questions about their interests, telling them they're beautiful, in her broken English. She refuses to accept my offers to pay for her food or train tickets when we're together. She wouldn't take my help when her family was moved from a dreary refugee "camp" where I visited her to a new location in the Zürich area, miles from her first placement and the few friends she'd made.
Sonia's pain is also easy to find. Her 3-year-old clearly struggles to make sense of his new world and so, not surprisingly, is extremely attached to her. He wants all of her and barely lets her speak as she whispers to me about the devastation felt after leaving her classroom of children, her home, her pets, her friends. When I ask how she's doing this week, she brushes me off. She'd rather talk about gratitude. But when I ask again, she tells me the truth. Her family feels isolated. It's difficult to find friends for the kids, for her, and to learn the language or rules or lifestyle in a new country.
So when the woman in front of us finally stopped swiveling her neck and instead growled, "You need to take the child out of here," my tears came quickly. Not now. I thought.
Sonia didn't understand. She was too busy praying. Instead, she ignored the woman. She looked at me and smiled. "It's okay. God makes me cry every time. Isn't He beautiful?" I wanted to tell her that I was crying for my church, for my community, for myself, for all of us who misunderstand one another. But quietly I leaned forward and explained Sonia's situation (again) to another angry woman. Her eyebrows raised, she nodded, and apologized. She didn't turn around again.
After the service ended, I left Sonia for a bit and spoke with many of those who had glared at her and her 3-year-old. "This family has been through absolute hell," I explained. "And the 3-year-old needs to be with his mom."
"If only we'd known," said one of the women. "You have to extend grace to those who were around her. After all, we didn't understand her situation."
I could see her point. I couldn't judge. I didn't know what each of those people had endured that day, that month, that year, to make them deeply disturbed by the sound of a child in church. After all, I only related to Jesus and Sonia and the feelings of being scrutinized and marginalized. I'd been there myself. I'd been (and still am) the mother with the challenging child. I'd been the target of incessant stares at church.
But perhaps we need to learn more from Sonia. Perhaps we don't need to know. We don't need a reason to smile at the beauty that glimmers beyond the noisy imperfections of one another. We don't need a reason to open our minds, our churches, our schools, our borders, our little circles, our tiny tiny lives. We don't need a reason to love despite the clip clop of a child's feet, the sounds and smells and beliefs and traditions of others. Sonia taught me that. We don't need a reason to be kind.
Calling all HuffPost superfans!
Sign up for membership to become a founding member and help shape HuffPost's next chapter