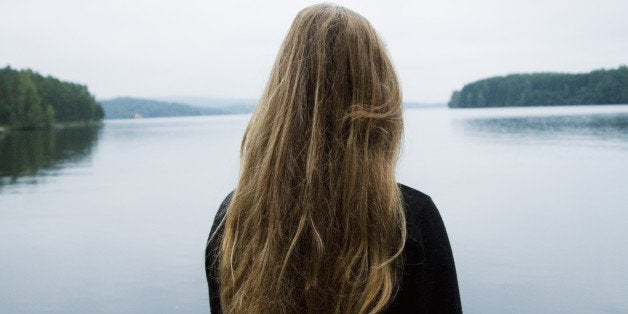 In honor of Pride Month, HuffPost Young Voices is highlighting the coming out stories of teens and those in their early 20s. Was it a life-changing moment? A bittersweet one? No big deal? Are you "out," but only to certain people? What does being "out" mean to you? Email youngvoices@huffingtonpost.com to share your story.
I was 12 when we were all sitting at the table, each of us staring each other down in a way that made me inwardly feel guilty about something I didn't even do. Was there anything left to say? Was there anything that could follow the fact that we were moving? Suddenly, all of their eyes were on me.
"Is there anything you would like to share with us?"
My mother's words rung in my ears. I knew it would be OK, but I couldn't help but still feel that pang of apprehension that would come with telling the family. Yes, I had a girlfriend. I had a girlfriend and she was the best thing that happened to me. I didn't like guys, but how could I tell my mom that? How could I tell her that and not hear a "you're too young to know exactly what you want" or "it's just a phase" from her?
"I'm bisexual and I'm going out with my best friend." The words made me flinch, as if expecting some other response. Instead I was greeted by silence and then a shrug.
Those words stung for some reason. She knew, yet didn't try to tell me at all that it was going to be totally OK. I felt betrayed and more hurt, but at the same time, rather relieved. I wouldn't become a statistic.
Fast-forward to age 17, now, I don't identify as bisexual or lesbian. I identify as a demi-romantic asexual -- something that my closest friends keep invalidating. They all know that I don't feel sexual attraction, but is it just assumed that people only date their friends? This threw me off and made me want to stay quiet about who I am. When it came up in conversation with a friend, they laughed at me and asked me what kind of teenager doesn't want to have sex. Was it just a fancy way of saying that I'm staying abstinent? Another asked me, although jokingly, if being asexual in orientation was like being a potato. These kinds of questions, these kinds of jokes enrage me, but at the same time make me want to speak out, talk about these kinds of things with people.
On top of that, I am agender, but I'm really not out at all. When I ask for people to refer to me as "they or them," I get weird looks and incredulous questions. I can change my appearance as much as I want, but apparently, I can't be who I want. Maybe this is more of a personal issue, where I just can't open my mouth and say "HEY, I'M NOT A GIRL. I'M A PERSON WITH A VAGINA."
Being out would make things more complicated, and at the moment, I am not prepared for that. Once I am able to work with any feedback I could possibly get, I will be able to actually stand up for myself. Once I am able to find the words to describe who I am, I will be unstoppable.
REAL LIFE. REAL NEWS. REAL VOICES.
Help us tell more of the stories that matter from voices that too often remain unheard.
BEFORE YOU GO