For summer 2016, bartenders are giving lots of love to Aperol, the Italian aperitif. Aperol is made mainly of bitter orange, gentian, rhubarb and cinchona and it is delicious. We're seeing it popping up on cocktail lists everywhere.

Here are some fresh Eat Drink Lucky tips on where to find phenomenal Aperol drinks, or maybe better yet, take this as inspiration for drinks you can make at home tonight.
If you're not drinking Aperol, you're not doing summer right.
Tosca Cafe has the Red Herring -- strawberry-infused Aperol, cachaca and lime -- on its summer cocktail menu.
242 Columbus Ave., San Francisco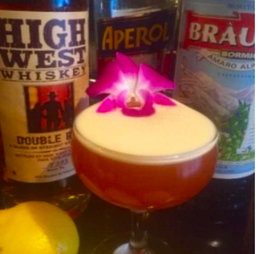 Photo courtesy of Baur's Chicago
Rain or shine, The Paper Flower is an elegant summertime sip, made of High West Double Rye, Braulio, Aperol and lemon at Baur's.
1512 Curtis St., Denver
If all you want is a roof somewhere, far away from the cold night air, with one enormous drink, then Social Drink & Food would be loverly. They boast "the largest hotel terrace in Manhattan" the perfect spot to start the Summer of the Aperol Spritz.
570 10th Ave. New York
Big times of change for Ostrich Farm -- the Sunset Boulevard hot spot is now open for brunch every day except Monday, and they're also serving cocktails, courtesy of their friends Pharmacie Cocktails. Any time of day is appropriate for the Amalfi -- gin, Aperol, grapefruit and basil. 1525 W Sunset Blvd., Los Angeles
Beer lovers need to head over to Columbus Tapto taste the latest from Chicago and Midwestern breweries. The new restaurant also offers seasonal cocktails made with craft beers, including the Citrus & Smoke with mezcal, Green Chartreuse, Aperol, egg white, sour ale and "elbow grease."
200 N Columbus Dr., Chicago.

It's also Negroni Week through June 12, and in addition to celebrating with the traditional gin and Campari drink, many bars, like Edgewater's Six Seven in Seattle and Menton's Gold Bar in Boston, serve fresh takes on the classic that sub in Aperol. When you try the Twisted Sister at Edgewater's Six Seven , made with Bulldog gin, Aperol, Lillet Blanc, they'll donate $1 to Seattle Children's Hospital. And at Menton's Gold Bar, sip the Chef-groni using Aperol and Cynar.
2411 Alaskan Way, Seattle + 354 Congress St., Boston
Calling all HuffPost superfans!
Sign up for membership to become a founding member and help shape HuffPost's next chapter