He quotes a passage in the Bible which states that faith without action is dead. For Reid, kneeling for the anthem to bring attention to police killings of unarmed black people was an act of faith.
It was just as much an act of faith as Tebow's choice to kneel down and pray to celebrate a touchdown.
"I knew I needed to stand up for what is right," Reid writes.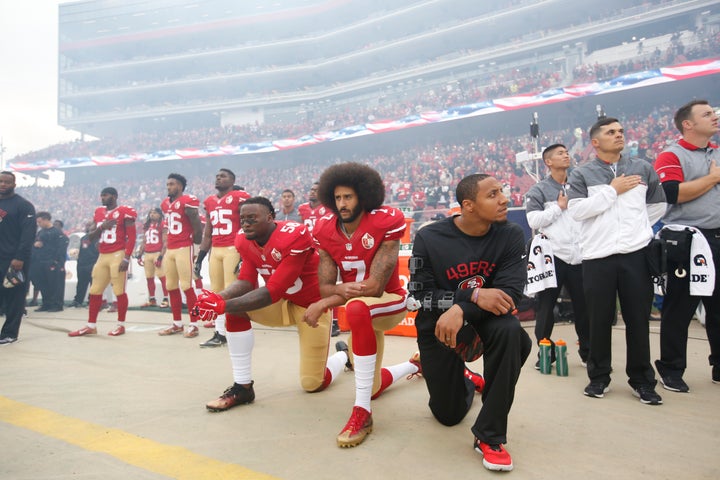 From the beginning, the "take the knee" protests have been tied to faith, the kind of righteous indignation that fueled the civil rights movement in the 1960s.
But as more than 200 NFL players joined the protest by refusing to stand for the national anthem this weekend, some Christians expressed their dismay, claiming that kneeling during the anthem is an unpatriotic and ungrateful gesture. This fissure in response to the NFL protests highlights key differences between white Christians and Christians of color. These groups tend to think differently about racial justice ― and what Christianity should look like when it's called to action.
The divide between American Christians about the "appropriateness" of protests for black lives isn't new. In his letter from a Birmingham Jail, the Rev. Dr. Martin Luther King Jr. wrote about his disappointment with "white moderate" Christian leaders and churches that claimed they agreed with King's goals, but not his methods. These Christians advised black activists to wait for a "more convenient season" for equality to materialize.
"I have almost reached the regrettable conclusion that the Negro's great stumbling block in his stride toward freedom is not the White Citizen's Counciler or the Ku Klux Klanner, but the white moderate, who is more devoted to 'order' than to justice," King wrote.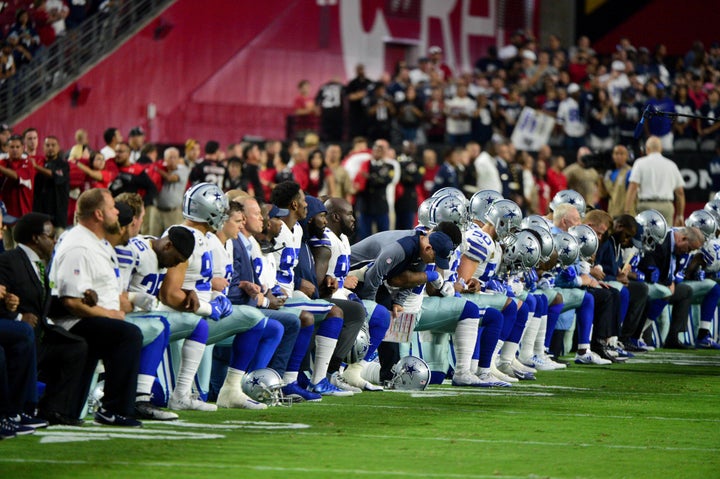 These attitudes seem to have persisted into the 21st century.
The popular Southern Baptist pastor Robert Jeffress, one of Trump's top evangelical advisors, claimed that the NFL players should be eternally grateful to God that they live in a country where they aren't "shot in the head" for protesting. Attorney General Jeff Sessions, a staunch defender of religious liberty, said that the players should make their protest in "any other place."
"As a matter of propriety, of love of country, and decency, you should stand when the national anthem is played," Sessions said.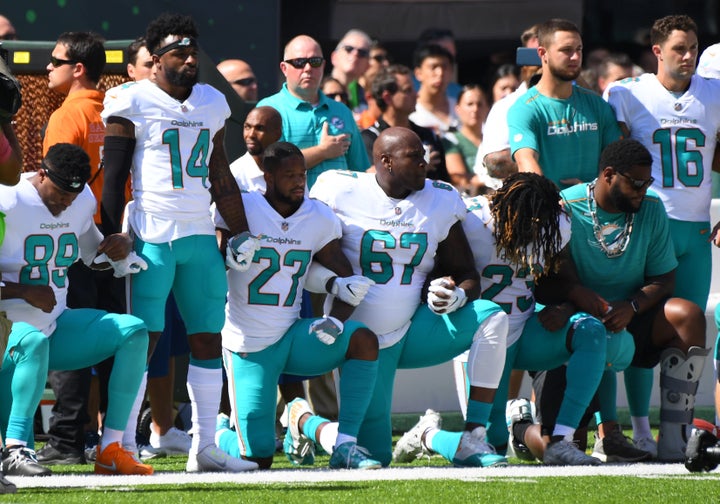 The Rev. Traci Blackmon, a United Church of Christ pastor deeply involved with racial justice ministries, told HuffPost that to her, the flag and the national anthem are symbolic reminders of the ideals that America has not yet realized.
As a result, she says, a football game is the "perfect place" for Kaepernick and others to protest.
"A football game is a perfect place to show the hypocrisy of our national narrative," Blackmon told HuffPost. "Because Americans worship football and gather weekly to watch many black bodies endure physical abuse for their pleasure, and then go home to [neighborhoods] where those same black bodies are not welcomed to live."
Valerie Cooper, associate professor of religion and black church studies at Duke Divinity School, said that one of the ways that black churches think of Jesus is as the leader of a protest movement ― someone who came to earth to proclaim good news to the poor and set the captive free.
"How you respond to protest movements depend on which side of the protest you're on," she said. "There's never an appropriate venue for a protest. When civil rights activists tried to desegregate a lunch counter, people could say don't interrupt my lunch. If you're desegregating a school, it's "Why must you interrupt education?'"
"Protest is never convenient for the the people being protested against. The real question is, when is it time for justice? If it is really justice we seek, it's always the right time," Cooper said.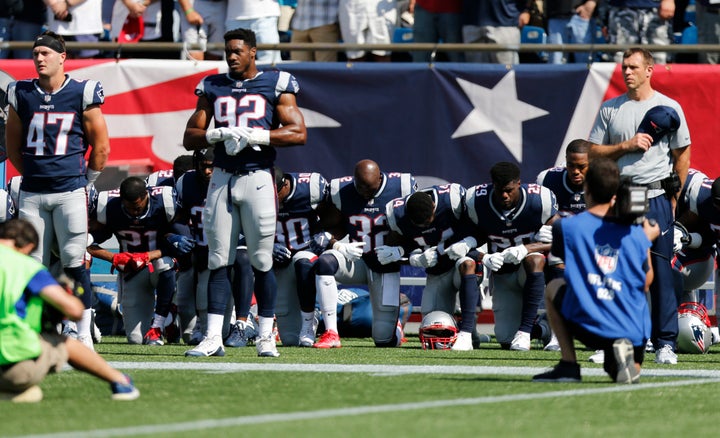 A 2015 PRRI study found that white Americans are less likely than non-white Americans to say that protests by black Americans are good for the country. This remained true when the researchers evaluated responses by race and religion. PRRI found that 65 percent of white Christians agreed that when Americans in general speak up and protest unfair treatment by the government, it always makes the country better. Sixty-two percent of nonwhite Americans said the same.
But change the race of the people protesting, and the responses look significantly different. Only 44 percent of white Christians agreed that when black Americans speak up and protest unfair treatment by the government it always makes the country better. About 63 percent of nonwhite Christians agreed.
White Christians are also less likely than Christians of color to understand the discrimination that minorities face. Studies have shown that white Christians are generally less likely than other religious groups and the unaffiliated to say that black Americans experience significant discrimination. While 36 percent of white evangelical Protestants say there is a lot of discrimination against black Americans in the U.S. today, 86 percent of black Protestants say the same.
White evangelical Protestants were particularly likely to say that police officers treat blacks the same as whites. They're the only major religious group in which a majority (57 percent) say the police killings of black men in Ferguson, New York City, and Baltimore were isolated incidents. On the other hand, 70 percent of minority Protestants say that these police killings were part of a broader pattern.
The Rev. Jacqueline Lewis, senior minister of New York City's Middle Collegiate Church, told HuffPost that she believes that flag is a symbol of the freedoms that the country claims to uphold ― freedom to "drive, work, and live while Black. Vote while Black. Raise children while Black. Safely."
But America isn't there yet.
"I think the deeper issue is that for African Americans in this nation, that flag and that national anthem are only as sacred as the willingness of those who sing and salute to stand up for the lives of all Americans, to stand against white supremacy ― the white supremacy that built this land on the backs of enslaved Africans, after stealing it from first nation peoples," Lewis said.
Clarification: This article has been updated to clarify that Tim Tebow often knelt in prayer to celebrate touchdowns.
Popular in the Community