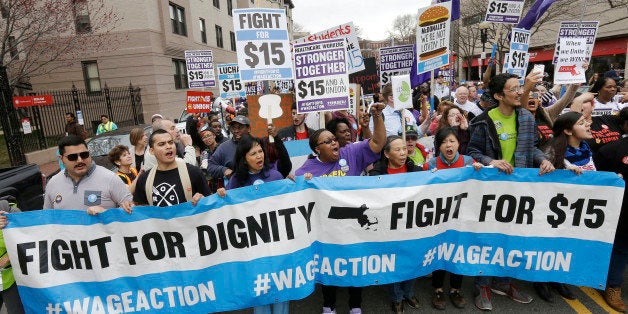 Today, I am joining tens of thousands of people all over the country who are delivering a message, louder than ever, to fast-food corporations: pay all of your workers enough to afford the basics. Fast-food workers are going on strike today, April 15, in the nationwide movement known as the Fight for $15.
Many in the crowd will be fast-food workers themselves, of course, but who's standing with them may surprise you.
I'm participating in actions in San Francisco and Berkeley, Calif., and we will not be far from Li'l Nancy's Primary Schoolhouse in West Oakland, where Nancy Harvey spends her days enthusiastically preparing young children for what's ahead. She wants to provide for her family. She wants those kids to have a great chance at success. That's why Nancy will be with us.
We'll also be nearby to Mills College in Oakland, where Stephanie Young is an adjunct English professor. She wants to work hard for fair pay. She wants her students to receive a quality education. That's why Stephanie will be with us.
Nancy, Stephanie and hundreds of child care workers and adjunct professors will stand with fast-food workers and call for wages of $15 an hour and the right to form a union without retaliation. More than that, they're standing up for all of us, for good-paying jobs that strengthen the economy for everyone.
They will do this because, in a land of increasing extremes, working people realize they have so much in common with each other, and by standing together, they can and will win.
These workers are not let into the boardroom, where CEOs make deals with each other that stack the deck in favor of the wealthy few. Instead, every day, they see each other's lives.
The parents who drop their children off at Nancy's, the students and faculty at Mills College, they've all been to the McDonald's locations that are close to both places, the ones on MacArthur Boulevard and Jackson Street. McDonald's announced modest wage increases a couple of weeks ago, but the workers at those two stores won't benefit. The changes don't apply to the 90 percent of McDonald's restaurants owned by franchisees.
It's back-breaking to try to stay afloat and provide the basics for a family on low wages. It's a daily struggle, one that hurts families. It's not only fast-food workers, child care teachers and adjunct professors but also airport workers, home care workers and so many others see that they share.
It doesn't have to be this way. People who work for a living instinctively know this. Zharia Harper certainly does. Zharia was working at McDonald's in Oakland before she graduated from high school to support her family as her mother completed a program to become a pharmaceutical technician; she's still working at McDonald's now as she grinds it out at community college herself.
As Zharia told me at a rally in Oakland earlier this month, $15 an hour could make a huge difference, for her and for her mom.
The Fight for $15 started more than two years ago when hundreds of people who work in fast-food restaurants in New York City went on strike. It has grown exponentially since then, a movement to ensure that everyone who works for a living -- our friends, our neighbors and our families -- can make ends meet and have a fair shot at a decent life.
More than 200 cities will see strikes today. Tens of thousands of people will join in and express their support. They are people like you.
If you've never given yourself a raise one day and laid off workers the next, you understand the Fight for $15.
If you can't call up the politician you gave thousands of dollars to and ask for a tax break in return, you understand the Fight for $15.
If you're a paycheck away from trouble, or a thousand paychecks away from being able to afford your kid's college education, you understand the Fight for $15, because what you have in common with Nancy, Stephanie and Zharia is powerful -- and people just like you will demonstrate that power in the streets today, here and all over the country.
Related
Popular in the Community