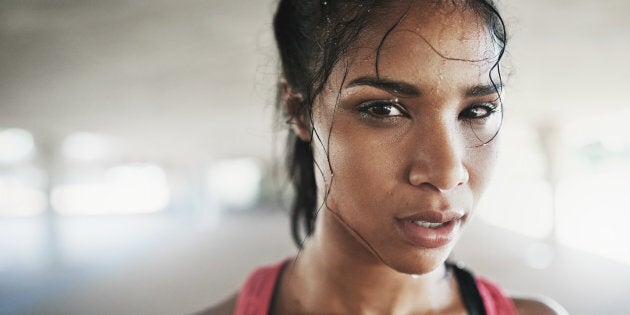 We've all been there. You workout hard and, for one reason or another, you don't eat quickly enough afterwards. You start to feel shaky, hangry, jittery and maybe even anxious.
Eating properly after exercise is important not only to replenish the energy you've just burned, but also to make sure you get the most out of your workout -- so you can see the results you want.
"Post workout nutrition provides fuel and nutrients for the body and helps prevent blood sugar lows and fatigue," nutritionist Fiona Tuck told The Huffington Post Australia. "The body needs nutrients to help with muscle recovery and cellular repair."
"Looking after yourself doesn't stop at exercise -- taking care of nutrition is critical," Bingley-Pullin said. "Proper refuelling will also allow you to have more energy for your next workout."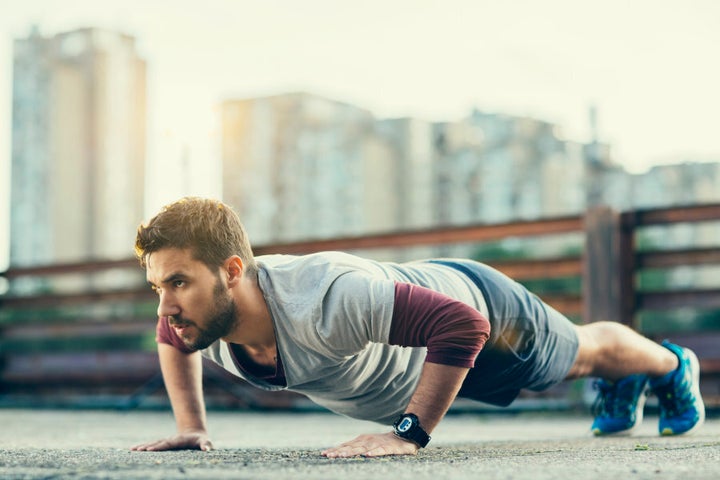 According to Alexandra Parker and Anna Debenham, accredited practising dietitians from The Biting Truth, whether you're an amateur or a professional athlete, what you eat pre- and post-exercise is crucial.
"Following a workout, what you eat is vital in helping you reach your training and health goals and in ensuring you make the most of your workout," Debenham said.
"Every time you exercise, carbohydrate stores (in the form of glycogen) are utilised for energy and your muscle protein is broken down. It's therefore essential to replenish these stores afterwards."
"Exercising actually makes your muscle tissues more sensitive to certain hormones and nutrients, which means that muscle is most responsive to nutrient intake during the first 30 to 90 minutes post-workout," Parker added.
When it comes to post-workout recovery, always consider the three Rs:

Refuel

Refuel your glycogen (carbohydrate) stores to avoid muscle tissue breakdown and low energy.
Lack of glucose to fuel the brain can lead to decreased alertness and concentration, and low mood.
Aim for high quality carbohydrates sources (think wholegrain breads and cereals).

Repair

Repair damaged muscles with protein.
Consuming protein post-workout will provide amino acids for the building and repair of muscle tissue. This will help you to recover more quickly.
Aim for lean protein sources (think lean meats, eggs, nuts, legumes, tofu and reduced fat dairy).

Rehydrate

Rehydrate with fluids.
Most of us finish a workout at least a little dehydrated, and you will continue to lose fluids through sweating and breathing. It is essential that you replace these fluids immediately.
Your thirst is not the best gauge of hydration. The best way to tell how hydrated you are is to look at the colour of your urine. You want to aim for straw-coloured urine. The darker it is, the more dehydrated you are.
When we skip post-workout nutrition, the effects on the body are negative and quick to arise.
"While skipping a post-workout snack every now and then isn't necessarily an enormous deal, it should never become a habit," Parker told HuffPost Australia.
"If you don't adequately replenish your stores following a workout, not only will you not make the most out of your workout, but your body can experience some other negative consequences."
Hypoglycemia (low blood sugar levels), which can make you feel disoriented and could even cause you to pass out
Increased fatigue (during training and at work or school)
Reduced performance at your next training session or event
Suboptimal gains from the session just completed -- you won't make the most out of your workout
Increased muscle soreness.
"Blood sugar can drop which can lead us to feeling shaky, tired, lightheaded and even nauseated," Tuck said. "The brain relies on a constant supply of glucose to stay mentally alert, so our attention can wane and we can feel low in energy and mood."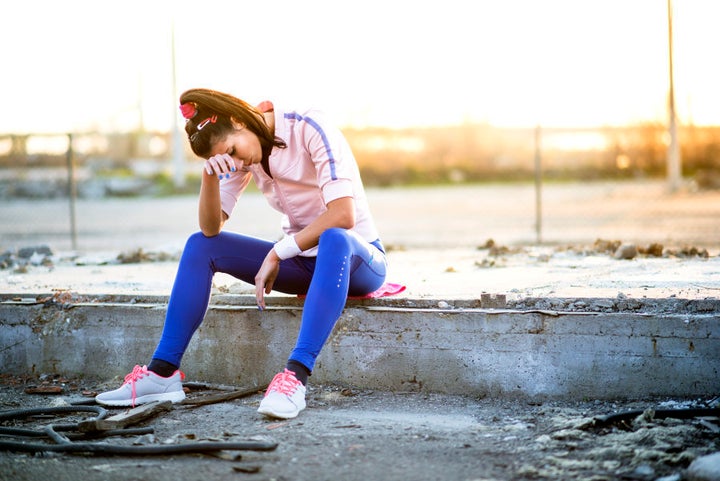 When it comes to actual post-workout food, Parker said the type and amount comes down to your fitness goals, more so than the exercise itself.
"Generally, the principles are very much the same, but exactly what your body needs most varies slightly depending on the type of exercise you're doing and what your goals are," Parker said.
"The time of day of your workout is also going to make a difference to the meal or snack you have (lunch food is very different to a snack)."
As a general rule, Parker recommends that all post-exercise foods should be rich in good quality carbohydrates to replenish muscle fuel stores, contain some lean protein to repair muscles, and include a source of fluid and electrolytes to re-hydrate effectively.
"The higher the energy intake (calories) depends on the intensity of the amount of physical exercise," Tuck explained. "Long distance endurance training or weight training or body building would be different to a relaxing yoga class, for example."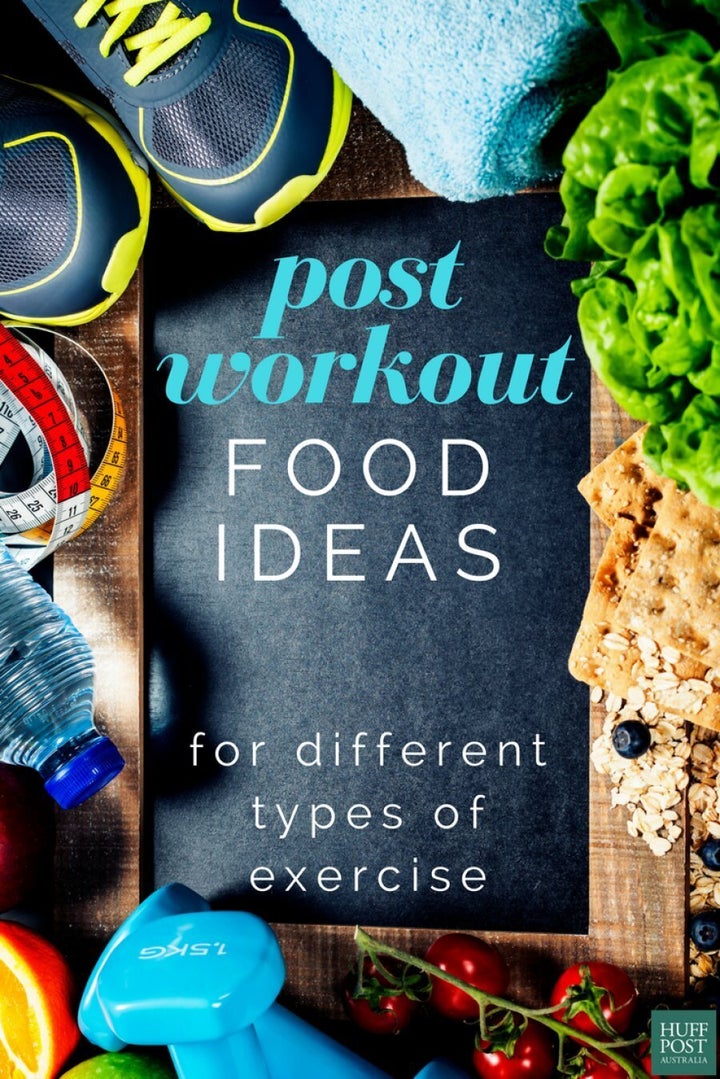 Here's what to eat after different types of workouts.
1. Cardio work (e.g. running, endurance, cycling)
"The key is replenishing carbohydrate stores, and adequate hydration is essential," Debenham said. "For example, a slice of whole grain bread with peanut butter and banana. It's full of potassium which soothes muscles, high quality carbs, protein and heart healthy fats."
Other great post-cardio options include: a banana and a handful of nuts, or 1-2 slices of whole grain toast with either ricotta and fruit or cottage cheese and tomato.
"Athletes, such as endurance runners and cyclists, need specific sports nutrition to ensure adequate nutrients and calories are consumed for the body to be able to function at its optimum," Tuck told HuffPost Australia.
"This may involve consuming nutrients and electrolytes during the actual exercise, as well as pre- and post-work out nutrition."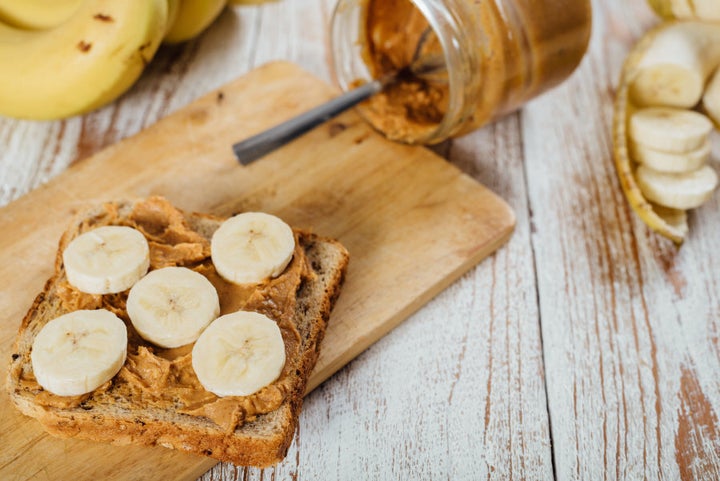 2. Pilates or barre
"Again, it depends on your goal. Is the goal to lose weight, or perhaps you're looking to boost core strength and increase your muscle mass," Debenham said.
"If your goal is weight loss, then a nutrient rich meal within 60 minutes of your workout is essential as the meal will be more efficiently digested. If your goal is to improve strength, then protein is key."
Try two hard boiled eggs with multigrain toast, or a slice of roasted vegetable and feta frittata.
3. Yoga
"Your food choices post-yoga should aim to repair your tired muscles and replenish your energy stores," Parker said. "To do this, your body needs a hit of protein, some low GI carbohydrates and fruits or vegetables.
"Try a small tub of Greek yoghurt with a couple of spoons of natural muesli containing nuts and fruit. Or for something savoury, a small can of tuna, four bean mix and some chopped veggies."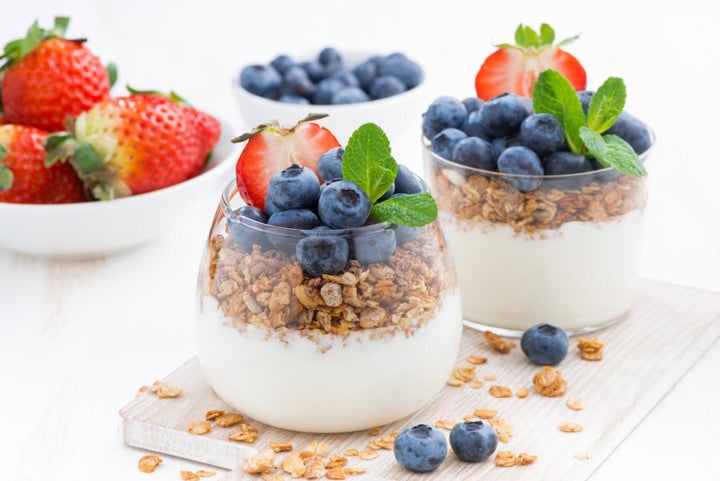 4. Resistance or strength training
If your goal is to gain muscle, then an energy-rich diet with adequate amounts of protein is just as important as your well-developed strength training program.
"While an increased intake is essential for muscle gain, your intake should be low in fat and high in nutrients," Parker said.
"Following strength training, protein should be consumed. Consuming carbohydrates in conjunction with protein allows the protein to be used for muscle growth and repair."
"Smoothies are a great option and easy if you're on the run. Simply blitz the ingredients together in the blender the night before (berries, low fat yoghurt, oats)."
Tuck recommends trying a delicious chocolate smoothie with protein powder, banana, cacao and milk.
"This provides carbs, protein, fats and important minerals such as potassium and magnesium," Tuck said.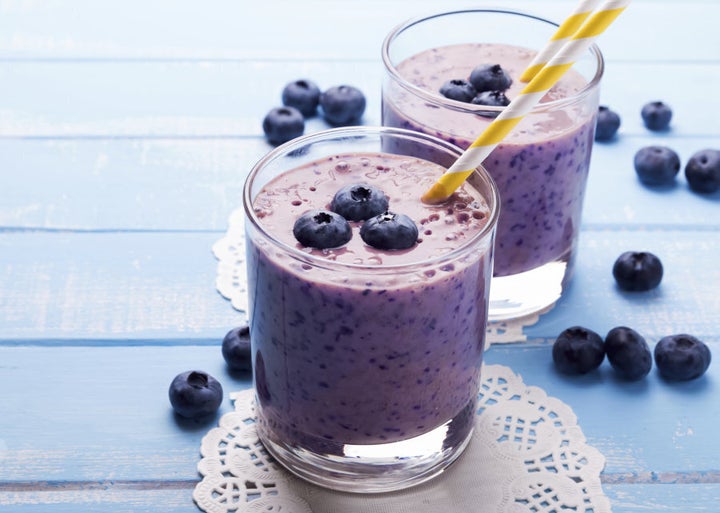 5. High intensity interval training (e.g. cross fit, HIIT)
After high intensity interval training, Debenham recommends opting for an egg omelette with sautéed onions and capsicum, plus a bowl of chopped fruit. Hint: include pineapple.
"Aside from their protein content, eggs are high in leucine which triggers muscle protein synthesis. The vitamin C in the capsicums is essential for maintaining healthy cartilage you need to cushion your bones," Debenham said.
Another delicious option is overnight oats -- simply combine oats, yoghurt or milk of choice, mashed banana and chia seeds.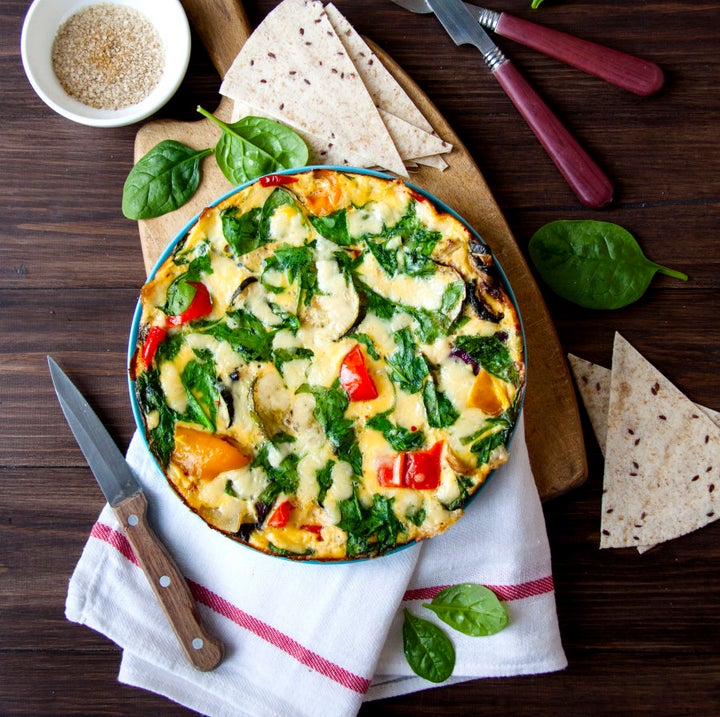 Other post-workout snack and meal ideas:
ALSO ON HUFFPOST AUSTRALIA
Popular in the Community