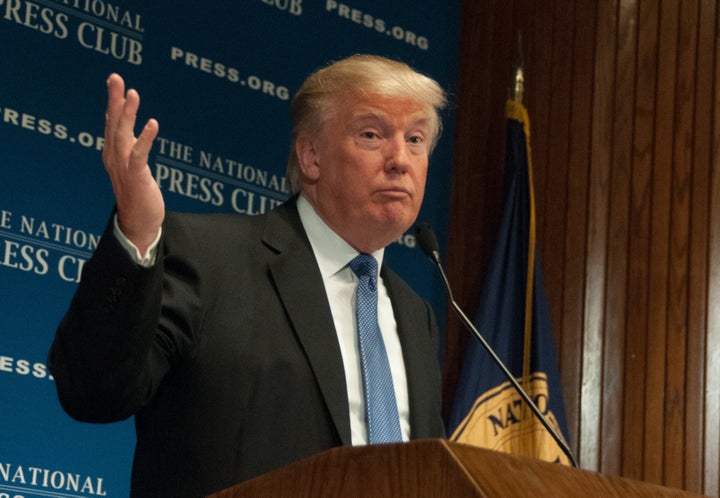 While the presidential campaign was a noisy one, there was little-to-no discussion about retirement's Triple Crown: Social Security, Medicare, and retirement savings plans. The fourth leg of the aging stool ― the plight of the nation's unpaid family caregivers ― also went ignored.
So how will the President-elect address these issues? Since he hasn't actually said, here's what we do know ― and it's hardly encouraging.
1. He ties Social Security to the economic growth of the country.
The more jobs, the more people paying into the Social Security fund ― that's been his answer about how he plans to bolster the program that is the primary source of support for millions of people and is projected to face a shortfall in 18 years when the baby boom generation is fully retired. Among elderly Social Security beneficiaries, 48 percent of married couples and 71 percent of unmarried persons derive 50 percent or more of their income from Social Security. For about 43 percent of those single elderly beneficiaries, Social Security is 90 percent of their income ― 90 percent! That means it is everything and they need it for their basic survival.
"We're not going to hurt the people who have been paying into Social Security their whole life," Trump said, likening the payment of promised benefits to being akin to "honoring a deal."
2. Candidate Trump said little, but the GOP has been eager to get its hands on Medicare ― not in a good way.
Candidate Trump said he would tackle what he saw as widespread fraud in Medicare. "The top estimates are $2,340,000,000 in Medicare fraud over a decade―or 16 percent of America's entire national debt!" And he added, "Then there's the disability racket. Did you know that one out of every 20 people in America now claims disability? That adds up to $170 billion a year in disability checks. Between 2005 and 2009, it is estimated that $25 billion were eaten up in fraudulent Social Security Disability Insurance filings. On and on, scam after scam it goes; as always, taxpayers are the ones getting stiffed."
Candidate Trump also stunned the GOP when he said he would allow Medicare to negotiate drug prices with Big Pharma ― something that is currently not permitted and the GOP, which enjoys being on the receiving end of drug companies' largess, was not pleased with.
Paul Ryan and other House Republicans have been trying for years to cap the government's share of Medicare ― something that would result in big premium hikes for seniors. Candidate Trump said he'd oppose those changes.
"Modernize Medicare, so that it will be ready for the challenges with the coming retirement of the Baby Boom generation – and beyond. Maximize flexibility for States in administering Medicaid, to enable States to experiment with innovative methods to deliver healthcare to our low-income citizens." 
Modernize? Experiment? Low-income? What happened to beating back fraud and bringing Big Pharma to its knees?
If the ACA is indeed repealed or significantly changed ― as Trump has pledged he will ― some pain will most certainly be felt by older people who are not yet eligible for Medicare (65). Their cost of health insurance will certainly go up, and that's assuming they don't have pre-existing conditions that preclude them from getting insurance at all. Another likely result is that baby boomers won't retire early because they will want to hang on to their employer-sponsored health insurance.  
3. Retirement savings are still blowing in the wind.
Consumer advocates have long complained that not all financial advisers are created equal. The first group are known as "fiduciaries," and they are required to put their clients' interests first. The second group are basically just salespeople, often selling complicated financial products with high fees.
President Obama's Department of Labor proposed a rule that will require all financial advisers handling retirement accounts to put their clients' interests first. We bet you thought they were doing that all along, right? Not hardly. The White House said the rule will prevent conflicts of interest that cost Americans about $17 billion a year.
Given how vehemently financial firms dislike the rule and want it dropped is a pretty good indicator of how much money they are making without it.
And then there is the basic problem that people simply aren't saving for retirement. In some cases, they don't have an easy way to do it. Less than 60 percent of U.S. private-sector workers have access to a retirement plan through their employers. Obama supported ways to sign up employees automatically for 401(k)s or other retirement accounts, but Congress never acted on his proposals.
One bipartisan bill would allow small businesses to band together to offer retirement-savings plans. So-called multiple-employer plans are allowed now, but only for businesses in the same industry.
4. Family caregivers will continue to be screwed.
America's largest unpaid labor force ― about 50 million strong and growing every day ― are the family members who are caring for aging parents and spouses. The work they do ― unpaid ― saves the nation more than $520 billion a year. That work used to be delivered by trained, skilled nursing staff. Now, patients are sent home from hospitals to be cared for by their relatives ― whether the relative is capable of the task or not.
While future first daughter Ivanka Trump has promised to keep child care on her father's radar, no one has mentioned elder care.
REAL LIFE. REAL NEWS. REAL VOICES.
Help us tell more of the stories that matter from voices that too often remain unheard.
BEFORE YOU GO
PHOTO GALLERY
SmartAsset's Best Cities For An Active Retirement