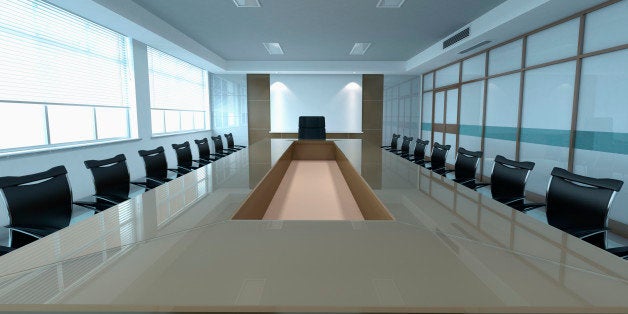 Not that long ago, work was a place. Now, it's a state of mind.
Picture a typical 21st century American worker, standing at a subway stop, texting a friend. "I'm going to work," she writes. Then, as the train pulls away, she reads news stories about her industry, sends emails to coworkers, and checks her calendar.
When did she get to work? When she turned on her phone? Or when she arrived at a nondescript office building downtown and walked through the door?
Our technology has dramatically changed the way we approach our jobs, but our terminology still lags behind. Laptops, smart phones, and tablets have liberated us from the cubicle, while email and chat programs have tethered us to our coworkers.
When a worker can brainstorm new products with people in her department over email on the subway, win an important new contract while standing in line at Starbucks, and finish a key document from her living room couch, the office is everywhere.
That means we need to rethink the purpose of the physical office, the place where we all meet to do work. It's no longer enough for today's companies to simply park their workers in cubicles, or standard chairs and desks, and show them where the bathrooms are.
In some workplaces, that's led forward-thinking managers to tear down the cubicle walls and create open offices. But those don't work for everyone and, more importantly, they don't address the underlying issue.
Yesterday's office was like a factory: each task was done in a specific place. But today's offices need to be more flexible. For some companies, that might mean setting up different types of work stations for different kinds of work: individual desks for everyday tasks, larger tables for collaborative projects, informal workspaces like couches for brainstorming.
The change starts at the most basic level: the chairs we sit on and the desks we use. As the head of an office furniture manufacturer and distributor, I'm constantly looking for new ways to design office furniture to be more versatile and flexible.
For example, our new Morph Series features a chair and loveseat which come with built-in USB ports and electrical outlets to charge your laptop, smart phone, or tablet as well as a flip-up privacy wall that allows you to shut out distractions and have privacy when you need it.
Other furniture companies are tweaking their designs too, creating individual pods where workers can set up shop for long stretches or designing treadmill desks for people who don't like to sit still. Some of these ideas will catch on. Others are more useful as spurs to rethinking how to design the modern-day office.
It will take some experimentation to figure out the office of the future. For now, we know some of the broad principles that should guide it.
First, we need to offer employees more places where they can plug in, recharge and get right to work as if they were sitting right at their desk. Everywhere in the office -- from the break room to the boardroom -- needs to be plug-and-play for workers who want to get on the Internet, send email, or simply charge their battery.
Second, we need to offer employees more types of places to work. That means traditional cubicles, standing desks, small tables, large tables, comfortable sofas, and things we haven't even thought of yet.
When work is everywhere because people can work anywhere, the office needs to be more than just another place.
Blake Zalcberg is chief executive officer for OFM, an office and school furniture manufacturer, distributor, and wholesaler headquartered in North Carolina with operations in Phoenix, Ariz. For twenty years, OFM has provided affordable, quality furniture through a dealer network to businesses, government, health care and educational facilities offering the latest concepts and designs in the furniture industry. Working with manufacturers in Mexico, Taiwan and China, OFM designs furniture to meet the highest industry standards which are sold through a variety of retailers, mail-order catalogs, and online dealers including Staples, Wayfair, Overstock, and National Business Furniture. To learn more about OFM, visit www.ofminc.com.
Popular in the Community