The 2nd Annual iHeart Radio Music Awards took place on Sunday, March 29, 2015 at the Shrine Theater in Downtown Los Angeles. I had the amazing opportunity of attending this super fun awards show, and covering the red carpet. As the event progressed, I had a ton of fun not just interviewing celebrities, but getting to see their silly side as well. Check out our talks here!
The first group on the carpet was none other than Echosmith, who took the music sphere by storm in their hit song "Cool Kids." I've been dying to talk to them for what seemed like forever, so to incidentally see them on the carpet seemed like a dream come true. We talked about all the important things in life: dealing with problems and winning goofy awards.
Next up was none other than the Australian rapper, Iggy Azalea! Iggy knows what it's like to deal with rejection, as one day she experienced the horrifying fate of being dropped from all offers from record companies. Not only that, as she made it to the top of the entertainment industry, she faced heartbreaking criticism on social media and in person. However, it's clear that her rejection is not enough to get her down. I asked her about any tips she'd give to teens wanting to make it in the entertainment industry, and this is what she had to tell me!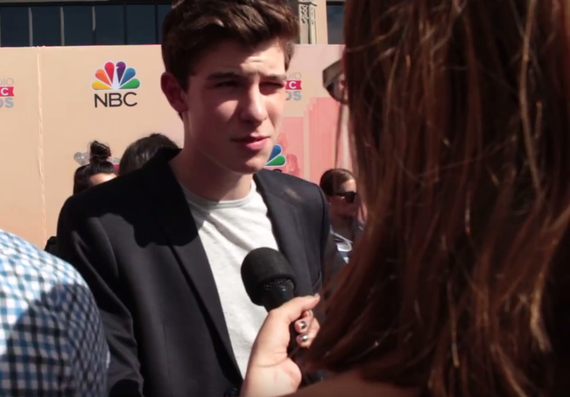 Shawn Mendes, arguably one of the cutest people in the entire world, stopped for a few minutes to talk to me on the red carpet. Not only did he shake my hand (aw), but he agreed that if he were to be an emoji, he'd be a monkey because "sometimes I feel like a monkey." Shawn began his musical endeavors at a young age, which he assured me that it "matured me in so many ways." If you want to be the next Vine star-turned-superstar, he advises to "keep a positive mindset."
Overall, the 2015 iHeart Radio Music Awards wasn't just about mind-blowing performances or who was dressed the best. Speaking to the stars that I thought I'd only dream of one day encountering made me realize how possible it is to bring even the wildest dream to life. The singer that you listen to on the radio once had to deal with sending their demos out and working for the day where they might get the slightest hint at a recording deal. To be successful in any field requires hard work, dedication and the lovable personality that we're all born with. Anything is possible, but only if you're willing to put in the extra hours, defeat the doubts that prevent any dream from coming true and capitalize on the opportunities set before you.
Working in a bustling city such as Los Angeles, California has given me a ton of opportunities that I couldn't be more grateful for. When I began interviewing with Omics Live, my hands were shaking, my voice was weak and I was scared to death. Flash forwarding eight months, three award shows, and over one hundred interviews later, I am insanely excited to see where I am headed next. From the red carpet to the school hallways, it's time to show the world that teens can and are doing incredible things! Stay tuned for what my next unconventional adventure will be by following me on Instagram with the hashtag #juliasjollyholiday!
REAL LIFE. REAL NEWS. REAL VOICES.
Help us tell more of the stories that matter from voices that too often remain unheard.