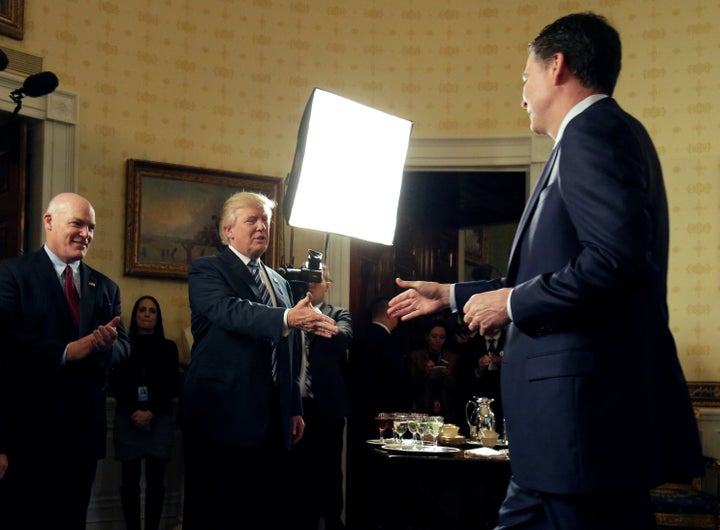 TOP STORIES
It's official: Today's my last edition as the full-time editor of The Morning Email before I hand it off to the wonderful Paul Vale and head to my health beat here at HuffPost.
Thanks so much again for all your support over the last four years. It's been an honor to be a part of your morning routine. Now onto the good stuff.
TAKE A LOOK AT THE REDACTED COPIES OF THE COMEY MEMOS The Department of Justice released the memos ― which detail Comey's interactions with Trump at the beginning of his presidency ― to congressional leadership Thursday. The memos detail everything from Trump's obsession with the dossier to his talk of jailing journalists. Here are the six things to pay attention to. [HuffPost] [Tweet | Share on Facebook]
FORMER NYC MAJOR RUDY GIULIANI IS JOINING TRUMP'S LEGAL TEAM The former mayor and U.S. attorney for the Southern District of New York hopes to "negotiate an end" to the Mueller investigation. Twitter isn't buying it. [HuffPost] 
THIS ISN'T THE LAST OF THE PUERTO RICO BLACKOUTS And the start of the next hurricane season in June looms. [HuffPost]
TWO FLORIDA DEPUTIES WERE SHOT AND KILLED WHILE EATING AT A CHINESE RESTAURANT The gunman was found dead outside the restaurant in Trenton, Florida. [HuffPost]
ARE THERE SILVER LININGS TO THE APOCALYPSE? As Cape Town descends into drought, we're about to find out. [HuffPost]
NORTH KOREA TRAINS POTENTIAL HACKERS LIKE OLYMPIC ATHLETES "Promising students are identified as young as 11 years old and funneled into special schools, where they are taught hacking and how to develop computer viruses." [WSJ | Paywall]
WHAT'S BREWING
INSIDE THE GROWTH OF PALANTIR ― WHICH IS ALWAYS WATCHING "An intelligence platform designed for the global War on Terror was weaponized against ordinary Americans at home." [Bloomberg]
IN PERHAPS THE MOST INGENIOUS STROKE OF TROLLING James Comey is speaking at Amazon Monday. [The Intercept]
SEN. TAMMY DUCKWORTH'S INFANT DAUGHTER MADE SENATE HISTORY IN ADORABLE FASHION But it appears that one senator doesn't know what a diaper bag is. [HuffPost]
THERE WERE SOME WINNERS IN THE MOST POPULAR NAMES IN THE 1920s Mildred's making a comeback any day now. [HuffPost]
YOUR GRANDPARENTS WILL SOON KNOW WHAT 420 IS As the marijuana industry says they're the next big budding demographic. [HuffPost]
ACCORDING TO ELLEN BURSTYN, WE'RE ALL GOING TO BE THE DOGS OF OUR ROBOTS Which means we should probably be nicer to Alexa. [HuffPost]
BEFORE YOU GO
REAL LIFE. REAL NEWS. REAL VOICES.
Help us tell more of the stories that matter from voices that too often remain unheard.