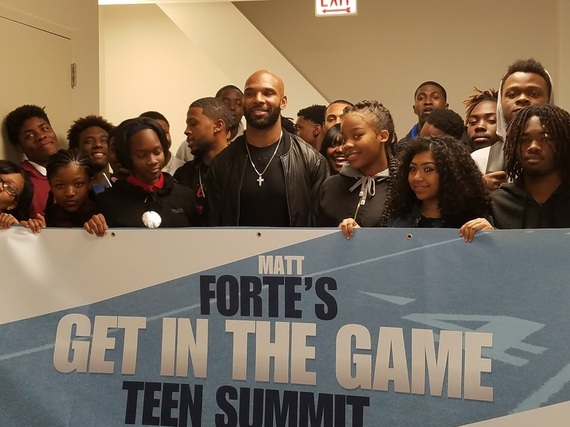 Running back Matt Forte, currently with the New York Jets football team, previously played 8 seasons for the Chicago Bears. He returned to Chicago on November 18 for the Matt Forte's Get In The Game Teen Summit at Malcolm X College. NAACP Chicago Southside and Westside branches, Black McDonald's Operators Association of Chicago, and Fifth Third Bank were among the sponsors. Aaron R Parthemer, Sr. and Quentin Newman helped to coordinate and sponsor the event. Nearly 300 students from located high schools attended the event that included classes in branding, banking and budgeting, knowing your legal rights, and techniques to de-escalate violence when confronted by the police. Several representatives from the Chicago Police Department community affairs office were on hand to meet with the youth.
Forte's event came at a time when his adopted hometown could use a lift. Chicago has experienced a major spike in murders this year with 706 deaths as of December 7, 2016. In a stark reminder of the epidemic of violence in the city, the murder tally rose from 702 to 706 just in the brief time this reporter wrote the article. Yet, the people of Chicago refuse to be defeated. Renelle Perry, an officer of the Westside branch of the NAACP Chicago, beseeched for a positive story about this event because "there are already too many bad stories about Chicago." She said, "We are doing everything we can to help the younger generation get on the right path."
As part of the program, the students completed a stop and frisk survey that asked have you ever been stopped and frisked, how did you feel when the police first ordered you to stop, and how did the frisk make you feel. A surprising number of young people under the age of 16 raised their hands when asked if they had been stopped and frisked. One young girl, with tears in her eyes, described having her body parts touched by a male officer while being frisked. The young girl and her mother filed a complaint with the precinct, yet the officer was not disciplined despite not waiting for a female officer to conduct the body search. One teen told this reporter he no longer went outside unless he was going to a specific destination. He said, "I don't hang outside anymore due to police harassment." The instructor of the class, Glen Brinson, a professional fireman who volunteered his time, informed the high school students that they did not have to submit to a search and could say no. Many of the students said they felt reassured after learning their rights.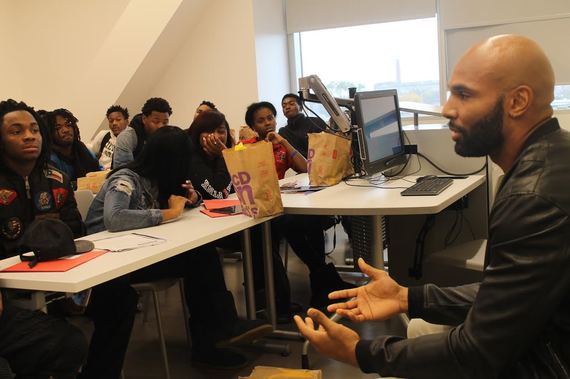 Forte made himself accessible during the event even leading a dance contest. He stopped in each classroom dispensing advice, and answering the questions. He cautioned the youth about their use of social media. One girl asked him how he resolves conflict on the football field. Forte advised, "It's hard. It takes a lot of practice in that particular situation. I am a Christian. I pray for them. Then there's meditation. I wait to respond. Sometimes, I do respond. Then I promise myself I will do better next time. I have a story to tell you - a player cursed at me on the field. I turned him and said God bless you. He then said sorry, man."
Catching up with Matt Forte after the event, he was most proud of the classes on de-escalation that were taught at his summit. He hopes they will save lives. The importance of de-escalation was brought home to him in light of the senseless road rage murder of Joe McKnight, who played for the Jets at one time. The students were taught C3 (Calm Circuit Connection) de-escalation techniques that work to reduce levels of adrenaline in the brain. Andra Medea, who co-wrote the groundbreaking book "Against Rape," developed Chill, a special type of C3 program for youth. She explained, "De-escalation works best if it's closely tailored to a specific group, designed around specific challenges they face. So while there's a C3 program for, say, police, the needs of police are very different from, say, the de-escalation needs of a 14 year-old at the local high school." Chill, which is taught by young adults in high school and college to their younger peers in grade school through high school, utilizes common situations and everyday language to teach practical methods for defusing tense situations. These methods including walking with the person and asking them questions such as their name and address.
Matt next returns to Chicago in March. He will attend a local high school gala and hands out a scholarship to a lucky student.
The picture of Matt Forte in the classroom was provided courtesy of PhilFree Media.
Calling all HuffPost superfans!
Sign up for membership to become a founding member and help shape HuffPost's next chapter