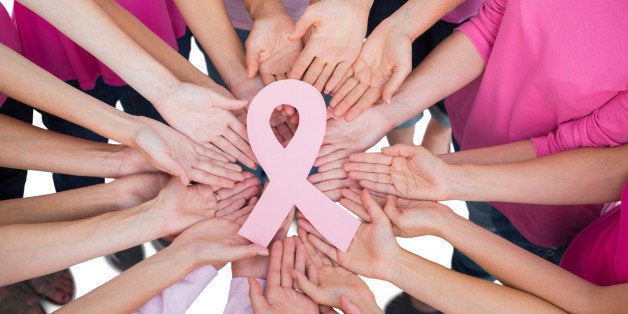 It is a month to love ourselves and our bodies - a month of awareness that I think we need to honor every day, all year long.
It is a month to show our support in whatever way we can - whether it's sporting a pink ribbon, participating in  run, or learning more about the issue.  This mixed media painting, Dancing Girl, was a piece I created in Yale Hospital. is now in a brand new Breast Cancer Out Patient Center. I couldn't be prouder to be displaying it in a brand new beautiful Breast Cancer center in Connecticut.  Read the poignant full circle story here.
Making art, going to a medical check-up, reaching out to a friend - there are many ways we can spread the word about the importance of women's health to raise more awareness around breast cancer.  I wanted to share a great infographic by Bankers Healthcare Group which dispels common misconceptions about breast cancer.  I know I learned a quite a few surprising facts in reading it!  I urge you to share this with friends, family, patients, clients and colleagues.  
If you haven't ever heard of Bankers Healthcare Group, they are a company whose work providing physician loans puts them in close contact with doctors and other medical professionals on a daily basis.
As women, the best stance we can take is prevention.  I've been through enough already!  So the least I can do is take an empowered approach to my health for the one body I have.  After 27 surgeries, my digestive system was surgically reconstructed with the intestines I had left, and now I want to make sure I fill that system with the best nourishment possible, and do everything I can to take care of myself - inside and out.
NO matter what we're going through, we need to love, nourish and care our bodies.
[caption id="attachment_9962" align="aligncenter" width="374"] Learn more about my workshops for medical professionals and patients here.[/caption]
What else can I do?  I try to exercise, eat healthy foods, and see my OB-GYN regularly.
Here are some ideas to keep your mind and body healthy:
And the biggest healing and recovery resource? Share your story!  Sharing our story makes it more palpable for ourselves.  By just speaking it, writing it, dancing it - we reframe what has happened to us in a way that we can easily process.  And the mind and body are definitely related - so take care of all of you!
I think what Breast Cancer Awareness is really about, is just knowing that we're not alone. Life can be a bit hard and it takes a bit more work at times, but there is some kind of power in numbers here. Knowing we all struggle, we all get frustrated, we all feel messy, sick, angry, sad, or just don't want to deal - when we know others go through this too, we actually feel human.
So this month - and every month -- let's spread awareness in our world.
Together, we're stronger.
Creativity is healing for everyone!  So get creative, get mindful, get self-compassionate - and let your body do the rest!
Amy  is a  PTSD peer-peer specialist, artist, author, speaker for RAINN and TEDx, award-winning health advocate, actress and playwright. 
Amy is currently touring with her one-woman musical, Gutless & Grateful to theatres, schools, healthcare communities and more.  For information on keynote presentations, workshops and signature talkbacks, (and specialized versions for corporations, college campuses, survivors, healthcare professionals, and artists) visit amyoes.com.  Amy also offers private coaching to help others navigate their own beautiful detours, and subscribe for free excerpts of her upcoming book, My Beautiful Detour, and download a free creativity e-book.
REAL LIFE. REAL NEWS. REAL VOICES.
Help us tell more of the stories that matter from voices that too often remain unheard.