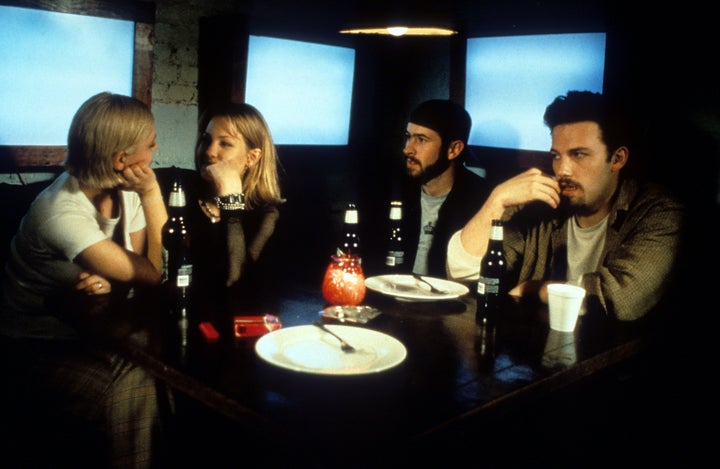 Twenty years ago, Ben Affleck and Jason Lee shared a same-sex kiss in "Chasing Amy," everybody's fave problematic '90s movie directed by Kevin Smith. 
During an anniversary screening of the comedy at Outfest over the weekend, Smith recalled a then 20-something Affleck saying that "a man kissing another man is the greatest acting challenge an actor can ever face."
The anecdote got picked up by a variety of outlets, including Paper Magazine, which shared a tweet that inaccurately framed Affleck's comments as if he said them in present day.
Before you could say Silent Bob strikes back, social media took aim at Affleck, with many finding offense in his admittedly cringeworthy statement, including "Westworld" actress Evan Rachel Wood.
"Try getting raped in a scene," she wrote alongside a link to Paper Magazine's tweet. "Also, grow up Ben."
Wood, who came out as bisexual in 2011, plays a robot named Dolores in the HBO drama. In the series' opening episode, her character is raped, which drew significant criticism from some viewers who've grown tired of the network depicting sexual violence against women.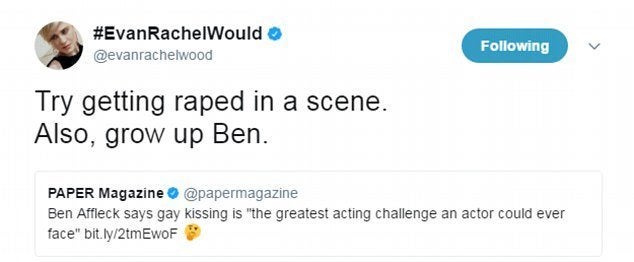 When someone pointed out that his comments were from 1997, Wood wouldn't back down, writing, "I'm sure he just thought it was a funny, but even jokes like that are damaging."
"Also, you think us ladies like kissing all the guys we kiss?" she continued. "Just cause its a 'straight kiss' doesn't mean we enjoy it. Ahem."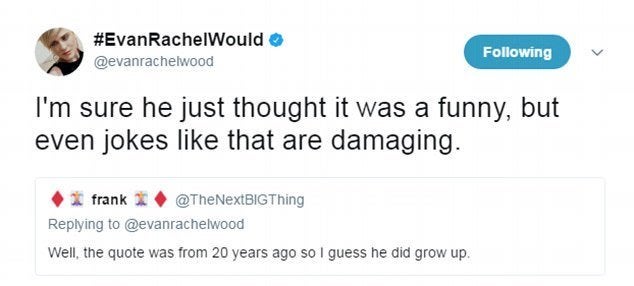 Wood later deleted her tweets directed at Affleck due to "the sickening things people have written in response." 
"I don't want to give that kind of hatred a place," she added. 
After the dust had settled, Smith went into damage control mode by sharing an apology video on Facebook.
The director, whose friendship with Affleck has crumbled over the last decade, stood by his account, explaining that he's shared the same story a "zillion" times since the movie hit theaters. 
"It was my fault. I told a cute story that was printed elsewhere without any of the context," Smith said. 
"Of course, Affleck doesn't feel that way today," he added. "It wasn't something he went out to the world and talked about." 
He also addressed Wood's reaction, directly apologizing to the actress for starting this mess in the first place.
"I don't want to see Evan Rachel Wood get upset. I don't want to see her thinking bad shit about Ben Affleck," he said. "I feel fucking horrible." 
"She's mad at something I said and I didn't even say that," he continued, before reiterating that he's a big fan of her work. 
 Watch Smith's full video below. 
Calling all HuffPost superfans!
Sign up for membership to become a founding member and help shape HuffPost's next chapter
BEFORE YOU GO
PHOTO GALLERY
Celebrity Photos 2017