The new Republican majority in Congress wants to force approval of the Keystone XL pipeline for dirty tar sands oil. President Obama announced he will veto bills that bypass the official review of Keystone XL.
There are plenty of reasons to block these bills and this pipeline.
Keystone XL would carry the dirtiest oil on the planet from Canada through the American heartland. The vast majority of it would be shipped overseas, while people here at home cope with the threat of contaminated water and difficult-to-clean-up oil spills.
Polluters are fighting hard to get Keystone approved. The oil and gas industry pumped $53.1 million into last year's congressional campaigns--87 percent of which went to Republican candidates. Senate Majority Leader Mitch McConnell raked in $608,000 from the industry for his 2014 campaign, and now he is putting Keystone XL at the heart of his big polluter agenda.
But this isn't just a battle over industry influence. This is a choice about the kind of nation we want to live in.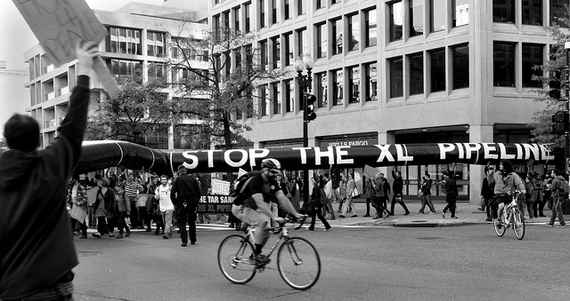 Do we want to live in a country where expert reviews don't matter and industry profits trump our families' health? Do we want to lock ourselves into a fuel that generates 17 percent more climate change pollution than crude oil and makes our children more vulnerable to extreme weather?
Or do we want something better?
America can power our economy and keep our air and water safe at the same time. The dramatic expansion in clean energy confirms it--wind and solar power accounted for 44 percent of all new US electricity generating capacity installed between 2012 and 2013.
We can put people to work tapping energy resources that never run out and don't contribute to climate change. More than 3.4 million Americans already have jobs in the sustainable economy.
And we can place public health and well-being above a handful of polluters.
Our neighbors to the north know what's at risk here. Oil companies are gunning for a US port because Canadian citizens have refused to let more tar sands oil pipelines endanger their communities. Here is why Americans should not accept what Canadians have already rejected:
It will provide just 35 permanent jobs. Pipeline backers mislead the public with inflated job numbers. The truth is, according to the State Department, the pipeline will create 35 permanents jobs and 1,950 construction jobs for two years. We can create more--and less dangerous--jobs by investing in clean energy.
It threatens the American breadbasket. Keystone would run within a mile of more than 3,000 drinking and irrigation wells in three states. Major blowouts in Michigan and Arkansas confirmed that tar sands oil is harder to clean out of water, backyards, and neighborhoods than conventional crude.
Tar sands extraction devastates the environment. The process entails clear cutting, strip mining, and generating enormous amounts of waste. Toxins sit in open lagoons that leak nearly 3 million gallons into the watershed every day, contributing to elevated cancer risk among nearby First Nation villages.
Canadian tar sands oil intensifies climate change.
Tar sands oil is the most carbon intensive fuel on the market. All told, the additional carbon pollution from this project would be as much as putting up to 5.7 million additional cars on the road, the State Department's analysis found.
Related